Ever since Page Six reported some choice tidbits about Drake's birthday party, the idea that Drake and Taylor are dating has been making everyone's head explode.
It's possible that there has never before been two pop stars who are more sensitive, petty, and prolific when it comes to singing (and rapping) about their exes, and since they both have track records of short relationship and long breakups, this could only be one thing: lots of music! The unlikely pairing is probably just a result of the internet's endless rumor mill, but hey, people are always finding love in the most unexpected places, right? Here's a look at how and when the two have connected so far, and what might be in the works for the future.
2011
I'm So, I'm So, I'm So Proud Of You
Back in 2011 Drake publicly let the world know that he's a fan of Taylor Swift and her music when he tweeted how proud he was of the singer. Of course, every time I hear the words "Drake" and "proud" together, I immediately start rapping Nicki's verse on their "Make Me Proud" collab because she kinda upstaged him there, but that song obviously evokes some romantic vibes too, and so did the tweet by proxy.
I can't really tell which accomplishment this could be referring to specifically — let's face it, Taylor has so many it'd be impossible to narrow it down — but this tweet came in October 2011, right after Speak Now became a world-smashing success, and just before she veered toward the rock and pop world with 2012's Red.
2013
That 2013 VMA Hug
The first time it occurred to any of us that Drake and Taylor might be more than friends was back in 2013 when they were photographed together at the 2013 MTV VMAs. There's some of the standard celeb shots, sure, but there's also a very heartfelt hug, above, that raised a few eyebrows. I'm sorry, I look at photos of celebrities at award shows for a living, and this hug does not look like an i-just-met-you-industry-related-embrace. Which sort of implies they'd interacted in some capacity before this.
Chivalry From Drake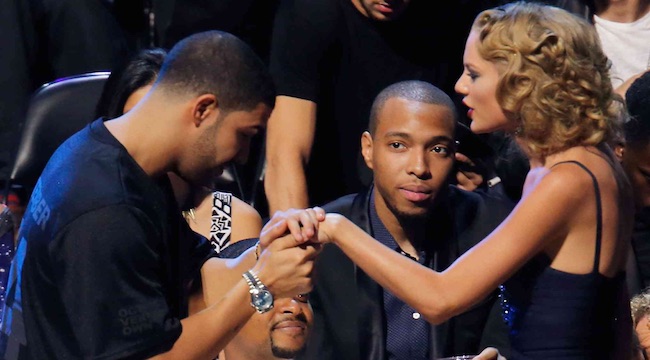 The hug wasn't the only thing that went down at the 2013 VMAs — here we have the Prince of OVO acting like a complete gentleman. Something that, uh, he's not totally known for. Just ask Rihanna.
Drake And Taylor Mirror Each Other's Success And Style
Quite a few people have pointed this out — I did back in 2013 — but Drake and Taylor took similar tacks as their respectively rose to international popstar status. They both dwell on past romantic failure, have a hard time forgiving their enemies, and take offense easily. They both developed crews that they could use mostly to support their own style, and both managed to supersede their respective "niche" genres to become massive pop stars and global brands. they both struggled to keep a long-term romantic partner. Maybe, they noticed the similarities on their own, and decided it was time to team up.
Then, three years went by without much interaction between the two of them. Recently, both of them broke off high-profile relationships that seemed directly tied to industry events.
2016
Taylor's Apple Ad
In her recent Apple Music commercial, Taylor is running on a treadmill listening to rap music. Not Kanye, not Jay Z, not Lil Yachty — though I'd love to hear her take on Lil Boat — but Drake and Future. By the way, "Jumpman" is a great song for the treadmill, so the idea from this ad might have emerged organically. And sure, Drake is Apple's other superstar rep, but still, she's cosigning his music in a big way. Also, this got me thinking, what other work-related calls and intiatives have they had to work on together behind-the-scenes for Apple? That might be part of how and why the two of them got close.
Drake Supposedly Comments On Taylor's Instagram Of Her Only Show In 2016
https://www.instagram.com/p/BL44K7Vhm4s/?taken-by=taylorswift
Instagram comments are all but impossible to pin down when it comes to mega-stars. Just days before his party, Drake reportedly liked and commented on Taylor's post of a shot from her Austin show.
Sure, he could just be appreciating and supporting her, like any most-famous-rapper-in-the-world friend would. (Or, this could very easily be Photoshopped.)
Taylor Heads Into Enemy Territory
https://www.instagram.com/p/BL91FM0BlUQ/?taken-by=taylorswift
The emoji caption here is directed straight at Drake — and Katy Perry, and John Mayer — proving that for a milestone event like a 30th birthday, Taylor will head into shark-infested waters. It's worth noting she ditched her more common floral-and-flats or curls-and-rhinestones looks for a black leather ensemble. Honestly, it reminds me of something Kim would wear… she looked fierce and fabulous though. Possibly because she had to see her enemies, and possibly, because she wanted to turn Drake's head.
TMZ Tries To Squash Our Dreams
So while Page Six baited everyone's imagination with the fact that Taylor met Drake's mom at his party, and that they were cozily hanging out all night, TMZ brought the realness. They claim that it was just an act of friendliness, and that the two are not romantically affiliated in any way. But sometimes all it takes is the suggestion… right?