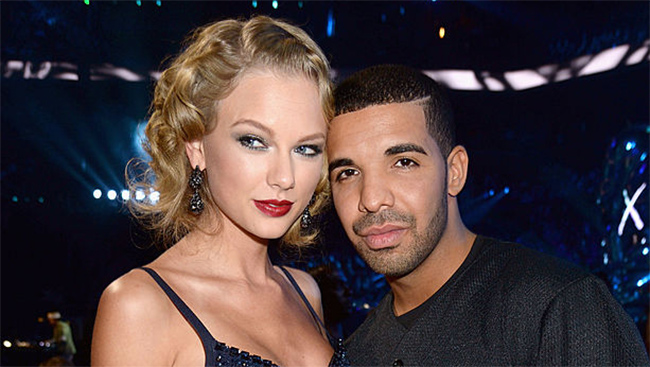 In a match that can only be made in PR heaven, the latest rumor is that Aubrey Drake Graham and Taylor Alison Swift are reportedly dating. No, Taylor Alison Swift isn't some Instagram model or stripper Drake met while interviewing dancers for his high-scale gentleman's club set to open next year. It's the Taylor Swift. "Shake It Off" "Bad Blood" "We're Never Getting Back Together" Taylor Swift.
Page Six reported that the two were spotted looking rather "cozy" at Drake's 30th birthday party over the weekend. The same party a messy Drake invited John Mayer and Katy Perry to attend and they did. If you're not up on your popstar beef, Katy Perry and Taylor Swift hate each other. John Mayer dated both. Great! Now you're up to date for the next time someone asks, "What the hell's going on with Katy Perry and Taylor Swift, yo?!"
While at the party, Drake reportedly introduced Taylor to his lovely mother Sandi Graham and even introduced her to his OVO friends. However, TMZ says the two aren't dating and that they're just good friends and have been since 2013. Still, the very thought of Drake and Taylor (Draylor? Tayke?) being together is a concept most folks can't seem to wrap their heads around.
"Y'all really believe Drake would go from Rihanna to Taylor Swift? Really? Y'all hate him that much that you would believe some sh*t like that," tweeted a Drake + Taylor non-believer. Another said Taylor isn't usually the kind of woman Drake goes for, commenting, "Drake's got a type as much as any man alive has ever had a type but if y'all are bored enough to believe he might bone Taylor Swift then ok."
However, a few observers think Drake plus Taylor equals a perfect match for obvious reasons. "Drake and Taylor Swift are perfect for each other cause they can talk about which wave to hop on during pillow talk." Brutal.
Two of the world's biggest pop stars romantically involved? Can't think of a more iconic pairing, TBH.