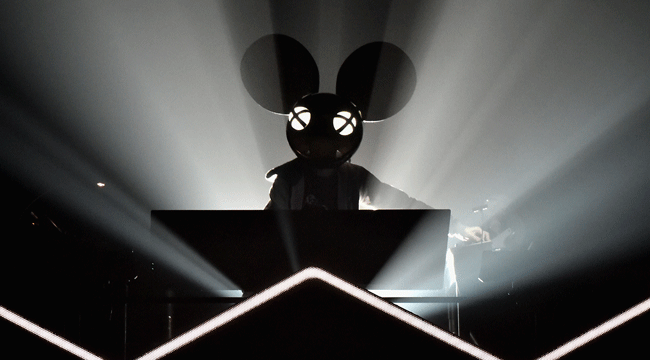 At the end of March, noted rodent DJ and producer deadmau5 released Where's The Drop?, an album that compiles new orchestral works the artist wrote with Gregory Reveret as well as orchestral arrangements of mau5's back catalog. The release marked a departure for the producer (aka Joel Zimmerman) who has built a reputation over the past thirteen years as one of the progenitors of popular festival-sized EDM in the United States.
Fellow music journalist Chal Ravens wrote an article in the latest issue of The Wire (#411), speaking to a greater trend in electronic music where artists try to make their sound more palatable to listeners by making orchestral versions of their work. Though Ravens wasn't directly addressing Zimmerman's latest album in the column, I couldn't help but feel as though the piece resonated. "Playing electronic music on acoustic instruments is a denial of what made this music fascinating in the first place: The mysterious power of mechanical repetition and the futuristic allusions of synthetic sound," Ravens writes. More than anything, Where's The Drop? feels like Zimmerman's attempt to have his work as a songwriter and producer be taken seriously, outside the context of dance music altogether. There's an irony in that although he's one of the most well-known, popular and well-paid DJs in the world, he really has yet to earn the respect of critics.
And he's not alone, either. Looking at Forbes' list of 2017's highest-paid DJs (Zimmerman graced the list from 2012 – 2015) — Calvin Harris (who topped the list for the fifth time in a row), Tiësto, The Chainsmokers, Skrillex, Steve Aoki, Diplo, David Guetta, Marshmello, Martin Garrix and Zedd — almost all of them have been eluded by any substantial critical praise. The obvious exceptions to this are Diplo and Skrillex, who joined forces in 2013 as Jack Ü and helped usher in Justin Bieber's own EDM/"tropical house" reinvention. Crossover producers like Guetta have certainly had their fair share of well-received pop collaborations with other artists, but rarely has their solo work or full-length albums elicited the same glowing praise.
Cross-referencing Forbes' recent list with Metacritic's aggregate critical scores is hardly scientific, but paints a consistent picture that's hard to ignore. Doing the same with Billboard's Hot Dance/Electronic Songs or Albums lists produces very similar results. From Aoki all the way to Zedd, EDM's top earners rarely average outside the 60th percentile, which by Metacritic's own rubric means "Mixed or Average Reviews," falling directly in the sweet spot of mediocrity between "Generally Unfavorable" and "Generally Favorable" reviews.
For sake of comparison, Forbes' list of highest-paid musicians — including Diddy, Beyoncé, Drake, The Weeknd and Coldplay — paints a different story, as those artists' averages tend to fair better, while also fluctuating more than the plateau we see with EDM's scores. Though there isn't necessarily a strong correlation between industry success and critical praise, the consistency in outcomes for dance's top earners when compared to their pop star counterparts suggests that there's less critical enthusiasm for EDM overall.
But it's worth considering that Metacritic is pulling review data from websites that traditionally don't engage with EDM, or worse, have some critical bias against it. Perhaps what this frequency of "average" album reviews is telling us is that there's a larger issue with how music critics engage with dance music. Does EDM need its own "poptimism" moment?
Poptimism is music critic speak for a seismic shift in thinking that happened in the early 2000s, when the then dominant perception among critics was that anything on (or aspiring to be on) the Top 40 was frivolous and not to be taken seriously. Many at the time viewed all music through that rockist lens — prioritizing the work of a songwriting auteur over the labor of a team of producers, analog live instrumentation over in-the-box studio wizardry, full-length albums over singles, scruff over polished sheen.
In moving away from this line of thinking, critics opened up the dialogue around music in a way that now makes it a regular occurrence to see St. Vincent coexisting on a year-end-list with Lorde and SZA. Poptimism likely anticipated indie rock superstars like St. Vincent sharing songwriters and producers like Jack Antonoff with Lorde. Certainly, the response to figures like Carly Rae Jepsen or SOPHIE, pop performers who don't do major numbers in terms of charting or sales but are adored by critics, would've been massively different had it not been for the intervention of poptimism. In essence, as the internet was quickly dissolving genre and industry distinctions, many music critics and publications wisely followed that lead with their own coverage.
Rather than suggesting EDM needs its own poptimism moment, the history of the style's rise in the United States coincides with poptimism and likely benefited from it. In The Underground Is Massive: How Electronic Dance Music Conquered America, author Michaelangelo Matos follows the ascent of dance music in the United States from the post-disco warehouse origins of house music in the early '80s to the industry juggernaut we know it as today.
Matos astutely connects the dots from Daft Punk's early '00s robot rock, to the buy-in of their visual-heavy performances from indie rock festivals like Coachella, to Las Vegas' own transformation from everytown-USA (as far as electronic music was concerned) into the driving beat of EDM events in the country, to dubstep's wobble resonating with rock audiences when it crossed the Atlantic, to Steve Aoki's layer cake DJ nights which combined brash electroclash and bloghouse, linking a confluence of factors that all played a part in how America finally "got" dance music.
It's in that context where Matos says that EDM finally took hold and it did so on the back of pop music — Kanye's "Stronger," The David Guetta-produced singles "Sexy Bitch" and "I Gotta Feeling," and Rihanna's Calvin-Harris assisted "We Found Love" were all instrumental in the mainstreaming of EDM and were evidence of its new cultural cachet.
That EDM was made possible by the same shift in the way we think about and evaluate pop music makes the idea that the style is maligned because of a critical bias unlikely. Its position as a cultural phenomenon and billion dollar industry is the result of the same forces responsible for our current poptimist outlook demanding pop music be understood as more than a trifle. Beyonce playing to audiences at Coachella is emblematic of this shift, and it's a move that wouldn't have happened had Daft Punk not done it first.
There's even a disconnect when comparing the critical resistance dance music experienced in the days of disco to what's happening now to EDM artists, in part because of poptimism. Whereas white conservativism framed disco — a site of resistance for women, people of color and the LGBTQ community — as the antithesis of rock music, thereby provoking a backlash, the same can't be said for EDM.
Save for Aoki, the aforementioned Forbes list of the highest paid DJs in the world is completely white and male, suggesting that although EDM represents the breakout success and embrace of dance music in American popular culture, it's also a commodified version of what was once rooted in counter-cultural subversion, now completely distanced from those origins.
On the horizon there are upstarts like Alison Wonderland and deadmau5's protégé Rezz who are already nipping at the heels of EDM's biggest stars. With countless thinkpieces about EDM's so-called "death" arriving within the past year, the once "safe" choice of white male DJs will soon falter as promoters scramble to find ways of keeping audiences coming. The economics of EDM festivals and the already immense pressure on those festivals for better gender and racial representation are promising signs that the dynamics of EDM are shifting and perhaps with it, the critical tide.
In that sense, deadmau5 will not find the relevance he's appealing for in an orchestra, but in using his profile to help uplift a new generation of DJs and producers that usurp the homogeneity of the scene. While EDM has yet to find any consistent critical praise, that lack is less a symptom of a critical bias against dance music than deadmau5's cynical strings album Where's The Drop? seems to believe. If anything it's that cynicism toward critics' abilities to understand dance on its own terms that evinces a larger issue within EDM's biggest players thinking they're playing to the lowest common denominator. It's a kind of cyncism shared with the businesses who offer these top earners their big gigs, juicy contracts and sponsorships, which also suggests its not only the artists like deadmau5 who need to inspire inclusivity, but the business itself.