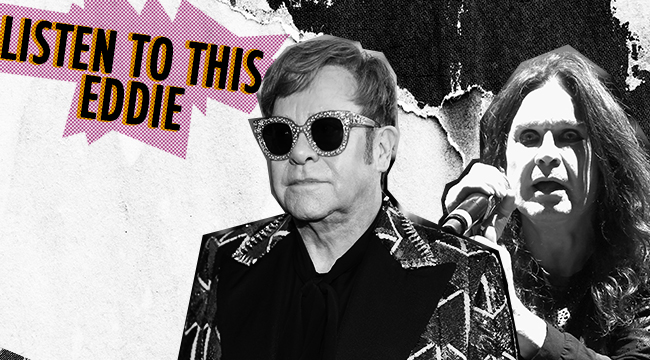 Listen To This Eddie is a weekly column that examines the important people and events in the classic rock canon and how they continue to impact the world of popular music.
For the longest time the idea of the farewell tour was a joke; an obvious marketing ploy designed to separate hundreds of dollars from your wallet into the pockets of rock stars and the conglomerates that promote them, bolstered by the fear that this would be your last opportunity to hear your favorite performer play your favorite songs live. The punchline of course is that two, three, or four years later, those same bands would hit the road once again in a gambit to separate hundreds of dollars from your wallet to witness their glorious comeback. In 2018, the joke stopped being funny.
Last week, three titanic rock entities from the '70s and '80s announced they would hit the road for the final time beginning in 2018. Thrash metal icons Slayer led the way, announcing a two-month run kicking off in the spring. A few days later, southern rockers Lynyrd Skynyrd, who only have one remaining original member to their name — guitarist Gary Rossington — followed suit, unveiling a mega-run through America's finest amphitheaters, supported by the likes of Kid Rock, Bad Company, and Hank Williams Jr. "We've been doing this a long time and we're getting older, and it's really hard touring and traveling," Rossington told Billboard. "My health isn't very great, so it's harder for me to tour these days."
The biggest, and most dazzling shoe to drop however, was that Elton John, one of the most consistent classic rock road warriors out there, had decided he too was ready to retire from the road. Though his goodbye would be long — three years, 300-dates — it would be definitive. "My priorities have changed in life," he told Anderson Cooper at the press conference. "I always thought I'd be like Ray Charles or B.B. King on the road forever, but your life changes."
We like to think of our musical icons as being immortal. We call them "Rock Gods" for a reason after all. The past couple of years has disabused us of that notion with a stunning, emotionally devastating ferocity. In 2016 we lost supernovas like David Bowie, Prince, Glenn Frey of the Eagles, George Michael, and Leonard Cohen. 2017 was equally cruel, robbing us of Chris Cornell, Chester Bennington, Gregg Allman, Malcolm Young and, of course, Tom Petty.
As fans, Petty and Prince's deaths were especially heartbreaking for how they pushed their bodies past their physical limits in an effort to keep us entertained. Prince was in the midst of his acclaimed Piano & Microphone tour when he was rushed back to Paisley Park due to what was at the time described as dehydration as a result of the flu. He was found in the elevator of his home just days later, dead from an overdose of fentanyl, a powerful painkiller that he used to dull the aches he accumulated from years of performing.
Petty was in equal bouts of agony, performing night in and night out with a cracked hip over the course of month's long stadium tour of North America. Despite the pain, he didn't miss a single gig. When he finally closed his final run with the Heartbreakers after three shows at the Hollywood Bowl, he went home. The fracture in his bones turned into a full-on break. Petty also looked to fentanyl for relief, and his heart gave out when he applied too much.
Just as we fans have been forced to come to grips with the reality that our heroes won't be around forever, the class of baby-booming rock stars seem to be coming to a similar conclusion. This year, Ozzy Osbourne, who famously staged a farewell jaunt back in 1992 dubbed No More Tours, is hitting the road for the final time as a solo act, just a year after bringing about the end of his beloved metal outfit Black Sabbath.
And just a few days ago, Paul Simon announced that he was going to eschew a large scale run of shows, and stage one last performance in London's Hyde Park. Neil Diamond didn't even get an opportunity to mount a farewell tour. His recent Parkinson's diagnosis forced him off the road immediately.
While it no doubt remains just as true as when The Who or Cher announced farewells that didn't stick in the 1980s and 2000's respectfully, the money that can be culled from a "final run" makes it incredibly enticing for performers to proceed with them. Just ask Motley Crue who raked in $86 million for their goodbye tour that ran between 2014-15. This year, however, something feels different. A cynic might say that many artists are merely trying to strike while the iron is hot, earn one last mega-paycheck before hanging it up… or holding down a Vegas residency somewhere down the line. While I'm sure that's definitely part of the calculations, I think its a bit more complicated than that.
Even for the elite who fly between gigs in private jets and eat from overstuffed craft services tables, life on the road is a tough, arduous business. You can push and push and push, but eventually, your body will rebel. In spite of the two hours of mass adulation — the lights, the pyro, the glitz and the glamour — a simple life at home with a wife, a husband, children and grandchildren, free, or at least mostly free, from pain starts to look pretty enticing.
In 2018, some of the biggest rock stars of the modern era have decided to say goodbye. You can scoff at ticket prices and you can lament their decision to call it a career, but five, 10, 25, 40 years from now, when all you're left with is a faded ticket stub in a dresser drawer and the memory of that one night when they took their final bow, you'll be glad they gave you the opportunity.