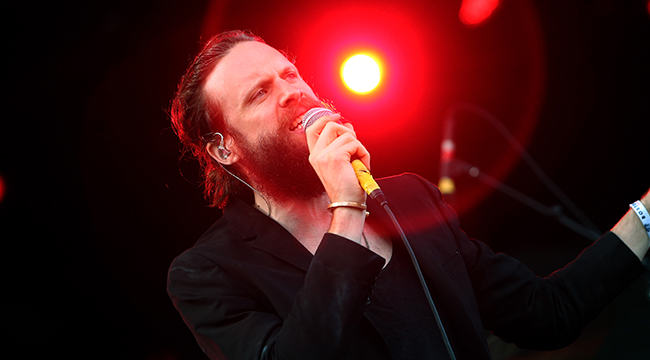 Father John Misty hasn't done really any press around his latest album God's Favorite Customer, preferring instead to let the music speak for itself. What he has done however is release a bevy of stunning music videos for several songs from that particular record, including a new one today for this psychedelic piano ballad "Date Night."
Directed and animated by Josh Tillman's Sub Pop Chad VanGaalen, the visuals in the "Date Night" video are pretty off the wall. It opens with a shot of a person wearing a weird… helmet thing, strumming a double-necked stringed instrument in the middle of the jungle and only proceeds to get weirder from there. There's a giant playing a tambourine, a singing planet, a bunch of creatures floating around in wing boots in an ice world, and then finally an animated version of Father John Misty himself flying through a dark world on top of a piano with pterodactyl wings, gingerly holding a martini.
This isn't Misty's first foray into other mediums for his video projects in this album cycle of course. For the video to "Please Don't Die" a stop-motion animated version of Tillman navigates the underworld, guided by death himself, before being saved by his wife from eternal damnation.
You can watch Father John Misty's animated "Date Night Video" above.