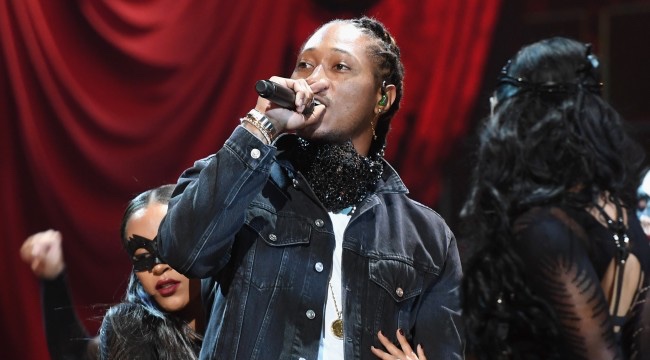 Despite worries that trap music has become oversaturated with an overdose of quantity over quality, it appears there's always room for new Future — especially when it comes in the form of the followup to his beloved joint album with trap rap beat-making pioneer Zaytoven. Hot on the heels of the Future-curated Superfly soundtrack — which effectively doubled as a Future mixtape, with the Atlanta trapper appearing on a majority of the album's songs — the piano-playing, syrup-pushing duo teamed up to surprise release Beast Mode 2 ahead of the promotion and release of Future's upcoming, untitled solo album.
https://www.instagram.com/p/Bk4AJ8bHpop/?taken-by=future
The breezy, nine-track compilation is relatively straightforward; Zaytoven lays down his best, 808-heavy, piano-laden soundscapes for Future to skate over with his unique, gravelly, melodic tenor flow. As a contrast to other releases that have dropped in recent months, Future and Zay keep the tracklist tight, but cohesive, and just long enough to feel satisfactory — it's a full meal rather than the snack offered by Nasir and Daytona, with the only feature verse coming from rising Atlanta star Young Scooter. At the same time, it perfectly demonstrates the benefit of smart editing, feeling a lot more digestible than the monstrous, 25-song tracklist of Scorpion, which may come as a surprise from the prolific Future, who dropped multiple albums in 2017, including the double album Future/HNDRXX and a joint project with Young Thug, Super Slimey. Zaytoven himself just released his own debut solo project, so when they found time to record and select tracks for this collaboration is anyone's guess. However, Beast Mode 2 winds up being the perfect palate cleanser after a stacked month that turned out to be borderline overwhelming, offering a balanced, easy-to-finish project that has plenty of replay value anyway.
Beast Mode 2 is out now via Epic Records. Get it here.