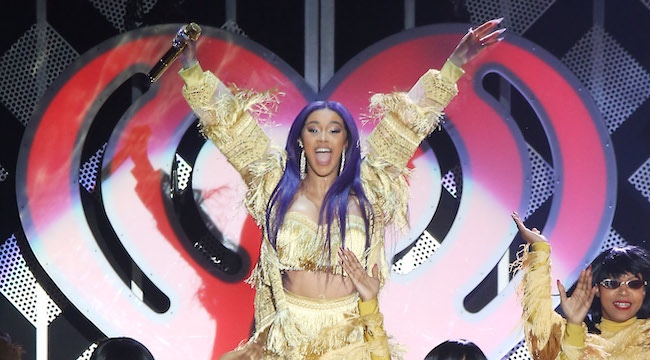 With the Grammys opening up the Album Of The Year field, it looks like America's favorite genre may finally get the chance to snatch the biggest honor in music after 2018's disappointments for Kendrick Lamar, Jay-Z, and Donald Glover. In fact, with five of the eight nominees coming from the hip-hop world, the odds are better than they've ever been for a rapper to match Outkast's 2004 achievement.
The nominees are: Cardi B, Drake, Post Malone, and Kendrick Lamar as executive producer for Black Panther: The Album and eveb Janelle Monae's Dirty Computer, which is certainly tangetial to the genre to say the least. The non-rap nominees include Brandi Carlile's By The Way, I Forgive You and and Kacey Musgraves' Golden Hour, making country another strong contender in the mix. Cardi B's well-received debut album Invasion Of Privacy could make her the first female rapper to ever win Album Of The Year. Drake's Scorpion is a double album and a sales juggernaut, both factors that undoubtedly boosted Outkast's Speakerboxxx/The Love Below to glory 15 years ago. If Black Panther: The Album wins, it will be the first film soundtrack to do so since 2002's O Brother, Where Art Thou?, as well as the first majority-rap soundtrack to win ever.
If Post Malone wins with Beerbongs & Bentleys, it could spell trouble among rap fans, as the last white rapper to overturn Kendrick received a backlash that he arguably still hasn't recovered from. When Macklemore and Ryan Lewis' The Heist won Best Rap Album over Good Kid, MAAD City, the controversy prompted a firestorm of criticism on social media from hip-hop fans, which Macklemore exacerbated by tweeting a screenshot of his apology to Kendrick, a move that was deemed by many to be self-serving.
These are the stakes for the 2019 Grammys, which could be the biggest year for hip-hop yet. While everybody hopes that they get it right, history suggests that we shouldn't hold our collective breath.