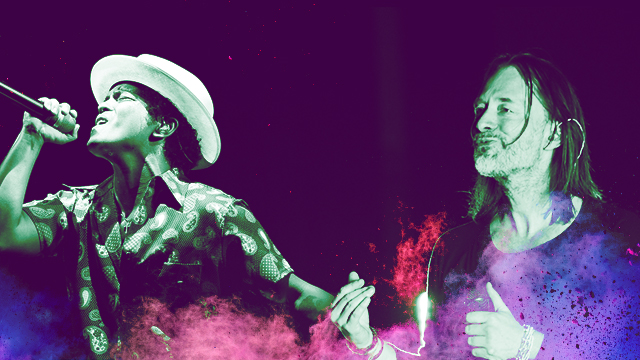 In 2011, Radiohead did something they had never done before. They put out an underwhelming album.
Not a bad album. Just underwhelming. Reasonable people can dispute the merits of The King Of Limbs — I'll submit that "Codex" is gorgeous and "Lotus Flower" worthy of its ready-meme video — but still: Here was a Radiohead album that felt less like spinning plates and more like wheels spinning in place.
For some, the lingering sense of let down (sorry) seemed connected to the album's relatively brief length. At 37-and-a-half minutes — and only eight songs — The King Of Limbs remains Radiohead's shortest album by a substantial margin. Pitchfork's review (positive, hardly gushing) noted up top that it's "Radiohead's first album to clock in under the 40-minute mark." Rolling Stone's critic described its brevity as "shocking, since it's been more than three years since [In Rainbows]." So widespread was the unease with this album's brevity that fans quickly latched onto a dubious theory that a sequel album was soon to follow.
That was eight years ago, but it feels like a lifetime. Think about it: Can you imagine anyone today getting worked up about a celebrated band putting out a 37-minute album? In the streaming age, critically acclaimed albums are growing shorter and shorter — and the Grammys are catching up with the trend. A year ago, Bruno Mars' 24K Magic (33 minutes, 28 seconds) became the shortest album to win Album Of The Year in half a century. Weirdly, it competed against Jay-Z's comeback album, 4:44, which also clocks in well below 40 minutes. To grasp how unusual that is, consider that you have to go back to the 1981 recipient, Christopher Cross's debut, to find another winner under 40 minutes. And you have to scroll way the hell back to 1969, when Glen Campbell's 24-minute By the Time I Get To Phoenix won, to find a winner shorter than 24K Magic.
Let's look at the last four Album of the Year winners: 24K Magic, Adele's 25, Taylor Swift's 1989, and Beck's Morning Phase. A striking thing these albums all have in common (besides mostly having numbers in their titles) is that they are each under 50 minutes. That trend is likely to continue this year, since the two frontrunners, Kacey Musgraves' universally adored Golden Hour and Cardi B's swagger-filled Invasion Of Privacy, are around 45 and 48 minutes respectively. Pretty normal length for an album, right? Yes. But compared to the peak of the CD-buying era, when albums longer than a Passover seder routinely took home the top Grammy prize, 45 minutes is almost spartan.
This year's nominees for Best Rock Album are even slimmer. A majority of them — Fall Out Boy's M A N I A, Greta Van Fleet's From The Fires, and Weezer's Pacific Daydream — fall under 36 minutes. Weezer, it should be noted, was way ahead of the short album trend, which may be one reason the band is thriving in the viral age. Pinkerton crammed a remarkable degree of post-adolescent angst into its 34:36 runtime. And 2001's The Green Album clocked in at a positively Ramones-esque 28:20.
The Super-Short Album Trend reached a fever pitch in 2018. In May and June, Kanye West's "Wyoming Sessions" yielded five seven-track albums, all between 20 and 30 minutes in length. Among those albums were West's own Ye, which is less than one-third the length of The College Dropout yet still marketed as a full-length, and Pusha T's Daytona, which is even shorter. I'm not sure critics have really grappled with how weird it is that the most acclaimed rap album of the year was 21 minutes long. (Part of what's stunning about Daytona is the amount of ideas Pusha crams into that catnap length.) The surreal Philadelphia rapper Tierra Whack released an even shorter album in the form of Whack World, which draws attention to its brevity with an oddball format: 15 exactly-one-minute songs. In the fall, Boygenius stole hearts with a 22-minute EP. Meanwhile, in December, Mitski's Be the Cowboy became, at 32-and-a-half minutes, the shortest album ever to top Pitchfork's year-end list.
Why is this? The transition from CDs to streaming has made it possible for albums to be longer than ever, but recently seems to be resulting in shorter attention spans and shorter releases. And the success of Whack World suggests a radical change in what we're willing to consider an album. What's next? Björk blows our minds with a five-minute album?
I suspect the shift has a lot to do with the way people consume music today. In 1999, if your favorite band released a new album, you had to drive to Sam Goody and drop $17.99 on that CD. You expected to get your money's worth: 40 minutes of music, at least. Purchasing a CD was an investment, and purchasing a full-length album was a more expensive investment than buying an EP. Two decades later, most consumers don't feel cheated that the new Mitski album is on the short side because most consumers aren't paying anything for it — they're just paying for the streaming service they use to access it. Listener attention is the primary commodity, and when you have a near-limitless selection of albums (or podcasts!) at your fingertips, your attention span is going to be shorter than it was in 1999, when you were bumping Santana's 75-minute Supernatural in your Honda Civic.
Short albums are a wave of the future, yet also a throwback to the LP era. A 35-minute album might have seemed paltry during the days of $17.99 CDs, but it would have been utterly routine in 1970. Back then, 12-inch LPs could only hold about 22–25 minutes of music per side, which in practice meant that albums rarely surpassed 50 minutes. (Double albums were longer, obviously.) Most Beatles' albums were under 40 minutes. Creedence Clearwater Revival released three albums in 1969, and none reached the 35-minute mark. Plenty of classic albums from the punk era are, like King Of Limbs, just eight tracks long: Television's Marquee Moon, Patti Smith's Horses, Talking Heads' Remain In Light. If you buy Remain In Light and feel cheated because it has only eight songs, you're an idiot.
But the rise of compact discs changed the norm. Realizing those little discs could hold 74–80 minutes of music, big artists were emboldened to make their albums long as hell. By the early 1990s, overlong albums were a plague, stuffed with skits, hidden tracks, and superfluous remixes. For every Superunknown (a well-justified 70:13), there were five more Be Here Nows (71:33). Pretty much anything under 30 minutes was treated like an EP.
And nowhere were overlong albums more celebrated than at the Grammys. Between 1991 and 2000, not a single album under 57 minutes won Album Of The Year. Among the overstuffed albums that did win: Natalie Cole's Unforgettable… With Love (72:47), Tony Bennett's MTV Unplugged (63:00), Celine Dion's Falling Into You (75:54), Santana's Supernatural (74:59). The hip-hop world became particularly enamored with the 70-plus minute CD format. Among the Grammy nominees for Best Rap Album in 2001 were a 71-minute Jay-Z album, a 68-minute Dr. Dre album, a 72-minute DMX album, a 72-minute Eminem album, and a comparatively pithy 66-minute Nelly album. Several years later, Outkast's gargantuan Speakerboxxx/The Love Below became the longest Album Of The Year recipient in Grammy history. (The double-disc exceeds two hours, but its dual personalities and sprawling ambition makes it worth the commitment.)
Such runtimes aren't extinct. In recent years, some major rappers and pop stars have contradicted the short album trend, embracing Spotify's lack of spatial limitations as a dare. Kendrick Lamar's 2015 classic To Pimp A Butterfly is nearly 79 minutes long and likely to top lists of the best albums of the decade. Drake's releases keep getting longer and longer, with 2016's Views, 2017's More Life, and 2018's Scorpion all topping 80 minutes. Zayn's recent Icarus Falls clocked in at an exhausting 88:27; Migos' Culture II was even heftier. This has been interpreted as a savvy sales strategy — a longer album can generate more individual song streams, which contribute to chart placement.
That these opposite trends can exist concurrently suggests a certain fluidity in what can be considered an album today. Artistic intent, not length, is the guiding factor. Increasingly, though, it's the short albums that drive the conversation, top the year-end lists, and even win Grammys. Maybe we all owe Radiohead an apology.