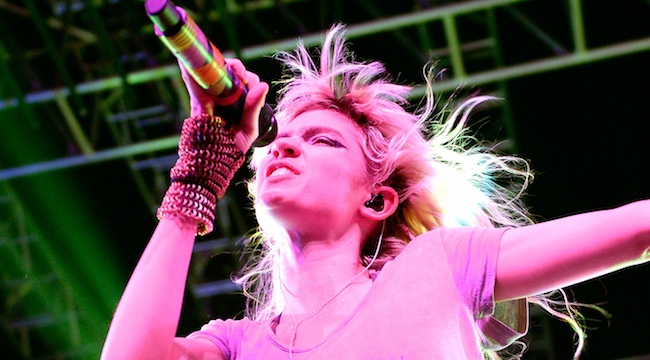 So far, it's been a long and complicated road between Grimes' 2015 album Art Angels and whatever she plans on releasing next. Earlier this year, she took to her Instagram account to vent about the lack of progress behind her next album, blaming forces outside of herself and writing, "welp no music any time soon after all music industry is trash." Not long after that, she called out 4AD more specifically, telling a fan in the comments of an Instagram photo, "One final album for my sh-t label and then my first album on a label of my choosing which I'm crazy stoked about."
Whether or not Grimes has an album on the way in the near future, she's at least appearing on new songs in 2018. First she guested on Janelle Monáe's "Pynk" last month, and now she's set to feature on a new song from yyxy, a sub-group of K-pop group Loona. "Love4eva" (perhaps about Elon Musk?), from the group's upcoming "mini-album" Beauty & The Beat, was teased in a 30-second video, in which all we really hear is a synth-led and fast-paced electro-pop build up. It's not clear if any of Grimes' contributions to the song can be heard in the teaser, but it is easy to see why the group endeared themselves to Grimes with their alternative pop style that seems to exist at least in the same universe as Art Angels.
She announced the song a few days ago, sharing Loona/yyxy's tweet about it and writing, "dark chaos magic." In response to a fan who wrote, "wow you're really out here forcing me to listen to kpop," Grimes also said, "listen to loona and watch vids it's incredible art."
Watch the "Love4eva" teaser video above.