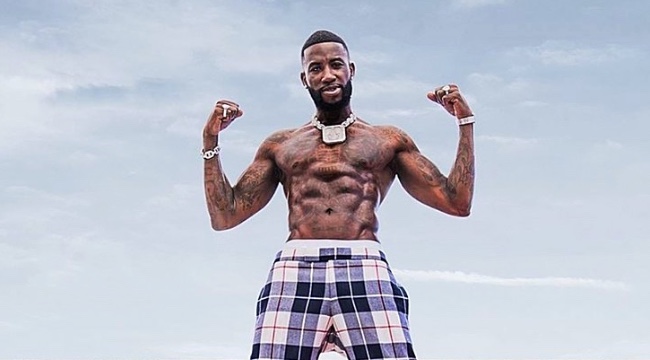 Gucci Mane has built a decade-long career by maintaining his quality across dozens of projects, but it'd be nice to see him elevate or experiment a little more on Delusions Of Grandeur, his fourteenth studio album. Gucci's consistency comes across as a gift and a curse — although he boasted that the album was "going to surprise a lot of people" during the promotion of the project, the only surprise is that, on a project so stuffed with features, Gucci remains the highlight on every song. But there's a wearying effect from non-stop winning of the kind once promised on the campaign trail. If success is guaranteed, there's really little drama.
Delusions Of Grandeur is Gucci's second album in six months, which may contribute to the fatigue effect. As proficient as he is — and has been for a very long time — it might be fun to see him take a Kanye-esque swing for the fences, even at risk of striking out, embarrassing himself, or ruining his nigh-perfect batting average. It's probably weird to complain about someone being too good at their job, but we're at the end of the Golden State Warriors dynasty, which turned out pretty exciting when all was said and done, mostly because they lost just enough to prove that they could lose, which added a frisson of narrative tension to each game, each series, each season. When Gucci Mane is on the mic, it's hard to imagine him losing at anything.
Maybe that's what D.O.G. is missing: That element of chaos, of not knowing what version of Gucci each album would bring or whether each would be the last for a 10-month stretch. For whatever reason — two decades of reality TV, social media meltdowns, virally shared epic fail videos, take your pick — it seems audiences these days are more fond of the hot mess than the quiet professional. After leaving prison for what he vowed would be the last time, Gucci cuts an impressive, athletic figure that shames most of his fan base, he's become a best-selling author, he got married to his longtime sweetheart Keyshia Ka'oir and appears to be genuinely happy, healthy, and faithful at a time when few want that.
Even though Gucci's formula for success can lack tension, it's still borderline amazing that he's still able to maintain such a high level of quality across projects that even his collaborators have to step up their game. For instance, on nearly every other album so heavily reliant on guest features, the principal artists' collaborators generally drown them out or outshine them, effectively carrying the project so the star can sit back and reap the benefits of cross-promotion with their featured artists' fan base. Gucci, instead, forces almost all of the guests on D.O.G. to elevate just to keep up with him. On the West Coast, top-down cruiser (a rare Zaytoven track that reminds that he's from the Bay, not Atlanta) "Blind" with A Boogie Wit Da Hoodie, for instance, the young Bronx rapper issues a verse that you almost wish he'd saved for himself. Similarly, "ICE" brings the most engaging performances out of Gunna and Lil Baby since their own joint project last year.
There is one name on the guestlist that may raise a few eyebrows: Justin Bieber appears on the "Computer Love"-sampling "Love Thru The Computer," in full Journals R&B mode. Even that, though, isn't as much of a step outside Gucci's comfort zone as it appears; Bieber has expressed his love for Gucci as a rapper in the past, and this isn't even Gucci's first collaboration with an ostensible pop artist. Last year's Evil Genius promo began with an appearance from Bruno Mars, a hilariously eye-popping collab that worked so much better than it should have on paper. Here again, D.O.G. one-ups Gucci's prior effort, delivering a fun, picnic-ready bop with one of pop's most recognizable vocalists, yet sounding right at home. He owns the track like he owns everything else. Even the beats on the album that aren't heavy-hitting trap, like the R&B-ish "Hands Off," are so manicured that they don't feel like experiments. Everything is Gucci's comfort zone.
"Proud Of You," the third single from the album released just days before Delusions hit digital shelves, is instructive of the embarrassment of riches on Gucci's hands. He's proud of himself and has every right to be. He's overcome every obstacle: Prison, addiction, street life. It's like all that's left for him is nostalgia, and he's even way too good at that. Look, it's a weird complaint, but Gucci doesn't have an 808s & Heartbreak or Yeezy, no Electric Circus or Universal Mind Control, not even a contemporary misstep demanding retroactive reevaluation like In My Lifetime, Vol. 1. Is it too much to ask for the Gucci Mane version of 4:44? Delusions Of Grandeur is so good, it loses a little of its distinction because in comparison to the rest of his catalog it just… fits in. On a shelf of trophies, eventually they all start looking the same. Then again, if that's the only problem Gucci has these days, there's really no other option but to be happy for him, cheer him on, and hope the good times last forever.
Delusions Of Grandeur is out now via Atlantic Records and GUWOP Enterprises. Get it here.
Gucci Mane is a Warner Music artist. Uproxx is an independent subsidiary of Warner Music Group.