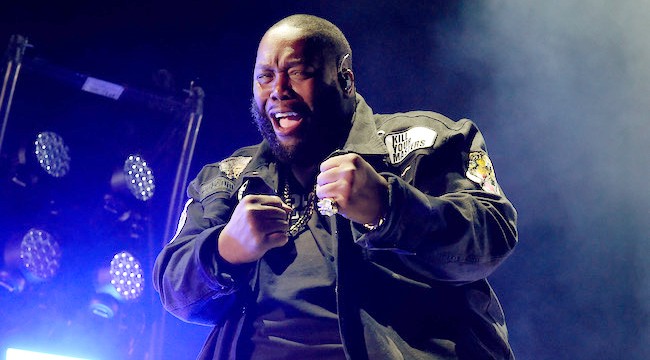 It was only a few weeks ago that Killer Mike appeared on NRATV to talk about his stance on the right to bear arms and black gun ownership in America. The timing of his appearance couldn't have been worse. The pre-recorded interview was run by the network during the nationwide "March For Our Lives" demonstration. During his interview Killer Mike exclaimed "We're here to make people mad" and complained about the Parkland shooting survivors walking out of school, going as far as to reveal a conversation he had with his own kids about the walk out.
"I told my kids on the school walkout, I love you if you walk out that
school, walk out my house…we are not a family that jumps on every single
thing an ally of ours does because some stuff we just don't agree with."
Eventually, Mike kind of apologized in a video on his Twitter where he claimed he was actually an "ally of the youth" and pro "March For Our Lives" and considered it a noble campaign He then went on to claim his interview with NRATV –sponsored by gun manufacturer Mossberg– was used by the platform to disparage the nationwide walk out.
And now Mike has done it again. Earlier today over on Instagram Mike tried to call out MSNBC host Joy-Ann Reid over a misunderstanding in one of her posts.
Mike seemed to think Joy's use of the term "H&M" was a reference to the clothing company of the same name who got into trouble earlier this year because of a racist add. So Mike replied with a quick burn which has since been deleted.
"So me doing an interview about black gun ownership with the NRA is
"bad," but you promoting a company that tagged a black child a monkey is
"good," "cool, " and "acceptable". Ok check . Smh n***as"
The problem is that "H&M" didn't actually stand for what Mike thought it did. Joy was quick to clap back and shut Mike down.
"H&M" stands for "hair and makeup," Mike. The two women beside me in this pic did my hair (H) and makeup (M) for a shoot. The blouse I'm wearing is by @norisolferrari and I doubt you can buy it at the retail chain you're thinking of. (I got it from the designer via a stylist.) And here I was thinking you were an intellectual, and not just the guy who hangs out in the sunken place talking guns with the NRA's "official black guy" who literally changed his last name to "black."
And it wasn't long before Mike did what he's doing a lot of these days: he apologized in a series of tweets over on his Twitter.
Yup I got educated and I appreciated. I'm making sure I'm staying with the people tho no more outta line with me ??‍♂️ https://t.co/Rgap2PoJGU

— Killer Mike (@KillerMike) April 8, 2018
To Be Unclear is to be u kind taught that by publicist @Farmer8J . My apologies for my misunderstanding @JoyAnnReid and I hope we get that Black Gun owner Minus the NRA interview. Love and Respect thanks for the correct ❤️?????

— Killer Mike (@KillerMike) April 8, 2018
So egg on my face ??‍♂️?and all I'm happy that the convo on #BlackGunOwnerShip will happen. Thank u @JoyAnnReid for "getting me together" on H&M and making sure this important convo can be had on an acceptable platform. ❤️✊?

— Killer Mike (@KillerMike) April 8, 2018
It takes a lot of honor to publically own up to your mistakes, apologize and try to build bridges to a better future. Mike has proven that he is willing to have a dialog and admit when he is wrong. Of course, it would also be cool if he didn't get himself into these situations in the first place. After all, having to walk back your comments and behavior on the same topic twice in as many weeks might be a red flag about your own convictions.