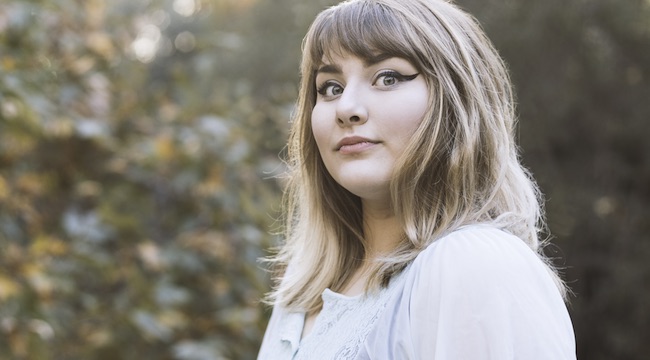 Philadelphia's Zoe Reynolds, aka the woman behind lo-fi dream-rock project Kississippi, is more than ready for their first album to come out. "I'm feeling so good," she told W Magazine, who premiered the first single off the band's debut record. "So excited. So ready." Reynolds first began releasing music as Kississippi in 2014, and a series of her initial demos and EPs quickly established a cult following for the band, culminating in 2015's We Have No Future, We're All Doomed EP. Boy, did that title feel prescient looking back on it.
But now, listening to the band's introduction to the new album, it's easy to hear why Reynolds is so confident. "Easier To Love" is an airy, enormous track that builds out of small blips and into a towering, technicolor assertion of purpose: "I'll make myself easier to love." OF course, it's love and relationships are much complicated than that, but the dreamy harmonies on this chorus make it easy to believe, anyway. This track is the first we've heard off Sunset Blush, the band's first full-length record which will be out in just a few weeks on April 6. This spring Kississippi will be on tour opening for Dashboard Confessional, which is a huge look for a brand new, independent act. Listen the track above and check out their tour dates below.
3/20 – Houston, TX @ House of Blues
3/21 – Dallas, TX @ House of Blues
3/23 – Atlanta, GA @ Buckhead Theatre
3/24 – St. Petersburg, FL @ Jannus Live!
3/25 – Orlando, FL @ House of Blues
3/26 – Raleigh, NC @ The Ritz
3/27 – Charlotte, NC @ The Fillmore Charlotte
3/29 – Brooklyn, NY @ Brooklyn Steel
3/30 – Boston, MA @ House of Blues
3/31 – Silver Spring, MD @ The Fillmore Silver Spring
4/02 – Asbury Park, NJ @ Stone Pony
4/03 – Cleveland, OH @ House of Blues
4/04 – Cincinnati, OH @ Bogart's
4/05 – Detroit, MI @ St. Andrew's Hall
4/06 – Grand Rapids, MI @ 20 Monroe Live
4/07 – Louisville, KY @ Mercury Ballroom
4/08 – Lawrence, KS @ The Granada Theatre
4/09 – Denver, CO @ The Summit Music Hall
4/13 – Portland, OR @ Roseland Theatre
4/14 – Seattle, WA @ The Showbox
4/16 – Sacramento, CA @ Ace of Spades
4/17 – San Francisco, CA @ The Fillmore
4/18 – San Diego, CA @ House of Blues
4/20 – Anaheim, CA @ House of Blue
4/21 – Hollywood, CA @ Hollywood Palladium
Sunset Blush is out 4/6.