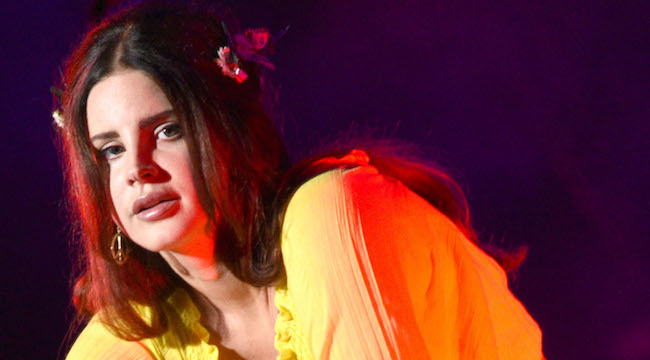 Lana Del Rey and Courtney Love both made their names by putting together a singular vision of Hollywood. Lana runs Old Hollywood tropes through her unique and witchy filter and Love plays the role of the perpetual outsider, chucking rocks at faded billboards of MGM icons and refusing to buy in to the glitz. So, it makes a weird sort of sense to have the duo interview each other in anticipation of Del Rey's upcoming album Lust For Life.
The pair — who have toured together in the past — discussed their love of each other's music, nerded out about starlets and art and even discussed a few details from Lana's ultra-secret upcoming project in Dazed. Check out a few of the highlights below.
On their mutual love for each other's music:
"CL: So, since I toured with you, I got kind of obsessed and went down this Lana rabbit hole and became – not like I'm wearing a flower crown, Lana, don't get ideas – but I absolutely love it. I love it as much as I love PJ Harvey.

LDR: That's amazing because, maybe it's slightly well documented, but I love everything you do, everything you have done – I couldn't believe that you came on the tour with me…CL: What I hear in your music is that you've created a world, you've created a persona, and you've created this kind of enigma that I never created but if I could go back I would create.LDR: Are you even being serious right now? I don't even know if your legacy could get any bigger. You're one of the only people I know whose legacy precedes them. Just the name 'Courtney Love' is… You're big, honey. You're Hollywood."
On a surprise collaboration with John Lennon's son, Sean:
"LDR: Speaking of John Lennon, I have a song with Sean Lennon. Do you know him?

CL: I do, I like him.

LDR: It's called 'Tomorrow Never Came.' I don't know if you've ever felt this way, but when I wrote it I felt like it wasn't really for me. I kept on thinking about who this song was for or who could do it with me, and then I realized that he would be a good person. I didn't know if I should ask him because I actually have a line in it where I say, 'I wish we could go back to your country house and put on the radio and listen to our favorite song by Lennon and Yoko.' I didn't want him to think I was asking him because I was namechecking them. Actually, I had listened to his records over the years and I did think it was his vibe, so I played it for him and he liked it. He rewrote his verse and had extensive notes, down to the mix. And that was the last thing I did, decision-wise."
In the full interview, the two singers discuss the time that Love met Elizabeth Taylor and hash out the New York vs. LA argument. Check it out over at Dazed. And for more Love, don't miss our argument for revisiting her '90s work.