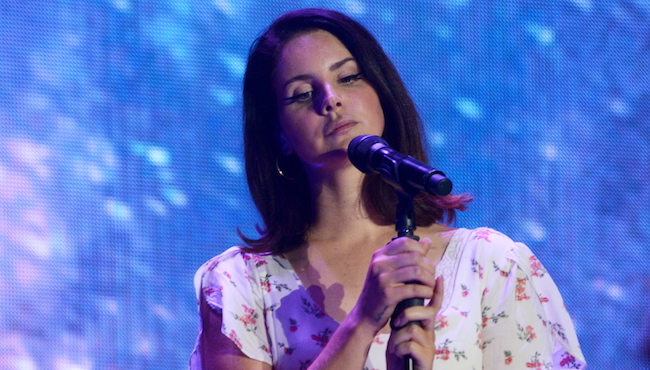 The two singles Lana Del Rey recorded with Jack Antonoff, "Mariners Apartment Complex" and "Venice B*tch," are two of the best songs released in 2018. At a benefit concert for Antonoff's Ally Coalition last night, Del Rey and Antonoff collaborated once again and debuted a pair of new songs.
You can check out the new tunes in some fan-shot footage from the event. The songs are pretty different from Del Rey's usual sound (and Antonoff's, for that matter). The songs, reportedly titled "Hey Baby Blue" and "I Must Be Stupid For Being So Happy," are classic, old-school country. Backed up by a spare acoustic melody from Antonoff, Del Rey sounds incredible channeling Patsy Cline.
Del Rey is a natural country queen, but according to fans who attended the event, Del Rey said that she and Antonoff just "made a couple of country songs just for fun," and the new tunes will "most likely not be on the new record." It's a shame, because the songs are so great, but I mean, I get it — they don't play women on country radio.
At the same event, by the way, Taylor Swift also made a surprise appearance and performed an acoustic version of "Delicate" with Hayley Kiyoko.
Del Rey's new album recorded with Antonoff, Norman F*cking Rockwell, is due out this spring. Watch the fan-recorded footage of "Hey Baby Blue" and "I Must Be Stupid For Being So Happy" above.