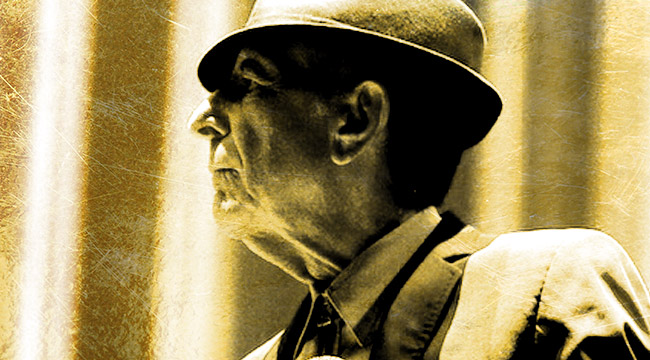 Leonard Cohen died last night at the age of 82. If you only knew him as the songwriter behind "Hallelujah," or even if you didn't know he was the one who wrote that song, Cohen's work is more necessary than ever given his ability to slash through the transparencies of religion, power, and sex with a single barbed phrase.
Earlier this year, our own Steven Hyden asked listeners not to send Cohen off to his grave too soon, even if the elderly songwriter had made it clear he was ready to go. Now that he's gone, Hyden's assertion that Cohen's last three albums — 2012's Old Ideas, 2014's Popular Ideas, and You Want It Darker from just a few weeks ago — are some of the best in his 14-album, nearly 50-year span rings even truer.
Perhaps the only solace we can take in Leonard Cohen's passing is that he openly wanted to die. Not the death wish of a dramatist or a depressive, but that of a very old man who'd had his fill of this thing we call life. With his art, he explored every corner of spirituality and sexuality, and through that work, he helped listeners do the same. He was unrepentant in the way that he interrogated the mythology of God, morality, and the afterlife. He'd been to the depths of loneliness and back, achieved countless honors, and loved hard.
Cohen ascribed to no fixed set of hierarchies, and instead formed his own, touching on moments of singular vulnerability and statewide corruption with equal grace. After all, "Hallelujah" is a song that repurposes a cry of Jewish celebration into a reflection on love's darker, more desperate moments; he turned the chorus' description of music theory into a universal cry, a Biblical king's sins into an existential commentary on love's futility — and the corruption of those in power.
He will be mourned deeply in a year already marked by the tragic loss of other musical heroes like David Bowie, Prince, and Phife Dawg of A Tribe Called Quest.

The loss of a poet who often helped listeners confront and grapple with all of life's odd darknesses is particularly sharp as we head into a future that reveals how divided America is, and how many people think less diversity will make our country better. But part of what informed Cohen's ability to speak and write and sing in such a powerful way was his heritage as a Canadian Jew who spent time in Montreal's diverse, working-class neighborhoods, abroad in rural, isolated Greece, and immersed in the counter-cultural New York of the '60s. It was his diversity that informed his brilliance, empathy, and ability to think around all sorts of dividing lines.
One of the best things about Leonard Cohen was that he never gilded the lily. Cohen f*cked the lily. Cohen noted the lily was stuck in one spot forever, doomed to a life without movement. Cohen watched how aphids ate away at the lily's perfect body. None of this, however, made him value whatever metaphorical lily he was addressing less. Instead, the little bits of brokenness and crudeness was where Cohen found profundity.
He gave me stark, succinct and downright weird descriptions of pain and loss that touched my wounds without healing them. But he touched them all the same. He could make a song feel like a short story, a logical feat given that his initial efforts as a writer were in the realms of fiction and poetry, but a feat nonetheless. The song may not offer resolution, but it offers a story about sex, isolation, loneliness or death that helps stave off the whirring of my own.
Cohen was often regarded as controversial because of how often and how explicitly he wrote about the act of sex, particularly women having sex, women full of desire, women naked and longing and eager to f*ck. Women with "swollen appetites," as he imagined our spiritual female heroine "Joan Of Arc." Such was his explicitness that it was once argued that a male coworker's gift of Cohen's writing to his female counterpart could be considered sexual harassment. For those of us interacting with it willingly, though, and full of expectation, his lasciviousness is part of the fun — you'd rarely hear Cohen's amicable rival Dylan get so physical.
In the late sixties, this explicitness was a feat and one that immediately set this darkly moody Jewish Canadian writer apart. Even before he began songwriting, Cohen's novels were successful, and well-received, but controversial for their inclusion of graphic sex scenes. For his part, Cohen seemed to have no problem weaving the graphic, crude moments of sex into the beautiful inevitabilities of what have traditionally been considered life's more eternal moments. In placing them so close together, he helped dissolve the invisible and unneeded gap between them.

You hear it on his best-known songs; "Chelsea Hotel #2" goes from him narrating a woman's brave, sweet talk directly to her sucking his dick, a multiplicity that few male songwriters ever allow women to have. Why shouldn't giving head be as brave and sweet as anything else the girl in the Chelsea Hotel ever did? Why build a hierarchy around human actions or moments of love?
Cohen insisted that this facet of our life, sexuality, deserved to be elevated with prose, and while his writing around these topics garnered criticism and controversy when they first came out, I think these moments of graphic sexuality will become some of the most beloved parts of his legacy. Federico García Lorca, Walt Whitman, and Henry Miller were his inspirations in pursuing this beautifully blunted celebration of human sexuality in his work. Of course, sex is a part of human life that transcends all races and creeds, sex brings us together in mute, naked desire, and it's a longing that is so similar to our desire for spiritual fulfillment. No wonder he so often paired the two.
"You held onto me like I was a crucifix," he sings on "So Long, Marianne," equating himself with a token of God's love, and when examined closely, the moments of ecstasy found in sex and religion aren't really that different at their core. They both help elevate us beyond the pain, darkness, and hate that exist so freely in our world, they both remind us that we are elevated when we join with others. A phrase from "Suzanne" that has always stuck with me is "he touched your perfect body with his mind," a bit of poetic pornography that directly hits at the hypnotizing mixture of praise and spiritual implications that the best sex effortlessly achieves.
As quoted in David Remnick's wonderful New Yorker profile, Cohen imagined his work from an early age as something for "pornography-peepers" which implies that we are still so often hiding or cloaking our sexual desires behind closed doors. By bringing them out in the open, and freely mixing the profane with the sacred, Cohen helped spook the ghosts in the machinery that power our fears surrounding sex and spirituality. Oddly enough, these two universal desires also play a role in what divides us; Cohen ignored those hierarchies and leveled the playing field. That's a feat worthy of a Hallelujah.