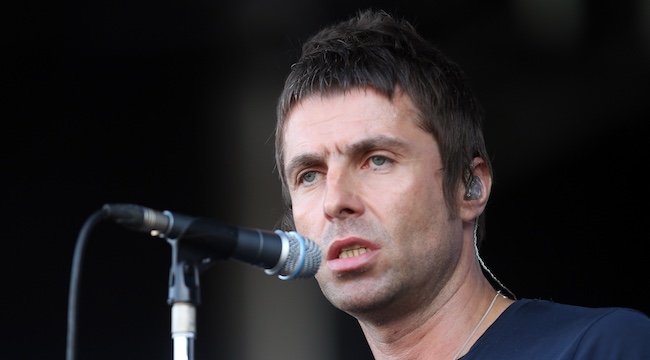 Liam Gallagher had a rough go at Lollapalooza this weekend, having to stop his set short after a "difficult gig" the night before that "f**ked" his voice. If you're looking for his redemption, though, don't check The Late Late Show With James Corden's hit segment Carpool Karaoke, because the former Oasis leader has absolutely no interest in driving around with "knobhead" Corden.
As NME notes, Gallagher was asked in a recently published interview with the UK edition of GQ whether or not he'd get in the car with his fellow countryman for a Carpool Karaoke segment. His answer was as brash as you'd expect.
"No, thank you very much," he said. "No f**king chance, mate. With that fat bloke from Kevin and Perry?" he asked, referring to Corden's former BBC sitcom Gavin & Stacey, which ran from 2007 to 2010. His wife Debbie stepped in and said, "It's called Gavin & Stacey and you've never watched it." Gallagher responded, "I don't need to watch it to know I won't like it. James Corden is a knobhead."
So it looks like Gallagher won't follow in the footsteps of Usher, Ed Sheeran, Katy Perry, and a host of others, but really, the whole thing would probably feel pretty out of character for him anyway.