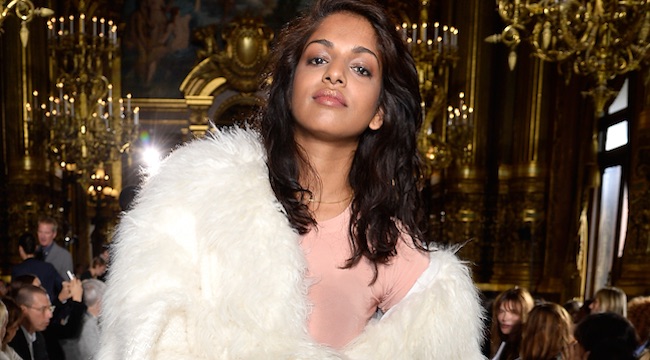 Saying a less than flattering word about The Almighty Beyonce is rarely encouraged. If the Beyhive doesn't tear you to shreds, the bulk of the planet will pick up the slack. So let's get to M.I.A. laying out her issues with Beyoncé on the table and see what comes next, shall we?
M.I.A. touched on the subject of popular recording artists (allegedly) plundering her sound during a recent chat with the UK's Q Magazine. As Attitude points out, she told the outlet that she doesn't take issue with acts pulling from her playbook, but she wants Beyonce, Rihanna, and Madonna to give her acknowledgement for the boost.
"I'm fine with Madonna or Beyoncé or Rihanna being 'inspired' by my work… But I would like them to then go, 'Yeah, this immigrant who came out of nowhere influenced us, so maybe not all of them are f*cking terrible.'"

"They don't even think like that. They go 'Yeah, maybe me stealing the stuff says she's all right. She should be thankful we're stealing it'.

"But sometimes you just think, 'F*ck, I have to pay some bills,' you know?'"
The artist born Maya Arulpragasam also suggested that the end of "working class" music is already taking shape. ("It would be really hard for Oasis to happen now," she offers.) In her eyes, Beyonce's rise can be partially credited to the efforts of the Knowles clan in grooming their (Destiny's) child since her youth.
"Beyoncé comes from the school of Michael Jackson-ness," M.I.A. told Q. "Where the family built an entire world to support you. From when you were a child. I never had that luxury."

This isn't the first time that M.I.A. has spoken about Beyonce in less-than-glowing terms. Earlier this year, the "Bird Flu" artist took issue with Beyonce and Kendrick Lamar for not piping up about supporting Muslims, although those comments would ultimately be walked back with tweets clarifying her stance.
At present, M.I.A. is already navigating the response to her recent comments on Twitter with torched diplomacy the order of the day.
While we're here, brief reminder that her newest album AIM was incredible — we wrote about the album not getting its due here.