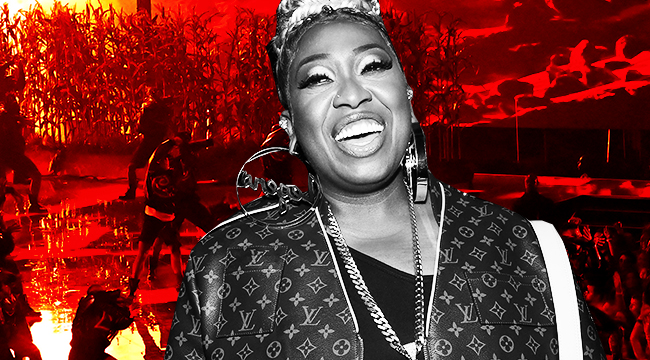 When Missy Elliott announced the release of her new EP, Iconology, she promised that it would be a collection of songs that brought back the Soul Train era of feel-good music that makes even street dudes want to dance. For anyone who grew up on Missy's groundbreaking late-90s and early-2000s hits like "Get Ur Freak On" and "Work It," her statement makes total sense — even though it's inaccurate.
Beginning with her breakthrough "The Rain" and continuing right up to her most recent song, "I'm Better," longtime Misdemeanor listeners know one thing about the Virginia genre-bender if they know anything: Missy's music has never been backward-facing. Instead, she has always been ahead of her time, making music from a utopian dance future that she also helped build in real-time. The most astonishing thing about her old hits is that they still sound as though they could have been recorded this year as any other. Against all odds, that trend continues on Iconology.
That isn't to say Missy never peppered her work with allusions to and inspirations from the "old school" — especially on her fourth full-length album, Under Construction. From the album's retro-styled cover, featuring Missy in classic B-girl regalia posing next to a "ghetto blaster" cassette player, to its music videos featuring legends of breakdancing like Mr. Wiggles and free-flying references to '80s hip-hop, Under Construction was as much a love letter to the music that inspired Missy as it was as an experimental, futuristic exploration of where music might be in 20 years.
It hasn't quite been 20 years since then, but the music and the aesthetic have both held up incredibly well. Artists as wide-ranging in style as Kendrick Lamar and Lizzo both count Missy and her videos as an inspiration for their own. Missy's avant-garde deconstruction of rap tropes is evident throughout hip-hop; she was most certainly one of the first rappers, alongside The Fugees' Lauryn Hill, to switch freely between singing and rapping, commanding equal respect in both arenas. And the most obvious visual testament to her foresight was the return of her former dancer Alyson Stoner during her MTV Video Vanguard performance. The now-26-year-old Stoner's reappearance to reprise her iconic routine from "Work It" drew raucous applause from the audience, demonstrating the way Elliott's retro-mining is now capable of expanding into her own work. If that isn't iconic, there's no such thing.
Missy clearly has her own legacy on the agenda on Iconology as she both takes stock and takes the controls, steering it into new, uncharted territory right from the jump. "Throw It Back" draws on the infectious hook from "Work It," slickly reminding listeners just how long she's been at the top of her game. "Watch me flip, reverse it / Flip it and reverse it, stupid with the verses," she boasts. "I did records for Tweet before y'all could even tweet." From other elder icons of rap, the boast would seem empty and repetitive. From Missy, over the rumbling beat provided by Wili Hendrix, it's a subtle, simple reminder that Missy, in some way, was a part of your childhood, whether you were a hardcore hip-hop listener or not.
Then there's "Cool Off," which plays off Missy's affinity for cherry-picking the sounds of big hits of old without directly aping them. There's a little of 2 Live Crew's Miami Bounce to it, but modernized, bridging the gap between eras with her signature casual enthusiasm. "DripDemeanor" sees Missy leaning into the R&B stylings of her fan-favorite album cuts like "Pussycat" and "X-Tacy." Newcomer Sum1 sings the hook with the same aplomb as former Missy protege Tweet, as Missy adopts a stuttering stop-and-start flow full of clever punchlines and come-ons. It's another song that could be from a session in 1997 or 2017, proving that Missy's instincts for crafting truly timeless hits remain intact. In fact, if there's any drawback to Iconology, it's that it's so very short after having to wait for 14 years for a project from Missy. But even then, there's evidence of that signature Missy touch — aside from her melodic and rhythmic gifts, she has one secret weapon: Her ability to always leave listeners wanting more. That's still there, too.
Iconology is out now via Atlantic Recording Corporation. Get it here.
Missy Elliott is a Warner Music artist. Uproxx is an independent subsidiary of Warner Music Group.