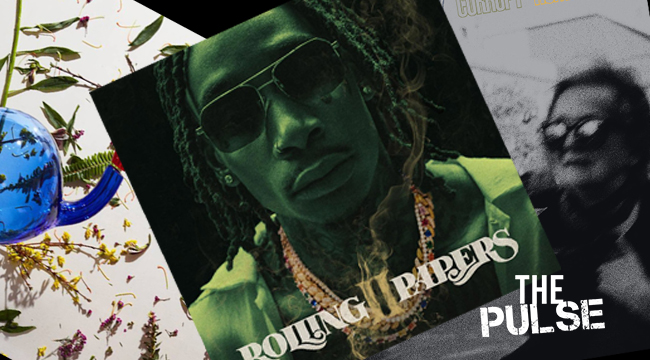 The Pulse is the Uproxx Music guide to the best new albums, mixtapes, and other music releases that matter this week. Find our complete list of the records coming out in July here.
Not many bands can get a mainstream audience excited about 10-minute post-metal songs, but Deafheaven is one of them, and their new record is filled with more than a couple of those. Wiz Khalifa is also back with a lengthy new effort, a 25-track project with a ton of collaborators, including fellow marijuana enthusiast Snoop Dogg. Meanwhile, this week also got exciting new albums from Dirty Projectors, DJ Shadow, and a pair of alt country legends: Cowboy Junkies and The Jayhawks.
Deafheaven — Ordinary Corrupt Human Love
Deafheaven gives songs the time they need: Four tracks here are over ten minutes long. This results in a record of epic post-metal with plenty of time for moments both loud and quiet, intense and serene. Read our review of Ordinary Corrupt Human Love here.
Wiz Khalifa — Rolling Papers 2
Streaming has definitely marked the rise of the long hip-hop album: Wiz's latest is 90 minutes, and he gives some guest stars an opportunity to do their thing over 25 tracks, including Snoop Dogg, Gucci Mane, Swae Lee, Ty Dolla Sign, and others.
Dirty Projectors — Lamp Lit Prose
On their second album in two years, Dirty Projectors are back in top form, and they've done it by being their idiosyncratic selves. They brought a great roster of friends along for the ride, too: Syd, Empress Of, Robin Pecknold, and Rostam are all featured on the record.
Read our review of Lamp Lit Prose here.
Wet — Still Run
Speaking of Rostam, he also joins Wet for "You're Not Wrong," which sounds like the best possible version of a song you would have heard in a 2000s Apple commercial. It's a highlight on an album full of them, a record that's upbeat, soulful, melodic, and just good.
Chief Keef — Mansion Musick
Chief Keef has been embroiled in legal trouble lately, but that hasn't stopped him from making music. He's already put out multiple releases this year, and his latest clocks in at a concise 33 minutes and is led by a track called "Belieber."
DJ Shadow — Live in Manchester: The Mountain Has Fallen Tour
Simply put, DJ Shadow is a legend, and his latest record is an opportunity to hear one of the most talented producers of the past couple decades do his thing in a live setting and in a more long-form way.
Taylor Bennett — Be Yourself EP
If you haven't been paying attention, Taylor Bennett is more than just Chance The Rapper's brother: His new EP shows that he's a real talent in his own right, determined to carve out a niche of his own with his dexterous flow and upbeat vibes.
Cowboy Junkies — All That Reckoning
The legendary alternative country group is still kicking over 30 years later, and on their first album in six years, they remind that they can still do it all, whether it's build anticipation on "When We Arrive" or rock hard on "Sing Me A Song."
The Jayhawks — Back Roads And Abandoned Motels
Speaking of alt-country groups from the '80s, The Jayhawks are also back with a new one, their tenth album overall. The album features a couple new songs, but is filled mostly with tracks that songwriter Gary Louris co-wrote for other performers, like the Dixie Chicks and Jakob Dylan.