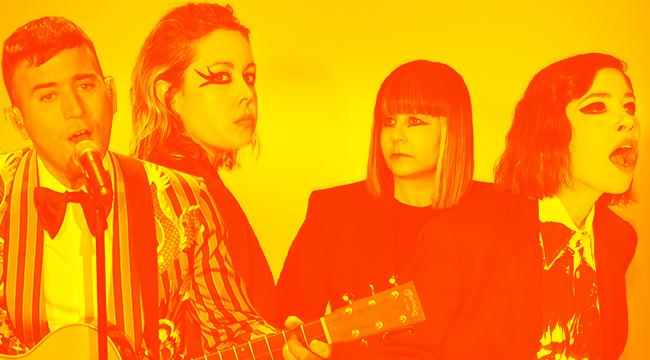 Indie music has grown to include so much. It's not just music that is released on independent labels, but speaks to an aesthetic that deviates from the norm and follows its own weirdo heart. It can come in the form of rock music, pop, or folk. In a sense, it says as much about the people that are drawn to it as it does about the people that make it.
Every week, Uproxx is rounding up the very best of the indie releases from the past seven days. This week saw Sleater-Kinney giving the first taste of their new St. Vincent-produced LP, White Reaper announcing their long-awaited new album, and Sufjan Stevens unveiling new songs in celebration of Pride.
While we're at it, if you want more music recommendations curated by Steven Hyden delivered directly to your inbox every week, sign up for the Indie Mixtape newsletter.
Sleater Kinney — "Hurry On Home"
After the surprise 2015 reunion that brought us No Cities To Love and a slew of tour dates, the future of Sleater-Kinney remained uncertain. Would they record an album? Would there be more shows? All of that was answered last week when Carrie Brownstein, Corin Tucker, and Janet Weiss unveiled "Hurry On Home," the swaggering first single from their politically charged new St. Vincent-produced LP, which is rumored to be called The Center Won't Hold. Searing guitars and Brownstein's growling vocals are on full display here, as the iconic band is ready to show that their best music is still forthcoming.
Sufjan Stevens — "Love Yourself"
The last time we heard Sufjan's voice, it was soundtracking the unshakable final scene of Call Me By Your Name where Timotheé Chalamet is crying in front of a fire as the credits roll. In celebration of the arrival of Pride month, Stevens shared his first new music in two years, two tracks that are "straightforwardly romantic," as Chloe Gilke writes for Uproxx. "Love Yourself" is based on a sketch of a song that Stevens composed in 1996, and its fleshed-out version is truly a sight (sound?) to behold.
White Reaper — "Might Be Right"
Two years after calling themselves The World's Best American Band, White Reaper have finally unveiled the first cut from their hotly-anticipated new Elektra Records album. With Thin Lizzy-adjacent guitar riffs, the Louisville didn't move away from their longtime goals. "["Might Be Right"] sees the band continuing their mission of keeping straightforward rock music interesting in modern day," writes Derrick Rossignol for Uproxx. Although a release date for the full-length is still forthcoming, the track is certainly a promising look at what's to come.
Crumb — "Fall Down
[protected-iframe id="4d976706052dc0f58c6420691249dabc-60970621-76566046″ info="https://open.spotify.com/embed/album/06RBY6zocHkYFOxMpUx7M3″ width="650″ height="275″ frameborder="0″]
Existing somewhere on the continuum between dream pop and post-punk, the Brooklyn-via-Boston band's new album Jinx puts an emphasis on pop structures, and their latest track "Fall Down" is perhaps the greatest example of what to expect from the new project. Built upon a simple bass-snare beat, the track is punctuated by a repeating guitar line that supplements reverb-soaked vocals and gives "Fall Down" a little extra edge.
Florist — "Shadow Bloom"
One of the most consistently satisfying young voices in indie rock, Emily Sprague is back with a new album that revolves around nothing more than a voice and a guitar — hence the title Emily Along. "Shadow Bloom" doesn't stray too far from the path of what we've come to expect and love about Florist, with sparse melodies and introspective lyrical arrangements. But Sprague is extremely focused here, making for what is sure to be one of her most impressive releases to date.
Slaughter Beach, Dog — "One Down"
Jake Ewald is trying to fill the void left by the disbanding of his band Modern Baseball. Aren't we all? Slaughter Beach, Dog is an answer to our pleas, and "One Down" captures the magic that we felt listening to Sports for the first time. With lyrics deeply personal, but also widely relatable, Ewald has always been able to bury right into the soul of the listener. "One Down" builds to a crescendo that feels almost cinematic, before cutting out abruptly for Ewald to utter its final chorus in a near-whisper.
Remo Drive — Natural, Everyday Degradation
[protected-iframe id="d5ce13a8e87daec503ca565f9cf1c7fc-60970621-76566046″ info="https://open.spotify.com/embed/album/579OU5Swiz5rATJ8E3sQjH" width="650″ height="380″ frameborder="0″]
When I saw Remo Drive open for Sorority Noise in Michigan in early 2018, it was one of those rare experiences where the opening act surprises you and you walk out a new fan. For their latest effort, brothers Erik and Stephen Paulson channeled the storyteller songwriting styles of formative acts like The Killers, Arcade Fire, and Bruce Springsteen, piecing together lyrical narratives for a thoroughly satisfying and amalgamative indie rock sound.
Gemma — Feeling's Not A Tempo
[protected-iframe id="a19ee4d815305339c994de399a8edb5e-60970621-76566046″ info="https://open.spotify.com/embed/album/1AmcsZbVyp7o3cu5ZaAnQj" width="650″ height="380″ frameborder="0″]
Gemma's sophomore album feels like it arrived in 2019 through a time machine from the disco scene of the 1970s. Felicia Douglass is more inspired than ever, and it shows in her second collaborative project with Erik Gundel, whose grooving beats lay a firm groundwork upon which Douglass's hooks can take off. The result is a collection of perfect tunes to throw on while walking in the new warmth of the summer.
Bill Callahan — Shepherd In A Snakeskin Vest (Side 2)
[protected-iframe id="a9af62279049914f7fd22d65ebe0daf2-60970621-76566046″ info="https://open.spotify.com/embed/album/54LAG147HyWEeT68fyMMfw" width="650″ height="275″ frameborder="0″]
For his first album in six years, which arrives next week, Bill Callahan has been slowly rolling out a few songs at a time. This time, he has unveiled the LP's second of four sides (there are twenty tracks total), giving further insight into what the songwriter has been up to for the last half-decade. Side 2 is a somber document of self-examination that continues to build the hype for the remaining tracks.
Some artists covered here are Warner Music artists. Uproxx is an independent subsidiary of Warner Music Group.