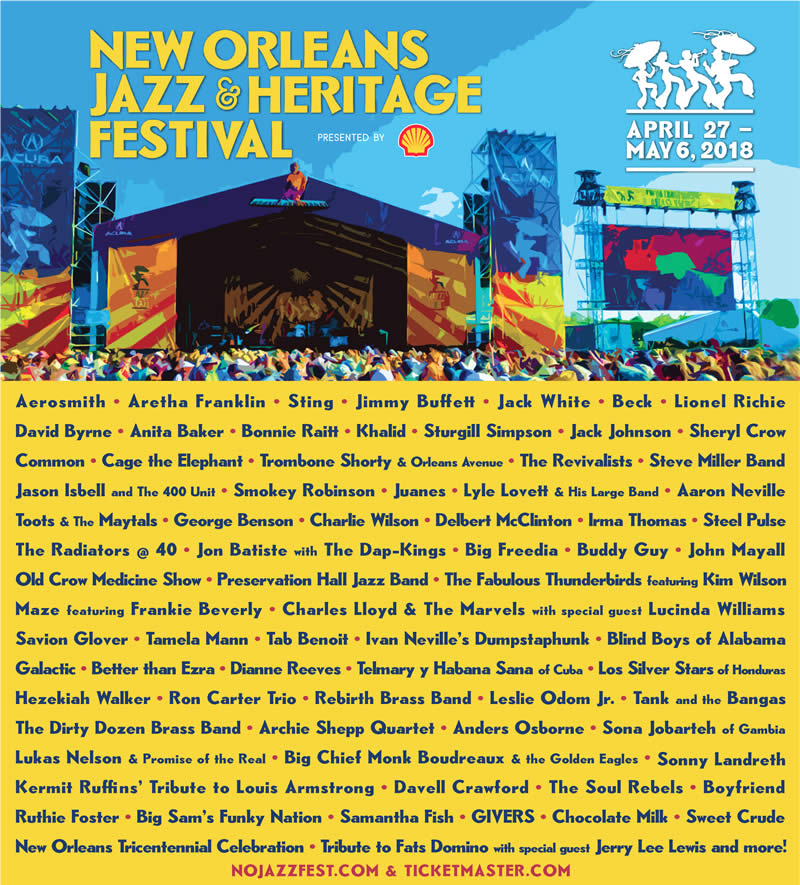 For two weeks in late April and early May, Jazz Fest is set to descend upon New Orleans, bringing with it a massive lineup of diverse talent from soul legends to modern hitmakers. For the 2018 installment, headliners include the eclectic likes of Aerosmith, Aretha Franklin, Sting, Jimmy Buffet, Jack White, Beck, and Lionel Ritchie.
Other notable acts are Jack Johnson, David Byrne (how will his "most ambitious tour since Stop Making Sense" translate to the festival stage?), Khaild, Sturgill Simpson, Jason Isbell, Cage The Elephant, and many more. Additionally, Jerry Lee Lewis and friends will be performing a tribute to the late, great Fats Domino, who passed away late last year at the age of 89. Check out the full, incredibly eclectic list of performers above.
However, Jazz Fest isn't just about the music. This year's installment of the festival will also showcase various parts of the culture of the city it calls home, featuring the Louisiana Folklife Village, Native American Village, and the Grandstand. At these locations throughout the festival grounds, attendees will be able to get a look at the vibrant culture, cuisine, and art of Louisiana.
Needless to say, the 2018 installment of Jazz Fest is shaping up to be an incredibly memorable experience. Tickets are available now on the festival's website.