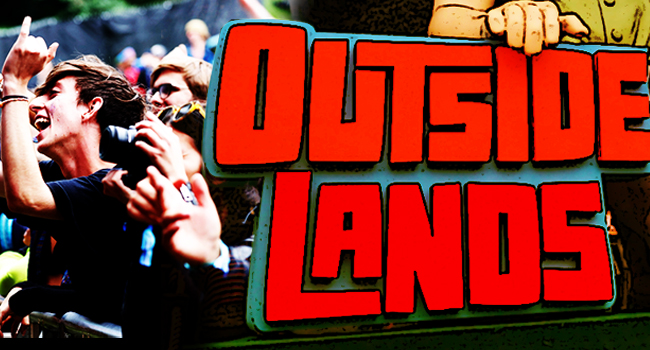 This past weekend Uproxx Music road tripped from Los Angeles to San Francisco to attend the tenth annual Outside Lands. In our estimation, this festival is one that puts fans and artists first, but as Uproxx's festival correspondent, I've put together a more detailed and specific report card to show how unique this festival is, and to help those who are trying to find the festival that is right for them.
BATHROOMS B-
It is with zero sarcasm that I tell you that the very first thing I did after entering the festival gates was to go find the bathroom. One, because after hours in the car I genuinely had to pee, and two from covering the festival circuit I've discovered that the bathroom situation serves as a litmus test for what type of weekend I'm getting myself into. I made my way across the polo field to the tune of Tove Lo's "Habits (Stay High)" and found a row of standard port-a-pottys, pretty anti-climactic but to be expected for GA. Throughout the weekend I would be continually impressed by how many port-a-pottys could be found tucked away in corners of the festival, you were never far away from one, even if it wasn't the cleanest.
Back in VIP I prepared myself for the typical flushable trailer situation only to round the corner and be faced with… more port-a-pottys. I know, I was shocked too. For $795 for a 3 day wristband, VIP festival goers had access to nicer, cleaner, more modern port-a-pottys. The luxury aspect here was that you never had to wait for one, and they were seemingly always being cleaned. There were also strings of lights across them providing a soft glow and plenty of tables with mirrors to fix your face and a whole row of real sinks, each with it's own succulent. It was actually kind of genius and set the tone for Outside Lands being a festival that thinks smarter, not harder.
https://www.instagram.com/p/BXrr1IoABNj/?taken-by=uproxxmusic
LOCATION A-
This was my second time ever visiting San Francisco, and as a new Angeleno, I was stoked to break out my jeans and hoodies. A friend once described Outside Lands to me as "Coachella but in flannel shirts" and while that's overly simplistic, it's a good entry point. The moody fall-like weather gave the whole thing a more relaxed feel that several of the artists mentioned during their sets. Lorde made us turn around and look at the mist kissing the tops of the trees. Yes, I saw Lorde again, get over it.
We were staying in Union Square (also known as the Times Square of San Francisco) so getting to the festival located at Golden Gate Park was about a 20 minute, $15 Lyft ride each way. Not the most ideal, but taking public transportation would take about 5 times as long. Of course, so would attempting to drive in between the hotel and the park, which at first seemed like it might be an option, until we spotted locals selling their own parking spots for up to $50, and realized just how far away festival parking was. Thank God for ride-sharing apps.
https://www.instagram.com/p/BXyLEqAh4Bs/?taken-by=uproxxlife
FESTIVAL GROUNDS A+
I think I'm in love with Golden Gate Park. Seriously, it was an absolutely beautiful place to spend three days. In my Lollapalooza Report Card I wrote about how being inside of Grant Park gave you the sense you were still in a sprawling city, Golden Gate park did the exact opposite in the best way. You walked off a San Francisco street and into the woods, it all felt like it was out of a story book.
Outside Lands probably had the most cohesive branding of any festival I've been to, it truly felt like they'd thought of everything, and the artwork was meant to be as functional as it was visually appealing. For example; typically at a festival there are three or four art installations that serve as Instagram backgrounds for the weekend, at Coachella these replenish every year, at Governers Ball they roll out the tattoo'd Statue of Liberty. Outside Lands definitely had a large marquee, windmill and an enormous statue of Ranger Dave that undoubtedly filled up your feed, but they also had football fields of photo opportunities along graffiti'd walls, tunnels and even lockers with their logo printed across them. As a result, traffic flowed a lot more freely and lines for the main photo opps were a lot shorter.
CROWD- A
The same person who told me this festival would be Coachella with flannel shirts told me it would be Coachella for adults. While Outside Lands is an all ages festival, the crowd definitely skewed older with a lot of families with younger children (ya'll know how I feel about toddlers with noise-canceling headphones on). There were definitely college aged adults and younger around, but the first night in VIP I remember sending a text to my coworker that everyone around me looked "Hot and Important" as I saw three dudes in suits not watching Tove Lo at all.
Everyone I met at this festival was almost unbelievable polite, I only got bumped into like twice and moving from stage to stage was more leisurely than at other festivals where you find yourself elbowing through the crowd. Don't get me wrong I danced my face off down in front at Lorde and The Who but calmer crowd could be found halfway back or in VIP viewing, where I spent the rest of my time. I would compare the crowd at Outside Lands more to that at the fall harvest festival than a college football game when it comes to levels of rowdiness.
LINEUP A
I was stoked on this lineup as it included a handful of acts I'd never seen before like K.Flay, Dawes and Fleet Foxes. I had seen parts of Solange's set at FYF, but had a totally different experience seeing her close out this festival. After Tribe Called Quest postponed and then ultimately cancelled their performance it became more apparent to me that hip-hop didn't have a huge place at Outside Lands.
I regrettably didn't get to hit up The Barbary, Outside Lands comedy tent, at all throughout the weekend as it is unfortunately still impossible to be two places at once and there was just too much music I needed to see. However I think this is a big draw, similar to Bonnaroo.
MERCH- C
If there was an artist merch tent at Outside Lands I literally never found it, I'm so sorry. I am the merch queen, and I failed you. I saw about a thousand hot millennials running around in the same Outside Lands branded bison bomber jacket, they all looked great. Festival goers who were perhaps a little too optimistic about the weather wrapped themselves in commemorative quilts that will no doubt find a home on the back of someone's couch. And I myself purchased an Outside Lands branded soccer jersey because my sartorial signature is workout clothes you would never actually work out in and I own way too many t-shirts at this point. My favorite part of the merch table is the artist merch that you had to be there to get, so my low grade comes from not being able to locate that.
FOOD (+ Booze) A++++++
I'm adding booze to this category because I found Wine Lands and I never wanted to leave. Outside Lands is as much a food and beverage festival as it is a music festival, with 30+ breweries, 37 wineries and over 75 food vendors represented. This is more than just an extra row of fried festival options, these were separate lands. Choco Land, Bacon Land, it just kept going and going. I would like to put in a request to add Nacho Land, as these were some of the best loaded nachos I've ever had.
https://www.instagram.com/p/BXrUqwBhkoQ/
Wine Lands was especially impressive as it featured over 120 regional wines curated by Peter Eastlake, Wine Director for Outside Lands. We were able to hang out with Peter for a reserve wine tasting in the Chase Sapphire VIP area where I learned enough about wine to know I know nothing about wine and interviewed Peter for our Instagram story about what wines he'd pair with each headliner.
Overall A
I really loved this festival. In a perfect world I would swap Outside Lands and Lollapalooza and make this one four days instead of three, the weekend truly went by faster than I could imagine. I want to note that Uproxx Music struggled with what we should post to social media from the fest throughout the weekend because of the events that took place in Charlottesville. Because we have tiny computers in our hands at all times we were not cut off from the outside world, even if our surroundings could have been a picturesque escape and several artists including Dawes and Solange took time to speak on these events. I am so grateful and recognize the privilege of being in a safe and accepting place like San Francisco. While music festivals can be an escape from reality, they cannot remove us completely and being surrounded by so much love, creativity and music was a helpful reminder that expression and representation is so important in times like these. To say my heart goes out to everyone affected doesn't feel like enough.