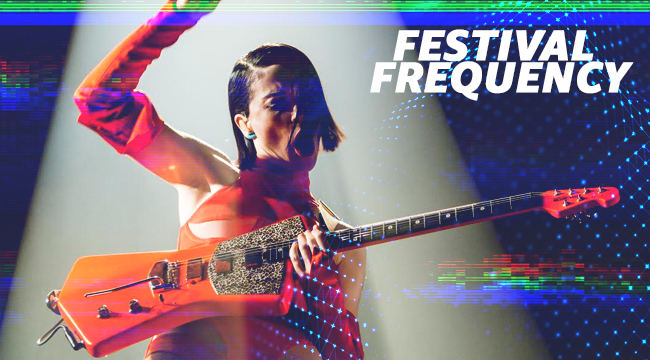 Festival Frequency is a monthly look at music festival-related topics that step beyond the shadow of the Ferris wheel, discussing everything from the performances to the inner workings that make this a global phenomenon.
You could argue that food or money are the true universal language, but music has to be high on that list. It wasn't more than an hour into my trip to Norway's biggest city, Oslo, that this point was reinforced. At the train station, it was an acoustic cover of Robyn's "Hang With Me" that rang out from the speakers. Out on the cool city blocks in the city center, it was a street musician singing John Denver's immortal "Country Roads" in Norwegian, its melody unmistakable in spite of the language barrier. Even before reaching the hotel, I'd heard R.E.M.'s "Everybody Hurts," 4 Non Blondes' "What's Up," and a violin rendition of Celine Dion's ubiquitous Titanic theme song ringing off the buildings and serenading flocks of people as they shuffled past storefronts, restaurants, and residences. Feeling at home thousands of miles from your mailing address is as easy as taking the time to listen.
Music, and particularly English language music, can be found in all corners of the worlds, and festival lineups hammer this point home on a yearly basis. But where music festivals offer their local residents the opportunity to take in international acts that might not tour their country with regularity, the exact opposite can be true for foreigners. Visit a music festival, see the world, at least in a sense.
Norway's Øya Festival takes a particular pride in this. Sure, Kendrick Lamar, Arcade Fire, and even crossover Scandinavian pop trailblazer Lykke Li might have been the top-line artists, but Norwegian acts were placed right up next to them, given premier slots that didn't downplay their homegrown pedigree. As is tradition, the event's largest stage closed not with their biggest booking, but with a local hero that most Americans haven't even heard of, Cezinando. Oya manages to be both things at once, a showcase for its local talent and a platform to draw the best from around the world. And this says a lot about the country as a whole.
Walking the streets of Oslo, you are likely to see signs in Norwegian, hear families speaking in their native tongue, and feel particularly far from America due to the sheer unfamiliarity of it all. But the second someone realizes you speak English, a switch flips instantaneously, and you'll hear English spoken with unexpected fluency. Some of the locals even get the American accent remarkably close, to the point that they sound just like the voices they've heard on TV, in song, or in their travels.
It's the mark of a people fiercely proud of where they come from, willing to expound upon their history or culture at the slightest of interest, but also deeply interested in other cultures as well. Scandinavians are known for being the best non-native English speakers in the world, thanks to prioritization in the education systems, being well-traveled, and other certain similarities — and Øya Festival reflects just that. This isn't some mammoth event designed to attract travelers from all over the world like Coachella. Only around 15,000 tickets are sold for each day. No, their diverse lineup is more a reflection of their own interests, and its overlapping with that of other cultures is a bit of good fortune.
Øya Festival functions as a jumping off point for learning about Norwegians in many other ways. One of the strangest and most endearing elements was the festival's commitment to recycling and green practices. The many children that attend (sorry Steven) could be seen gathering discarded plastic beer cups, wine glasses, and even cardboard beverage containers. Some would stack their cups taller than their own bodies, trotting around with their eyes locked on to drinking spectators, ready for that moment the last drop was consumed to take the drinking vessel away.
The kids were participating in a program that paid for each returned cup (1 kroner per cup, or about 12 cents American). The haul could quickly add up to serious money. So while their parents were enjoying a riveting set from Jenny Lewis, the kids were entertaining themselves and keep the grounds pristine. It felt like a win for everyone, and fed into the environmental commitments that begin for Norwegians in grade school. People clean up after themselves at eateries, sort their trash with precision, and boast about their clean streets and waterways. The music festival is simply a reflection of a way of life.
One bit of Norwegian culture that festivals attendees didn't see unveiled itself in the photo pit. One of the event's headliners, Arctic Monkeys, presented a photo release form to all the festival's photographers. As an American, these waivers are unfortunately common, and we often sign them even though they infringe on some basic artistic rights of photographers. It's a subject that has been written about with regards to Taylor Swift and Foo Fighters, and has generally been accepted as a professional obstacle that must be dealt with. (Whenever I'm talking about these things, I feel the need to point out that artists like U2, Radiohead, Arcade Fire, St. Vincent, The Weeknd, and countless others don't require photo releases regardless of their fame.)
But in Norway, the philosophy is much different. Here, the photographers hold their freedom of speech, of the press, and their professional rights so highly, that they often ask, and are granted, exemption from signing such waivers. And though Arctic Monkeys isn't the best or the worst contract I have ever seen (the biggest sticking point was that the photos could not be used for anything after three months following Øya), the band's team declined to waive the release and the photographers essentially boycotted the set.
As a foreigner, I was not pressured to boycott with them, but was just explained plainly where the Norwegian photographers stand on the issue and why. Still, it would feel like disrespecting a culture if I were to be a scab, and I saw the value of remaining united with them. The band has every right to request any conditions they want from photographers, but the press has equally the right to not offer them coverage or publicity. In a way, it was inspiring, and if other countries and cultures could remain equally united, it might make for better working conditions for everyone.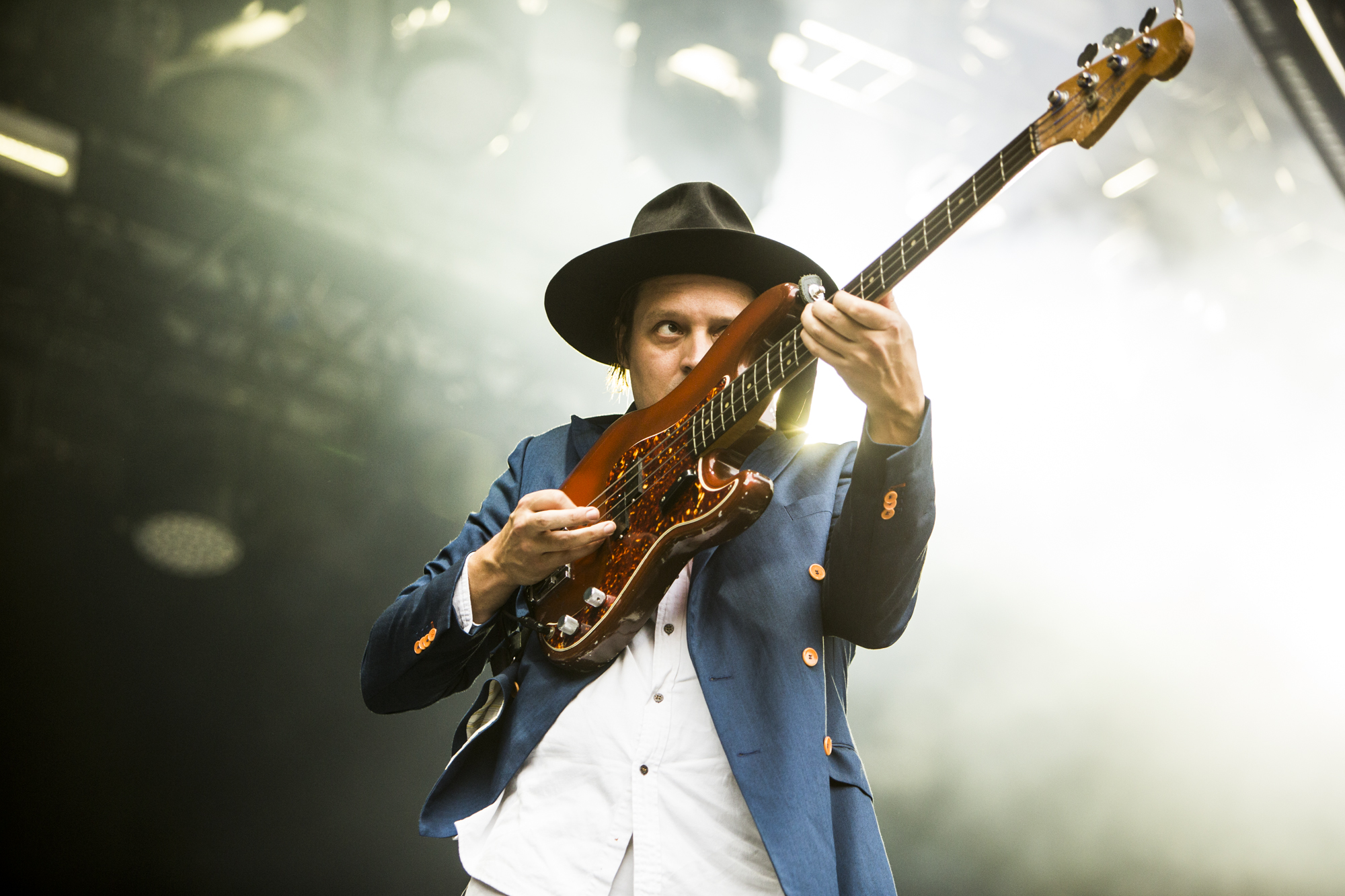 Elsewhere there were little things that illuminated bits of the Norwegian way of life. During an inspired set that reminded of just why Arcade Fire are one of the best live bands on the planet, bandleader Win Butler joked that he loved Norway because it is one of the only places he can find clothes that fit him. The tall frontman laughed as he added, "I'm just a normal size Norweigian."
Arcade Fire and St. Vincent both utilized crowd interaction, not taking a cue from the typically calm and reserved audience, but aware that they'd gladly clap along, wave their hands, or sing if urged. Otherwise, they would be as respectful and attentive as the music deserves.
At some of the other standout sets, be it rising Australian songwriter Alex Cameron (who noted he'd played in Oslo five times in the previous 18 months, a frequency which made sense when viewing the massive turnout he achieved), Patti Smith (who overflowed her tent to close out the festival, a turnout that would never happen in the US), or Lykke Li (given the headlining slot that her music deserves close to her home country of Sweden), all felt like they were being performed in the ideal setting. The artists seemed comfortable and appreciated, and the audience felt equally at peace, regardless of rain, wind, or sunshine.
But the best way to experience Norwegian culture at Øya was in witnessing the Norwegian artists. Some harkened back to more familiar peers, like the rootsy rockers Dig Deeper. Citing inspirations ranging from Neil Young to Drive-By Truckers, the band's live persona recalled another current US band, The War On Drugs, comprised of instantly hooky melodies, extended jams, and an eye toward their predecessors.
Others felt like musicians that couldn't be witnessed anywhere else on the planet, like the the classically-trained prog of Steamdome that featured three drummers and a crowded stage of musicians to bring composer Ola Kvernberg's music to life or the radical, bold pop of Sassy 009 that offered up eye-popping fashion and ambitious left-of-center musical sensibilities. For a musical culture that often plays second fiddle in American eyes to its neighbor Sweden, Øya revealed that it isn't because Norway lacks for exciting, original musicians. The festival offered up a counterpoint, that maybe more ears and eyes from the world should be on the Norwegian scene, and that even if that doesn't happen, there is plenty of attention back home to suffice.
Øya has had 20 years since its first festival to perfect its approach, to get even the smallest details right in how to present itself. And the longevity showed, mostly in its ability to put forward the identity of the people it represents, to make itself a synonymous with Oslo and Norway as a whole. It's not the only festival to do this in the world, and curious souls can seek out the others, getting to know other states and countries through the events that they throw. Øya serves as a shining example that the best of these aren't just excuses to party in a field, but they are community gatherings, reflections of the people that throw them. And as travelers, it's a glimpse into other worlds, a chance to be welcomed in to see what life is like somewhere outside of your own backyard. It's a pretty incredible opportunity that's just a plane flight and a concert ticket away.
Uproxx was hosted by Visit Oslo and Øya Festival for this story. You can read our press trip/hosting policy here.