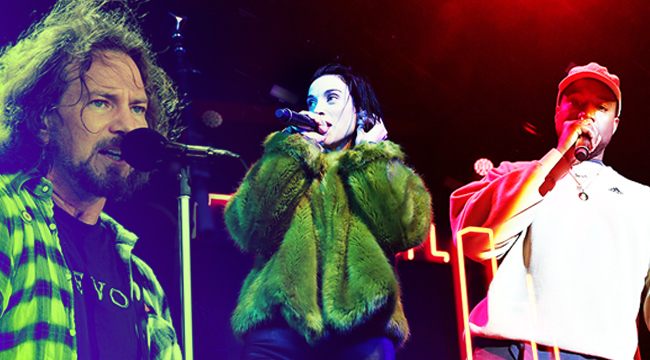 Last week, in a fairly innocuous news story, St. Vincent shared a behind-the-scenes warmup ahead of a performance in Asheville, North Carolina. The song choice felt left field — Pearl Jam's 1994 deep cut "Tremor Christ" from their third album Vitalogy — but knowing a bit about Annie Clark's history, it made perfect sense.
Growing up in Dallas, Clark was, like many in the '90s, a devoted Pearl Jam fan. In an interview with NPR about how the 1991 Pearl Jam song "Jeremy" influenced her decision to become a musician, she explained:
"I was just completely obsessed with Pearl Jam. When I was first playing guitar when I was 12 and writing my own songs, I was doing an Eddie Vedder impression. Like, that's how I was learning to sing.

I mean, everybody liked Pearl Jam at that time. Everybody liked Nirvana. Everybody even liked, you know, Red Hot Chili Peppers, and it was just like that was the wave, you know? I always felt like, oh, you like Pearl Jam? Oh, well, do you know this B-side? Do you know this rarity? Because I have all those tapes. You know, it's like you're a kid, and you finally have something that expresses that which you don't know how to express. And you have this way to construct your identity."
When I was growing up in North Orange County during the same period, I felt a similar draw towards the music of Pearl Jam. In that pre-internet time, it was difficult for most people to go beyond the albums and the singles for their favorite bands, but being a Pearl Jam fan in the '90s rewarded tenacity. They released compact disc singles of more songs from Ten and Vs than would ever become radio hits, with the b-sides that were contained within them, songs like "Yellow Ledbetter" and "Footsteps," becoming as integral to the Pearl Jam mythos as any of their more widely released recorded work.
And live, well, that was a place where Pearl Jam really distinguished themselves. Even in their earliest days, Pearl Jam would punctuate performances with one-off covers, debut previously unreleased material, and churn out improvised jam sessions. And while many of these moments would disappear into the ether the moment after they occurred, live recordings surfaced and became something that fans would trade and that many record stores would sell as bootlegs. Even as someone about to enter high school, Pearl Jam was a rabbit hole I could dive as far into as I wanted, finding an outlet for my emotions and an entry pass to a secret cult, without even knowing there were other members.
In an act that sounds so antiquated I might as well have been walking uphill in the snow both ways, I would make my parents take me to the local swap meet to thumb through racks of CDs. In a stall between off-brand car cleaning products and gourmet popcorn, I was eagerly looking for better recordings of Pearl Jam's cover songs and rarities, spending my meager allowance money on music that wasn't even guaranteed to sound good. It was an obsessive mode of fandom that rewarded in unexpected ways, not because I was becoming an expert in Pearl Jam, but I was also absorbing the band's vast number of influences.
Sure, there were the obvious ones, like The Who and Neil Young, who a California teenager like me probably didn't need a big shove to encounter. But it was also artists like Dead Moon and Daniel Johnston who the band covered, songs like Cat Stevens' "Trouble" and the Dead Boys' "Sonic Reducer" that were played live, or legends like X, The Ramones, Iggy Pop, or Frank Black, who all served as tour openers. And when they weren't digging into their own musical past, they were shining a light of some under-the-radar contemporaries, like Shudder To Think, The Dismemberment Plan, and The Murder City Devils. Unlike many of their contemporaries, Pearl Jam seemed to have an encyclopedic knowledge of rock from both the past and the present, and being a devout fan illuminated a level of taste that couldn't be found in a magazine or on MTV.
It's easy to look at my own life trajectory and see how Pearl Jam's musical influence shaped my own future career, but even more interesting is to see how much being a music fan has remained the same in the ensuing years. Just as Pearl Jam began to come back to earth as songwriters around the turn of the century, the internet really started to take off, and things like file sharing and eventually blogs made it much easier to discover music. And while some may mourn the lack of effort required to absorb a generation's worth of listening, the truth is that things became much more democratic. You don't value music more if you have to work harder to find it. The only thing really lost is just the memory of the pursuit.
But still, artists are finding ways to reward fandom. You can look at something like a Taylor Swift playlist, and as corny as it may seem to a blog-reading indie rock fan, it really might be the first way that a teenager will hear about a band as great as The National or a fringe artist like S. Carey. Or, with someone like Lorde, it might be taking artists like Majical Cloudz or Mitski on the road with her, exposing them to audiences on a daily basis that might not ordinarily cross paths with. It might not be coincidental that the artists that inspire some of the most impassioned, unwavering fandom are the ones willing to challenge those same fans, and offer rewards for digging deeper.
This is maybe most true of Kanye West. In hip-hop, sampling has long been a way for artists to show both where they come from and what they are interested in, but someone like Kanye has taken this through the stratosphere over the course of his career. There is his continual work with fellow rappers that he wants to give shine to, with the likes of Kid Cudi, Pusha T, and Chance The Rapper getting the Kanye bump. There is the music he's opted to repurpose, ranging from Nina Simone and Chaka Khan to Daft Punk and Aphex Twin. And, there are the people he's worked with on a production level, where artists like Gesaffelstein, Travis Scott, Arca, DJDS, and Hudson Mohawke all gained from the exposure to more ears that West provided.
For as iconic as Kanye West has become, he's never been above to sharing his spotlight, and using his platform to give other artists the benefit of his audience. I often think about the MSG Life Of Pablo fashion show, where Kanye was surrounded by some of his closest collaborators, and his own listening party virtually became an instance of passing the aux chord in an Uber ride. Kanye has always known how much his own taste is a part of his success, and in turn, being a fan of Kanye West made everyone the beneficiary of his generosity.
These efforts, be it making a mix or inviting an artist into the studio, aren't solely altruistic. It's not Kanye or Taylor looking out just for their fans, knowing that others could benefit from the knowledge and investment that they've committed their life. It's good for them as artists, as well. Their art is often a sharing of who they are and what makes them tick, and sharing their own musical tastes can be a reflection of that, too; by knowing the music that inspires them, perhaps their audience can better know them. And given art's role as a mode of communication, that may be the greatest achievement.
This is something that St. Vincent understands. Just on her most recent tour, where the requirements for her audio and visual spectacle mean that she's playing the same songs every night, Clark has additionally offered a similar behind-the-scenes take on Sleater-Kinney's "Modern Girl" and an in-studio rendition of the recent Rihanna and SZA cut "Consideration." Decades after she used Pearl Jam to go on her own musical treasure hunt, she's providing clues for her own young fans to get a glimpse into her musical diet, and to expand their own. They might be surprised to find that Pearl Jam's first few albums are filled with gems that you won't hear on the radio, or that Sleater-Kinney's feverish rock is punctuated by some inviting, hooky songwriting, or that Rihanna is more than just a pop singer they hear in the background at clubs. And if they ever go on to make their own music, they'll be all the more interesting because of it.