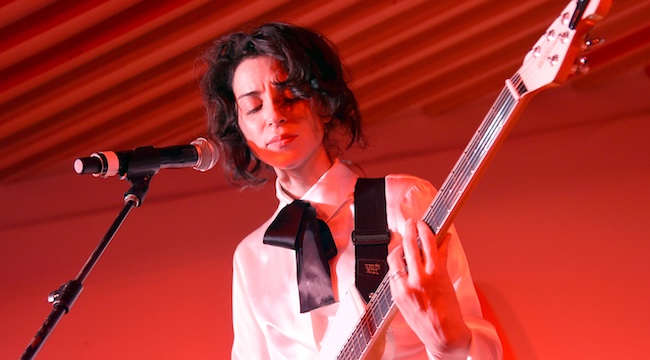 Over the past few months, the Spotify Singles series has produced some impressive covers, like Rostam's breezy version of Nick Drake's "Pink Moon" and The National's rendition of Cat Power's "Maybe Not." Now it's St. Vincent's turn, and on her new release, she shares a fresh acoustic recording of MASSEDUCTION single "Los Ageless" along with a cover of Rihanna's "Consideration." Rihanna's original is a relatively minimal synth and drum track driven by Rihanna and SZA's vocals, and St. Vincent's version is also minimal, but even more so, as it's pretty much just her vocals and what sounds like a distorted bass guitar laying down the foundation.
St. Vincent has had a real penchant for covers lately: In the past few months, she's taken stabs at songs by Sleater-Kinney, Patsy Cline, Cyndi Lauper, and while she hasn't yet, she could probably turn in a decent Lauryn Hill cover too. She's also going to have a busy summer, as she'll be performing at the Panorama and All Points East festivals.
Listen to both St. Vincent's new 'Los Ageless' recording and her cover of "Consideration" above, and check out our review of her recent show at the Hollywood Palladium here. Also, for comparison purposes, find Rihanna's original version of the song below.