The RX is Uproxx Music's stamp of approval for the best albums, songs, and music stories throughout the year. Inclusion in this category is the highest distinction we can bestow, and signals the most important music being released throughout the year. The RX is the music you need, right now.
In 2018, plenty of musical fandoms are driven by the cult of personality. Even when the accompanying music is superb (which often isn't the case), it's the story and the persona, the myth of celebrity that drives these artists forward. The focus is completely inward, a closed feedback loop centered on the reputation of the artist and all the flashy accouterment that comes with that. This is fame first, music second, a bargain that many artists are willing to take, and may they continue to pursue the glorious mess of fickle popularity without judgment.
This is not the kind of renown Matthew Houck is interested in. In the case of an artist like Houck, the tenured psych-folk musician who writes and records as Phosphorescent, the figure of the artist recedes a bit, and the songs take center stage. Or more importantly, larger themes the music gestures toward become the primary focus. In this type of fandom, the fan and the artist are both looking outward, angling and aching toward a third thing; the songs are a conduit for that quest, a cultivation of reaching that's not designed to ever fully grasp anything. Houck doesn't want you to look at him, he wants you to look, with him, at the song. For this reason, he's reluctant to talk at length about himself or his personal life, in his mind, that isn't really what the songs are even about.
And he's right — a sense of external reckoning thrives in the ethos of Houck's music, propelling him to six full-length albums of original material and six release on the storied indie label Dead Oceans, including a much-praised Willie Nelson covers album, To Willie, in 2009, and 2015's gorgeous live release, Live At Music Hall. In between those two, in 2013, came Phosphorescent's biggest album to date, Muchacho, a swaggering beast of a record that trades on psychedelia and the blues, and managed to hit No. 59 on the Billboard 200 chart, no small feat for an independent release in the streaming era.
Muchacho was also the first album to feature Houck's now-wife, Jo Schornikow, an element that pushed his personal life into the forefront like never before. "In the past, I was always very protective of my personal life. I kept a division between Matthew Houck and Phosphorescent," Houck explained to me, while we sat in the back studio of the newly reopened disco bar, Gold Diggers, in East Hollywood.
Formerly a bikini bar (read: strip club with lingerie), the retrofitted dive bar and music venue would host a private show that night, populated with label folk and a few members of the press, where Houck and his band would debut most of the songs off their long-awaited, stunning new album, C'est La Vie, for the first time. "Be nice," Houck joked to the crowd. "The way you react will determine how I feel about the album for the next several months."
Nerves aside, the songs go off without a hitch, a shimmering blend of bleary-eyed, steel guitar burners, ensemble-driven, psychedelic choruses, and even a playful piano ballad, all defined by the incisive, tender lyrics that are an essential facet of Phosphorescent. Surrounded by a large band, including two drummers, Schornikow, and several other players, the group brings to life the music Houck gently layered together in his Nashville studio. That it takes close to a village to flesh them out is all part of the appeal — Houck may be bandleader, but the music is the master.
In the intervening five years between Phosphorescent albums, though, so much has changed in Houck's personal life that it's been all but impossible not to address some of the shifts while discussing his new work. First of all, he and Schornikow got married and had a baby daughter, all while still touring behind Muchacho. After that tour was done, the new couple returned to New York and found it more inhospitable to their new family than they anticipated. Half on a whim, half on a lark they opted to move to Nashville a couple years back, and have been based down south ever since.
"I like the idea that this town is music city, and it's a town that was built on music," Houck explained of their new home. "I think I can still be enamored by the romantic notion of Nashville, like in the same you can be enamored with Hollywood, just as an idea. To some degree, it was just a choice, but I can't say Nashville as a thing didn't have something to do with it." Once they were settled in Tennessee, the family welcomed another new baby, this time a son, into their lives. And, as if Houck wasn't busy enough, he began building his own recording studio, a place to finally getting down the scraps and bits of songs he'd been writing during the chaos.
Aptly dubbed Spirit Sounds, the whole place was constructed to house an enormous a 1976 MCI console (bigger than this couch, he says, gesturing for emphasis). After Houck found the console, he erected a building around it instead of vice versa, gradually adding all the elements of wiring, lighting, and soundproofing as he whittled and worked song scraps into useable fragments. Even so, a recent Rolling Stone profile notes evidence of his children in this sacred creative space, and of course Schornikow pops in and out, intimating his family is just as ensconced in the studio as he is.
So yes, the family life of Matthew Houck, new husband and father, certainly impacted the trajectory of this new Phosphorescent record. But C'est La Vie is no more specifically about those experiences than it is about French. It's a record about the ambiguities of life, and how massive changes can unfold without us expecting or realizing they've done so, until suddenly one day we look up and everything has shifted. In these moments, life is neither bad nor good, it's just life, constantly shifting while we try to follow along, grabbing a hold where we can. Many of the tracks on the record attempt to grapple with the specters of change and time, invoking the natural world as a means of processing immovable these forces.
"I feel somewhat weird about trying to force a narrative," Houck reflected. "I feel a little bit wary of it. But I'm more comfortable this time with [my personal life] being part of the conversation, because it's not that any individual event is the big story here. It's more… 'c'est la vie,' exactly why the record is called that. A lot of things happened that were important — I think any one of them could be put in a category of a life-changing event or a major life event. And I think C'est La Vie feels very ambiguous, which is why I like it."
As for the songs themselves, they were written in fits and starts too, coming in and out of focus around the tour, the move, and the births; these new tunes felt a little fuzzy and far-off at first, swinging swang sharply into gear once the title track was written. "I had gotten started on some of these songs," Houck remembered. "A verse here, a verse there. Specifically the title track "C'est La Vie" was the quickest one to pop together, and then it sort of retroactively allowed me to finish other songs where I just didn't quite know what they were. Something crucial was missing from several of them, and then "C'est La Vie" made it clear as to what the whole thing was, and thereby opened up what to do on each song."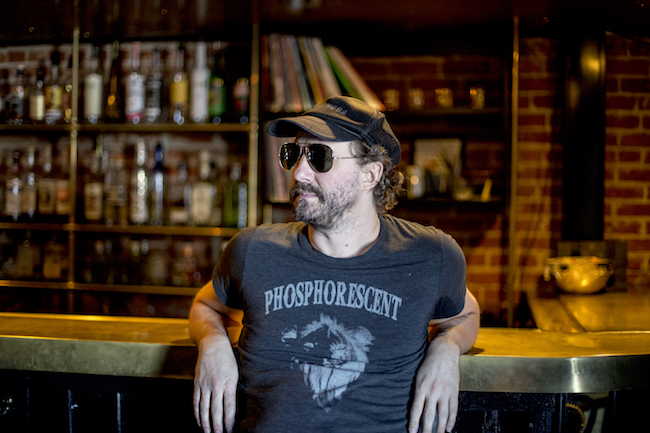 Given the way the title track unlocked the album for Houck, it was his obvious first choice as the lead single, but sometimes label folks do know best. Instead, that honor went to a jaunty story-song, the dazzling "New Birth In New England," a golden-hued outlier on the otherwise somber and occasionally melancholy record. The song is such a clever coup, it's hard for listeners not invoke the immortal Paul Simon within seconds. Contrast aside, the track has already racked up close to 1.5 million streams on Spotify and hit No. 24 on the Triple A chart, a new milestone for the band, and quite a way to re-enter the industry after half a decade away. It's the kind of comeback many indie bands would kill for after five years off. Houck is unperturbed by it, fiddling, still, with the importance of the title track in relation to the album as a whole.
"I love ["New Birth In New England"], and I'm fine that it was the first single, as it works with the whole thing," he explained. "But I guess for me, that song is a definite outlier of the album. I think it's probably the least representative of the rest of it. If you listen to the title track or even look at the album cover, it's very raw and dark. That is the emotion of the record. And I think it's strong enough to carry these things." As its creator intuited, repeated listens confirm this Phosphorescent album is more than able to withstand the darkness therein. Like any of Houck's record, it's a glimmering, meticulous system, an interconnected web of songs playing over and under and through each other.
Sonically, it's tough to peg Phosphorescent to any one signifier. The closest comparison I can come up with this time around is Allison Krauss and Robert plant's Raising Sand, a silvery bluegrass fuzz record that won all five of the Grammys it was nominated for in 2009, including Album Of The Year. It's a fascinating collection of country ballads turned satin, all covers, and even the simplest tunes are imbued with the pomp and circumstance, much the same way Houck shines up his country-folk references into dreamy, polished rock, and his name doesn't feel out of place alongside legends like Krauss and Plant.
Phosphorescent songs are more feathery than most folk music is, sophisticated even in their innocence, but sweet even when they verge toward piercing prophecy. If it's country, it burns with full moon fever. If it's rock, it's as open-hearted as wildflowers are. Petty isn't a bad approximation. Neither is Nelson, who Houck so clearly admires. Full of a stoicism that's especially welcome in an era of reactionary hysteria, C'est La Vie is a record like a sky, beautiful when it's clear and bright, and perhaps, even more compelling when things get stormy.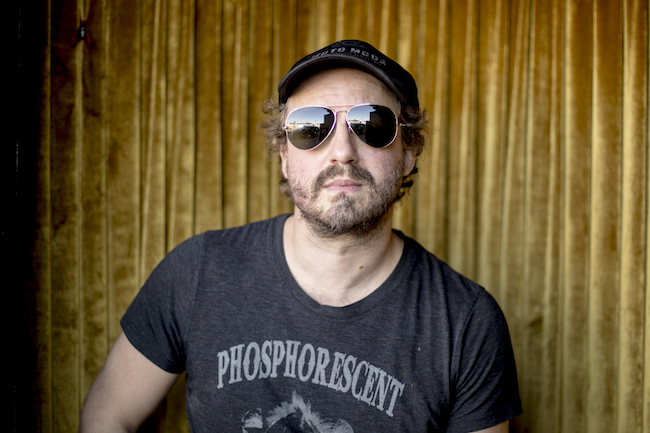 Bookended by an invocation and benediction, following the format of Muchacho (and other Phosphorescent releases), the album is extremely brief in comparison to streaming era behemoths like the bloated 25-track Scorpion. Aside from the opener and the closer, both wordless, the record is a mere seven tracks, and yet is still able to communicate a whole cosmos across these few songs.
"Christmas Down Under" sways prescient, a mournful tune full of blue light and anticipated sorrow (it's the song Houck names as his current favorite, when we speak), while "Beautiful Boy" is a doe-eyed coo of a lullaby, ambiguous enough, he points out, to double as a simple love song when not being traced through his own autobiographical prism. "This is a love song," he asserts that night at Gold Diggers, relishing an audience who will look with him, outward, toward the pliant, gleaming framework of a Phosphorescent song, and came away with a multiplicity of meanings all their own. "My beautiful boy / I couldn't fit it in these lines," he wails, a song bigger than the love that birthed it, and big enough to hold yours, too.
My personal favorite here is "There From Here," a wistful song that comes mid-record, baffled and baffling, as a narrator ruefully considers the perspective of a past self looking upon the present and finding it all but unrecognizable. Unlike so many other songs about looking back on our older selves, this one is marked by a complete lack of longing for what's come before; the bewilderment is bemused, the puzzling is sated by a remarkable contentment. Isn't it good to be so far from ourselves, the song asks, isn't it good to be so surprising and so surprised?
In that vein, "These Rocks" shuffles off burdens of the past, unloading formerly Sisyphean hindrances with quiet ease, a feat of acceptance that, nevertheless, comes with little joy. In contrast, "Around The Horn" is a triumphant, bellowing whoop, spiked with wailing guitars and veering keyboard, tricked out with a choir of background vocalists (or Houck's own layered harmonies) each contributing their own filigreed howl to the song's exultant ebb and flow.
Yet, amid all the songs about love, pain, and the whole damn thing, it's still "C'est La Vie No. 2," the de facto title track (and a sly nod to Leonard Cohen's "Chelsea Hotel No. 2") that easily stands out as the album's centerpiece. The track has a journeyman feel, bounding out across memories of spectacular, heaven-filled nights that burned with creative importance, or lonely, rain-drenched quests full of epiphanies, and the decision to turn away from these heady, solitary, moments toward something simpler, something less monumental but no less magnificent.
The song is about turning away from exploring the mystery of yourself, and looking back into someone else's ordinariness, only to find an even greater mystery there. It's a song of acceptance along with loss, a blessing that bleeds quiet grief, the grind of a clock hand coming to a halt, or the tick of picking back up again after years of silence.
Or maybe it isn't. Maybe it's about something else entirely. If it was, Houck wouldn't tell you. Surrender or fight, listen or leave. Let the spirit move you. When you become unrecognizable, be thankful for the gift. Not everyone gets chances like these, even fewer get to hear them sung back. The earth is blue, and everything about it is a love song.
Look outward, toward the song.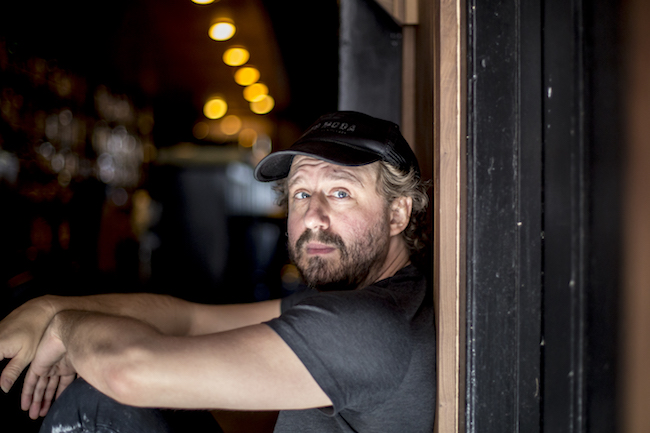 C'est La Vie is out now via Dead Oceans. Get it here.