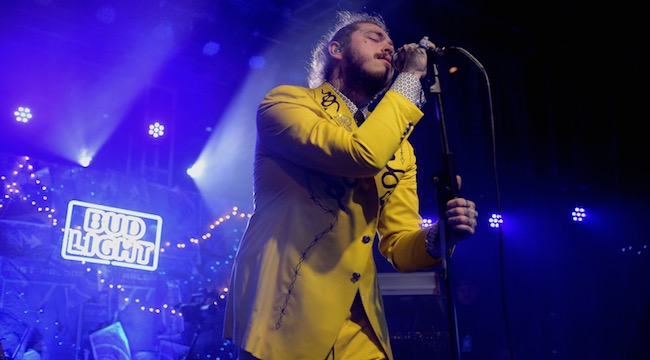 It's the wrong side of midnight in Nashville, Tennessee and I'm fully three sheets to the wind at the afterparty for the most recent iteration of the Bud Light Dive Bar Tour. Standing next to me at the bar is Post Malone, the star of the evening, who just came offstage a couple hours ago after turning in an electrifying performance at the Exit/In for a couple hundred people in person, and a few hundred thousand watching on their phones and laptops.
He's still dressed in the eye-popping yellow suit he wore for the show and everyone in the room seems to be subtly vying for his attention. Suddenly, after a stretch of Ludacris cuts, the DJ drops Guns 'N' Roses' immortal power-ballad "Paradise City" and Post stops all conversation to sing along with the recorded Axl Rose. As a Guns fan myself, I join in, and before I know it, we're draping our arms over one another scatting out Slash's iconic duh-duh-duh-duh-duh-duh guitar break right into each other's faces.
While he will probably always be viewed as a hip-hop artist first and foremost — and rightfully so — Post Malone f*cking loves classic rock and roll. You probably already surmised that from the shout-out to AC/DC singer Bon Scott — RIP — in his smash single "Rockstar," but for a full hour-and-a-half before he takes the stage at the Exit/In, the tiny crowd is bombarded with blaring loud tracks by the best '90s grunge has to offer: Soundgarden, Pearl Jam, Alice In Chains, etc. I'm pretty sure I also heard Nirvana's entire era-defining album Nevermind.
To drive his rock bona fides home even deeper, once the livestream goes down and the main set ends, Post reemerges from the wings and rips into a truly amped three-song capper of Green Day's "Basket Case," Pearl Jam's "Last Kiss," and the Stevie Ray Vaughan deep cut "Look At Little Sister." I mean, I'm as big an SRV fan as anybody, but even I was thrown for a loop by that one.

In a recent interview with GQ, Post infamously said, "I don't want to be a rapper. I just want to be a person that makes music. I make music that I like and I think that kicks ass, that I think the people who f*ck with me as a person and as an artist will like."
A lot of hip-hop fans took offense to those comments, seeing it as a diss to the culture, but I think Post is simply someone reading the room. Younger millennials don't care anywhere near as much about concepts as archaic as genre distinctions in 2018. At a time when nearly every single pop, rock, or rap song ever recorded is sitting in your phone; when Beyonce is making tracks with Jack White, and Kendrick Lamar is hitting the studio with U2, who gives a f*ck about whether something falls comfortably into a narrowly defined box.
The truest expression of that ideal is his new single, a tear-in-my-beer acoustic ripper called "Stay," which he debuted for the first time during this show. "For a while we were calling it 'George,' because it reminded us of George Harrison because of the chords in the song," Posty's guitar player Andrew Watt told me. It might be a stretch to compare it to the work of the "Quiet Beatle," but I feel safe in calling "Stay," my favorite Post track to date.
"We met up in Henson studios, this legendary studio in L.A. and sat there with guitars for a while and wrote that song," Watt explained of the song's genesis. "I think it's somewhere between Oasis and David Bowie, just this weird thing. Then he starts rapping on it. It's just something only Post could do."

That's probably true. And the fact he could dig into a song like "Stay" just after going mic-to-mic with 2 Chainz on "Money Made Me Do It" while shouting out Bankroll Fresh — RIP — is probably something else that only Post Malone could do. To the delight of his many fans watching at home, shortly before strapping on the guitar and unveiling "Stay," Post revealed, that his new album, Beer Bongs & Bentleys, is going to drop later this month on April 27. Though no one has heard it yet, you can almost certainly assume he will bring his increasingly wide-ranging taste to the table for a project not quite like anything else out there.
"Post is a hip-hop artist. He loves hip-hop. But he also has a deeper side," Watt said. "The album is so eclectic. The guests on the album are insane. Everything from hip-hop to alternative music to the acoustic records and the slower stuff."
Because of his unrepentant, goofball personality, it's easy for a lot of people to refuse to take Post Malone seriously as an artist, but the numbers don't lie. Stoney, his last album, is sitting pretty with a double-platinum certification. He's got three top 10 singles, including a number of No. 1, "Rockstar," to his name, and you can almost certainly guarantee that unless an act of God or Kanye West intervenes, his next album will do monster numbers in its first week out of the gate and probably hit No. 1 as well. He's clearly doing something right. And actually, that same goofball personality belies a pretty impressive work ethic.
This show for instance, his first-ever full-length gig with a live band, came together in the span of just three days. The day before, Post was holed up at the Exit/In for 10 full hours, fine-tuning his vocals and guiding the players through their respective parts. "Everyone was cold. The crew, the band, everyone," Watt said. "He put a lot of love into this show." And it showed. My only regret is that this presentation appears to be a one-off and his upcoming festival appearances and tour with 21 Savage will be presented with backing tracks. For the sake of the people, I seriously hope that he reconsiders. Post, you've spent the last year "Feelin' like a rockstar." All I'm saying is, keep proving it onstage.