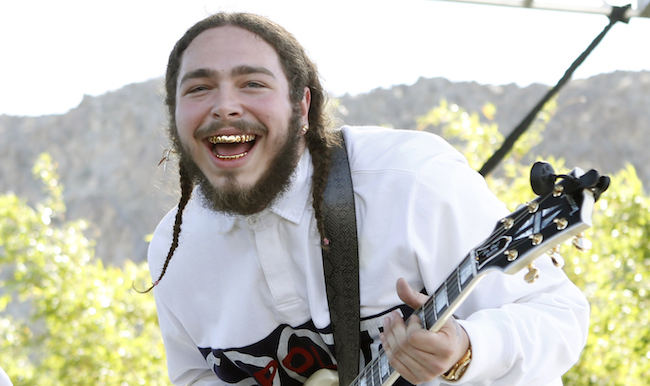 Post Malone is having a huge year, already racking up his first-ever No. 1 song with "Rockstar," just months after nabbing a platinum plaque for his debut album Stoney. His success has taken him all over the world, including Poland, where he sat down with NewOnce and managed to make some questionable statements about the genre he's most often associated with: Hip-hop.
Post had a lengthy discussion with NewOnce, discussing the beginning of his career, moving to LA to chase his dreams, working with Kanye West and the boost Kanye's sister-in-law Kylie Jenner gave to his career. Eventually, the discussion turns to hip-hop, and Post takes the chance to downplay the emotional aspect of the genre, saying it lacks lyrical content and emotion, at least in the present.
"If you're looking for lyrics, if you're looking to cry, if you're looking to think about life, don't listen to hip-hop," Post says in the interview. "There's great hip-hop songs where they talk about life and they spit that real sh*t, but right now, there's not a lot of people talking about real sh*t. Whenever I want to cry, whenever I want to sit down and have a nice cry, I'll listen to some Bob Dylan.
Post goes on to say he listens to hip-hop when he wants to "have a good time and stay in a positive mood," and says he thinks the genre is important "because it brings people together in a beautiful, happy way." It's not much of a turn for Post, who once made it clear he didn't want to be viewed as a rapper, even if he made rap music.
Check out Post Malone's full interview with NewOnce below.