Well, here we are: we've made it through another year, one that seems like it reached the highest highs and the lowest lows, all within the confines of twelve months. The light at the end of the tunnel is in sight, and soon you'll be able to wipe the slate that was 2016 clean and start anew. And what better way to start anew than to buy some new things that you want rather than prioritizing what you need!
In case you're unsure of how many different options you have to choose from, here's a list of some cool things — ranging from vinyl box sets to weird toys and other knick knacks — that you can pick up online or in stores this holiday season for yourself or the resident rock obsessive in your life. Prepare for a lot of classic rock and late-90's, early-2000s nostalgia.
Queen Greatest Hits I & II vinyl
In case you didn't know, Queen has not one, but two greatest hits albums, both of which were recently reissued on double 180-gram heavyweight vinyl. Previously, it was difficult to get your hands on a vinyl version of the albums, and if you did, it was going to cost an arm or a leg. That said, with the albums back in circulation, both vinyl sets are priced at a modest $33.99! Spread across four records are the obvious hits ("Bohemian Rhapsody," "We Are The Champions," "We Will Rock You"), as well as some lesser-known cuts that display the band's incredible wealth of talent and material ("Radio Gaga," "I Want It All," "The Invisible Man"). Pick up one or get a discount on both sets here.
Green Day discography cassette box set with a boombox
Have you ever thought to yourself, "It would really be great to have all of Green Day's studio albums on cassette"? Well, boy do I have good news for you then! For only $250, you can purchase cassette versions of everything (yes, that includes the trilogy) that the Bay Area trio has crafted in a recording studio, ranging from their earliest offering of 39/Smooth to their 2016 comeback Revolution Radio. The whole package comes with a case to hold all the tapes, a boombox primed and ready to play them, as well as a sticker sheet to decorate your collection. Order it here.

A copy of Laura Jane Grace's excellent memoir
Having just finished this book, I can confirm that it is 100% worthy of your money and time. Not only is Tranny an excellent tell-all memoir filled with sex, drugs and rock and roll, but also — and more importantly — it details Grace's struggle with gender dysphoria, starting at the young age of five. It tells the story of Against Me!'s rise from basement punks to playing a sold-out Giants Stadium opening for Green Day (catch this stellar lineup again on Green Day's Revolution Radio North American spring tour). Written with Noisey's Dan Ozzi, it's a quick but incredibly rewarding read that will make you laugh and cry, sometimes simultaneously. Pick up a copy here.
Guns 'N' Roses Funko Pop! dolls
If you're anything like me and just couldn't stop thinking about this year's Guns 'N' Roses reunion — and then didn't go see it over the summer — at least you can pick up a little cartoon toy version of Axl or Duff or Slash to satisfy your '80s glam rock luster thanks to Funko Pop! Priced at $20 each, the original lineup can reunite right on your mantle this holiday season. Pick up all three here.
Rolling Stones In Mono box set
Before the use of stereo speakers became popular, music was mastered for a singular output, better known as mono. From 1963 to 1969, everything that the Rolling Stones released was mastered this way, made for a small record player with a built-in speaker. As was done with the Beatles, all of these albums have since been remastered for studio output, thus making the original mono recording fairly hard to come by. Well, not anymore! Comprised of 16 records and priced at $325 for the set, Rolling Stones in Mono features a whopping 186 tracks, 56 of which have never before been heard in mono. Order it here.

Tickets to see Eric Clapton in LA or NYC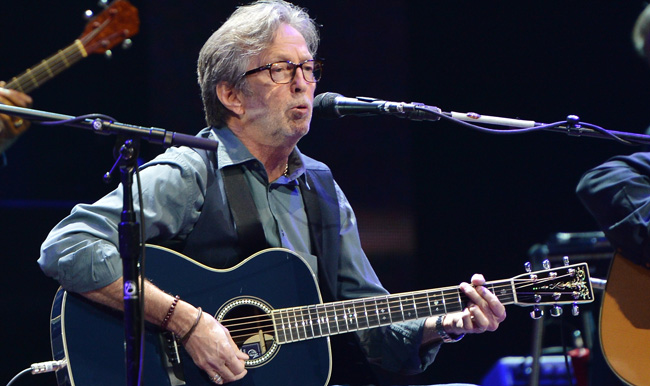 Despite his heightening age hindering his ability to play the guitar like he used to, Slowhand is back on the road this Spring with four dates in March: two in New York at Madison Square Garden, two in Los Angeles at The Forum. With Clapton's apparent declining health, this could be one of the last opportunities to see the guitar legend live. Order tickets here.
Blink-182 Vinyl Box Set
Blink-182 returned in a big way in 2016, releasing the surprisingly adequate California sans guitarist Tom DeLonge, plus Alkaline Trio's Matt Skiba, and following it with a massive summer tour. But that doesn't mean they can't still cash in on their pop punk heyday with a 10-disc career-spanning vinyl box set showcasing the band's evolution from 1995's punker Cheshire Cat to 2003's brooding Untitled. This one is going to cost you less than those classic rock reissues, with a price tag set at $180. Order it here.
Beatles Yellow Submarine LEGO set
For only $60, you can own LEGO incarnations of John, Paul, George, and Ringo during the Yellow Submarine era. And the submarine is included! What else could you possibly need? Order it here.

Supersonic Blu-Ray
If the Gallagher brothers can't reunite in person this holiday season, at least they can reunite on your screen. Though we had a little bit of a problem with Adam Curtis' Supersonic documentary neglecting to discuss Be Here Now, this is still definitely worth a viewing for anyone who loves Britpop, Oasis, or heavy Manchester accents. Order it here.
My Chemical Romance, The Black Parade 10-year anniversary bundle
Gerard Way is no longer the young boy his father took into the city to see a marching band. The Black Parade is ten years old, and although people thought that might mean a reunion tour, it's just a deluxe reissue of the seminal My Chemical Romance record. The $30 vinyl bundle comes with a commemorative flag, and includes demos and other unreleased tracks to wet the whistle of your "emo" loved one. Order it here.
A Copy of Maynard James Keenan's memoir
There's no new Tool record on the horizon, but at least we have this. A Perfect Union of Contrary Things details Maynard James Keenan's trajectory from a Midwestern childhood to the army to entering the public eye for his work with Tool. At under 300 pages, it's a relatively short, yet very insightful read. Order it here.

Pink Floyd, The Early Years 1965-1972 box set
This one's a doozy: Over 130 tracks spread over 27 discs, The Early Years catalogues everything Pink Floyd recorded between 1965 and 1972. Along with seven book-style volumes, It includes more than 20 previously unreleased songs, 7+ hours of previously unreleased live audio performances and 5+ hours of rare concert footage. You're not going to get a more expansive, definitive collection of Pink Floyd's work pre-Dark Side Of The Moon. Order the set here.
Bob Dylan, The 1966 Live Recordings
Fifty years before he was standing up the Nobel Academy, Bob Dylan embarked on an extensive world tour that hit the US, UK, Europe, and Australia. With the exception of one concert held in Manchester, everything on The 1966 Live Recordings is previously unreleased, and was meticulously curated and restored from soundboards, CBS Records mobile recordings and audience tapes. It's only available in a massive 36-disc CD box set, which is priced at $107. Order it here.
A copy of Bruce Springsteen's Born To Run memoir
If playing shows that span well over three hours at age 67 wasn't already impressive enough, Bruce Springsteen's book was written all throughout that latest round of touring — with no ghost writer. This is all Springsteen discussing what it's like to live life as Bruce Springsteen. His first foray into bookwriting, Born To Run details The Boss's growth as a songwriter and musician, but also discusses his battle with depression, a part of his life of which many fans were previously unaware. Order it here.
Temple of the Dog 25th Anniversary Edition
If you're going hungryyyy (hehe) for Pearl Jam's instrumental section with Chris Cornell at the mic, look no further. Having formed in honor of their late friend Andrew Wood, Temple of the Dog released only one self-titled album and played a total of zero shows before the members went back to their respective main gigs. Earlier this year, the band got back together for the first time in 25 years to re-release their debut album and play a short string of tour dates. The 25th anniversary edition of Temple of the Dog features 48 previously unreleased tracks and demos across two 180 gram records. Also included is a limited edition 12-inch removable 3D lenticular cover. Order it here.
For a look at more must-have gifts this holiday season, take a look at our other guides.