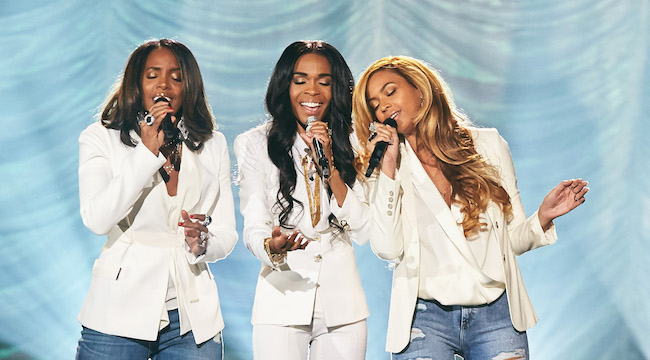 About a week ago, a rumor surfaced that Beyonce and Kelly Rowland were reuniting to start a group project when an Instagram called @roseivyou popped up and followed the both of them as well as the Tidal account. Many — including myself — passed it off as a fan-started gimmick or a hoax. However, today, the official Tidal account followed Rose IV You back, just before the Rose account posted a photo of a silhouette that looks suspiciously like Mrs. Carter herself (swipe left or click the "right" arrow on the first pic).
https://www.instagram.com/p/BpHpwcGnt2i/?taken-by=roseivyou
Get excited, people. It might just be happening. While the Rose IV You account initially posted video featuring vocals that resembled a harmonizing Beyonce and Kelly, a little skepticism could be expected. After all, fans have purported to have inside track info or created their own mixes all the time — Youtube is littered with them. However, when photos begin popping up and the official Tidal account follows this one, something is undoubtedly afoot.
It wouldn't be the first time this year Beyonce teamed up with closely-related loved one to release a joint album. The Carters released their Everything Is Love album without warning this summer, while Beyonce herself has demonstrated a penchant for surprise releases and mysterious promo runs. If this rumor turns out to be one of those, expect to see a lot of Queen Carter to finish the year and save a spot on those Christmas lists. It turns out a little more Beyonce is the greatest gift of all.