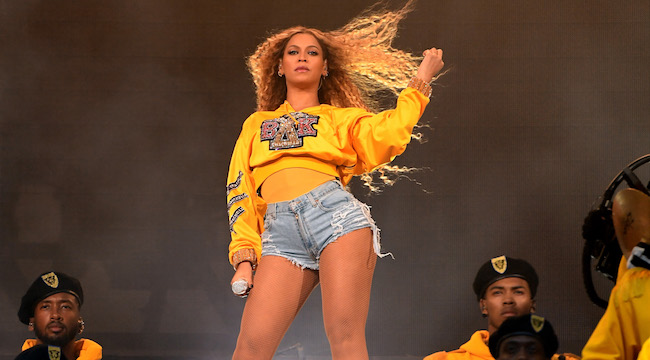 How much is too much?
When it comes to Beyonce, I'm not sure what the upper limit is, or if there even is one. Her extravagant Coachella set certainly would have approached was she anyone other than Beyonce. But because she is Beyonce, and because it was Coachella, somehow, it seemed that no matter how much she did, how much more happened during her epic, genre-spanning set, it was not enough. Like Jell-O, it seems there is always room for more Beyonce.
When rumors that she was spending insanely long hours in rehearsals with hundreds of dancers surfaced ahead of the festival, it seemed like a prime example of something that just couldn't be true. Except — again — because it was Beyonce, it seemed, if not reasonable, fathomable, or feasible, it at least seemed possible. Last night, she turned up without the hundreds of speculated dancers and instead, brought a full-on HBCU marching band for a homecoming, hip-hop history lesson that won't soon be forgotten by anyone in attendance.
Sorority jackets, baton twirlers, drumlines, massive brass sections, line pledges — you name it, if it related to a historically Black college/university tradition, Beyonce probably included it, all in the service of a message that has been rare for this festival's main stage. Espousing a directive of unabashed Black self-love and celebrating femininity has almost been unheard of from the headliners of Coachella. There have been very few women, very few Black performers, and even less artists who check both boxes. Then along comes Beyonce Knowles-Carter, resetting the expectations for what a Coachella headliner should look like, sound like, and most importantly, how one should perform. There's a new standard, and it's practically impossible to live up to.
Not only were the marching band-embellished renditions of the songs bolder, brasher, bigger, and more boisterous than ever, all the callbacks to classic, Southern hip-hop and R&B made the performance nothing less than a catalog of Black excellence. From "Lift Every Voice And Sing," the official Black National Anthem, to SpottieOttieDopealicious, the unofficial Black national anthem, Beyonce's massive performance was like a love letter to the traditions, culture, heritage, and people that have long been one of the backbones of American history — albeit an under-appreciated, underserved, and often outright mistreated one.
Where the time allotted disallowed Beyonce to call back to every hit in her nearly 20-year-long catalog, she found ways to sneak in clever references. The "Bugaboos," her line pledges, each declared themselves the name of one of her many, many classics, including an AKA of another before stomping the Empire Polo Club yard.
The list of guests was almost as extensive as the list of hits. Beyonce's sister, Solange, made an appearance, as did her husband Jay-Z. Of course, fans seemed most excited for the reunion of Destiny's Child, complete with coordinated camouflage bodysuits, to perform a medley of their biggest hits including, of course, "Soldier."
With every bop, every guest, every costume change, Beyonce not only raised the stakes, she doubled down and continued to win. When a clip of DJ Khaled played midway through her set declaring that "Coachella will have to change the name to Beychella," it felt less prophetic and more a statement of fact. Beyonce owns Coachella now, she took it, it's hers, and she's basically just letting every other artist on the bill rent space there until her return.
That isn't to say there weren't other dazzling sets throughout the day. Nile Rodgers and Chic ran through a list of hits nearly as extensive as Beyonce's. Tyler, The Creator turned up to favorites from his Flower Boy album. Beyonce signees Chloe X Halle flashed potential, and Jorja Smith absolutely shut down the smaller stage to which she was assigned. Brockhampton's orchestral backup evoked the upcoming extravaganza, and the crowd for Flatbush Zombies matched their energy beat for beat.
But every set felt, if not perfunctory, then much like a placeholder until Beyonce's. Fans started camping out for her promptly at 1 PM that afternoon and didn't relinquish their spots until well after she'd left the stage after her explosive performance. They would say it was well worth it. After all, no amount of time spent waiting or punishing desert sun or uncomfortable campout in the turf or missed performances from the most performers of the day, absolutely nothing is too much for Beyonce. Livestream the performance below or watch it here.
[protected-iframe id="8579a9b92615d8e7a3e68759d826620e-60970621-76566046″ info="https://vk.com/video_ext.php?oid=-107126810&id=456239515&hash=cf0a2d6d74579383″ width="650″ height="360″ frameborder="0″ allowfullscreen=""]