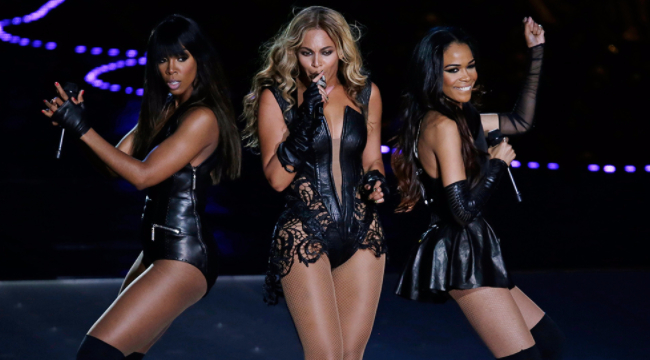 Everybody knows that Beyonce is all set to slay tonight with her headlining performance at Coachella. We've already heard rumors for weeks about her holding eleven-hour rehearsals, and hiring over one hundred backup dancers for tonight's performance. What we hadn't heard until now was the rumor that her show tonight would feature a reunion of Destiny's Child. It would make a lot of sense. 2018 marks the 20th anniversary of Destiny's Child making their debut in the music world with the song "No, No, No." The group cycled through a few different members first going from a four-piece to a three-piece and then rearranging the remaining members. In fact, the only member besides Beyonce to be ride or die with the group from the beginning is texting expert Kelly Rowland.
This wouldn't be the first time Destiny's Child reunited though. Beyonce, Kelly Rowland, and Michelle Williams got together for the Superbowl halftime show back in 2013. But that was five years ago, and besides: the new rumors indicate that this will be a full-fledged reboot complete with longtime hold out LaTavia Roberson. These particular rumors stretch back almost a year and may have been started by the members themselves. If everyone involved can get their ego and baggage all sorted out, a reunion could mean a new single, a new album, a tour? You never know in the nostalgia-driven age of reboots, reunions, and remakes.
We'll find out for sure when Beyonce and one hundred dancers take the stage later tonight.