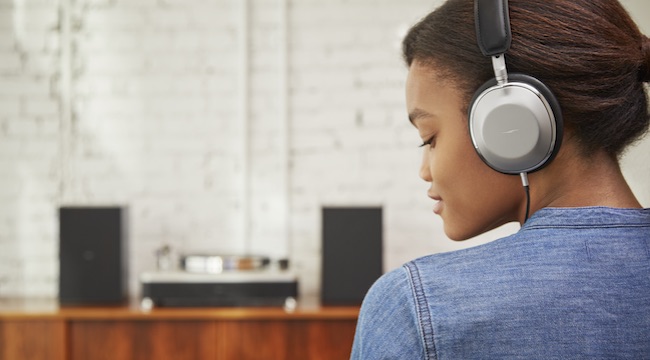 Detroit is one of the most important and influential music cities in the world, but it definitely doesn't always get its due. That's something the locally-based company, Shinola, is trying to help change. Shinola was founded in Detroit back in 2011 as part of a larger effort to rebuild the city's economy, which was decimated by the decline of the American auto industry and other manufacturing companies leaving the area.
Shinola's decision to base their operations in Detroit brought a small force of assembly jobs to the Michigan area, and now they're mobilizing that force to move into American-made music tech. Starting off with an emphasis on watches, bicycles, and leather, the company recently forayed into the music space by expanding into headphone and turntable production, all still assembled in their own Michigan-based factory.
CEO Tom Lewan said he feels the transition is natural, obvious even, given their deep connection to such a historically musical city.
"In Detroit there's such a natural connection between Shinola and the current state of music in our city," Lewand told me over the phone. "The connection for us is clear. Shinola was born in Detroit in 2011 and our first store opened here in 2013. This city not only has a rich heritage of music, but it's got a rich tapestry of music across the spectrum, whether that's techno and rap, R&B, or even Motown and the blues of John Lee Hooker."
"There's obviously the explosion of rock and roll, with people like Kid Rock, Ted Nugent and Iggy Pop are Detroiters, people who are music icons," Lewand continued. "You can go on and on. "Whether we're doing final testing and assembly with the headphones or building the entire watch movement, we're trying to do as much here in Detroit as we can to create some world-class manufacturing jobs in this city, and eventually, around the country."
Crisp and clean-cut, the Shinola design affirms a classic, almost rugged look over anything trendy. While the price point is steep at $350 for on-ear and $450 for over-ear, their sets are a markedly different aesthetic than most of the other options on the market. For instance, it's a far cry from the sleek plastic of a pair of Beats By Dre.
But the selling point for most people willing to shell out that much on a lifestyle item is the emphasis Shinola places on their made in America ethos — which Lewand is quick to note is focused on assembly, not the production of all parts.
"We bring components from all over the world to Detroit be built or assembled," Lewand said. "We have partners in the watch space and the audio space, and for us, it's really always been about creating jobs. It's important that we're bringing the best components around the globe to Detroit in order to make some of the best products on the planet."
The company sent over a loaner pair of their new on-ear Canfield Headphones for me to try out, and while I've gotten used to the wireless option for a lot of over-ear or in-ear sets, these come with a traditional, lengthy cord that allows plenty of movement while still keeping you connected to your device.
Both sets of larger headphones are perhaps more utilitarian than some others, but along with the on-ear and over-ear option, the company has also crafted in-ear monitors that run about $195, which is actually on the cheaper side for a high-end pair. The on-ear and over-ear headphones come in three colorways, brown and silver, black and silver, and black on black, and the in-ear come in two, black and silver.
And though the headphone space remains dominated by major players making celebrity plays like Beats, for those looking for something less ostentatious, a pair like this might do the trick.
To make sure they got it right, Shinola partnered with Campfire Audio and Alexander Rosson of the early audiophile headphone company, Audeze, to make, as Lewand describes it, "beautiful products that also sound pretty."
"Much like in watches, there was an opportunity to come into the headphone space and the audio space more in general, to make some beautifully designed products made of amazing materials," he explained. "Like turntables with the white oak, the headphones with steel and real leather. We have an amazing audio team, and Alex [Rosson] was here for a couple years helping us get audio off the ground, so we had some great people helping us ideate, design and develop."
But even with the addition of headphones and turntables, the company is still looking to increase their presence in music more throughout the year, and Lewand hints that more news will be coming later on in 2018.
"I would stay tuned, I think there's going to be some exciting announcements as we continue to progress in the space, and we continue to pursue great partnerships," he said. "There's some exciting things in store for later this year and beyond."