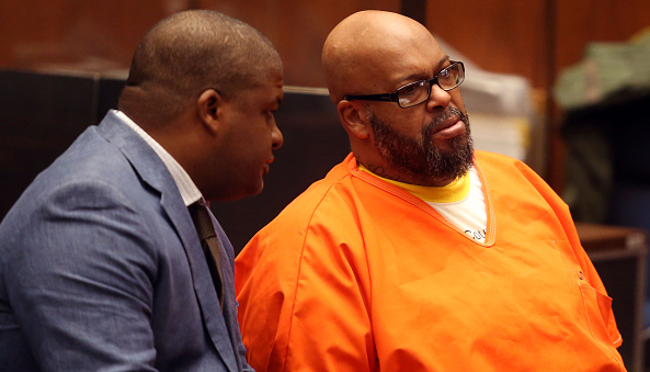 Former rap mogul Marion "Suge" Knight pleaded no contest Thursday to voluntary manslaughter for running over and killing a Compton businessman. According to an AP report, Knight has agreed to serve 28 years in prison. In so doing, he avoided a trial by jury, which could have led to a life sentence.
The incident occurred in January 2015. Knight — the founder and former CEO of legendary hip-hop label Death Row Records, which released albums by the likes of Dr. Dre, Snoop Dogg, and Tupac Shaukur — got into an argument with Che "Bone" Sloan, a consultant on the 2015 N.W.A. biopic Straight Outta Compton, which featured Knight as a character. The two traded blows, and then Knight clipped him with his pick-up truck, in the process running over businessman Terry Carter. Knight fled the scene. Carter died from his injuries.
Knight's attorneys had argued he was fleeing armed attackers. Sloan has denied he and Carter were carrying arms. Surveillance video of the incident was said to have been ready to play had the case gone to trial.
The pre-trial hearings have had their share of drama, with audio surfacing of Knight allegedly threatening Straight Outta Compton director F. Gary Gray, him attempting to bribe witnesses and one judge asking Knight for his NBA picks,
Knight's plea deal necessitates that he serve 22 years for the voluntary manslaughter count, on top of another six years for a third strike violation. He will be formally sentenced on Oct. 4.