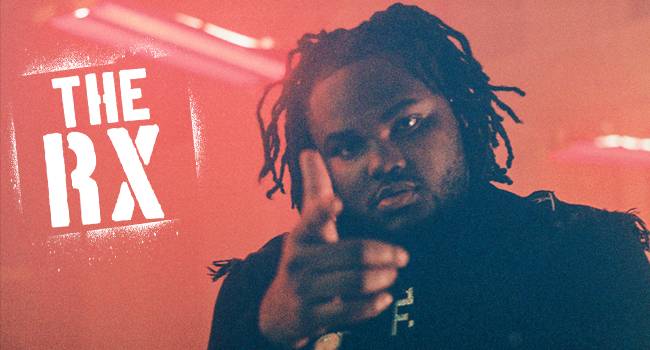 The RX is Uproxx Music's stamp of approval for the best albums, songs, and music stories throughout the year. Inclusion in this category is the highest distinction we can bestow, and signals the most important music being released throughout the year. The RX is the music you need, right now.
When Detroit rapper Tee Grizzley first broke into the public's consciousness via LeBron James' workout-motivating Instagram, he was a fresh-faced, 23-year-old recent resident of Michigan's Jackson State Prison. He was fresh off a shortened five-year stint for theft by unlawful taking or disposition for a series of robberies he and a friend had committed in the Michigan State University dorms. He was the son of drug dealers, his father murdered in 2012, his mother locked up for trafficking. He was, in short, like far too many young, Black American: Set up to fail, with the deck stacked against him, whether by fate, his own mistakes, or the machinations of a system set in place long before he was born Terry Sanchez Wallace of the West Side of Detroit.
By all rights, he shouldn't be here.
But he had — has — a gift. It's a gift that was evident from that first music video he shot in front of his temporary, enforced home, still dressed in his bright orange prison jumpsuit. At 6'3, 260 lbs., he cuts an intimidating figure in the "First Day Out" video, rhyming menacing bars about his criminal past and alleged current connections that would "take his head off his f*cking shoulders." It's the bars that draw your attention though; he's got a steady, eerily measured flow for someone who rhymes so aggressively, his barrel-chested voice and clever punchlines coalescing into a truly impressive mastery of the art of rap.
By itself, that shouldn't be enough. For all the online fervor that followed the NBA All-Star co-sign, the fact that Grizzley is good at rapping doesn't justify a record deal or continued success in the music business. That's not the way this rap game works, unfortunately. And while he continued to demonstrate his gift for crafting bullish verses full of bawdy boasts, the novelty of 3-minute songs with no hooks eventually wears thin. He had to prove he could do more, and that's exactly what he's finally done with his major label debut album, Activated.
The biggest worry was that an inability to craft memorable choruses or expand his subject matter outside of drugs, violence, and sex brags would eventually drag down his potential, like an NBA player with no jump shot. Grizzley sets about addressing that concern right away, after returning to the well one last time for the album's bellicose, self-titled intro. Immediately launching into propulsive single "2 Vaults" featuring fellow neophyte Lil Yachty (with whom he seems to have a strong working relationship and appears later on in the album for "Light"), he begins to flash his gift for penning colorful, catchy hooks that stick despite their complexity. He adds another dimension on "Bag," proving himself surprisingly adept at melodic crooning after utilizing his brawling, direct rap delivery for so long.
The other concern that might have haunted his young career was an over-reliance on the stoically ironclad tough-guy persona that permeated his mixtape releases and freestyles. But again, Grizz proves himself equal to the challenge. The nostalgic "I Remember" looks back to his days "sleeping on the floor" with YFN Lucci over a melancholic beat, while album closer "Robbin" is a reflective contemplation on his self-inflicted downfall and fake friends who abandoned him when he went to prison but turned up again when the bright lights of fame found him. "Wonder why I keep toasters, n—- / Wonder why I stay focused, n—- / N—-s change up overnight, so I can't get close to n—-s / And then wonder why I'm antisocial, n—- " he barks, dropping the armor for mere seconds, revealing the wounded person that he can be, just like anyone else, behind the bold facade.
Tee Grizzley has been through a lot, even compared to the standard storyline that seems to come part and parcel of being a rapper in 2018 Activated does spend plenty of its runtime carousing in the generic bragging typical of his early output in the genre, but also reveals the depth of his personality and expanding skillset. By hinting at the emotional interior at his core, Grizzley gives something to look forward to on future albums, and the burgeoning ability to manage the artistic demands of sharing his traumas through his art. He shouldn't be here, but now that he is, he's making the most of his second chance, fighting to ensure that he sticks around for a good, long while. Based on the strength of Activated, he will.
Activated is out May 11 through 300 Entertainment. Get it here.