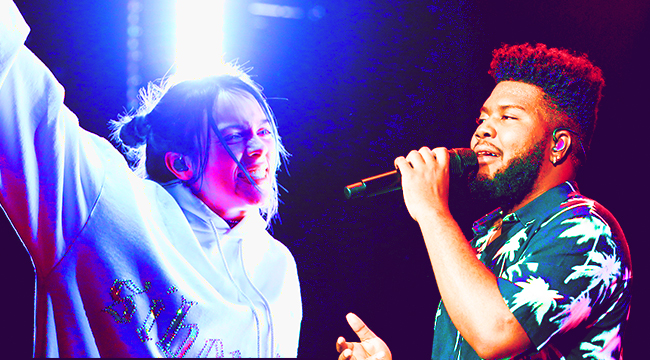 "I was told very often that I was a comedian only for 13-year-old girls, and f*ck yeah I am," Bo Burnham exclaimed at the Independent Spirit Awards earlier this year, while the comedian/writer/director was being honored for his 2018 comedy Eighth Grade. "I'm really proud of that. They deserve to be paid attention to and to be taken seriously." Indeed, popular culture has seemingly shown a greater investment than ever before in providing teen-focused entertainment that speaks to the harrowing highs and lows of adolescence—besides the brutally emotional Eighth Grade, the hormonal hijinks of Pen15 and Big Mouth have plumbed teenage depths deeper and more hilariously than ever before.
It's interesting that these teen-focused vehicles have proliferated over the past two years, considering that popular music has typically seen its own teenage-targeting wave crest near the end of the last several decades. The end of the 1980s saw New Kids On The Block finally breaking big after their self-titled debut flopped a few years previous; at the close of the twentieth century, popular culture was awash in teen-heartthrob pop ranging from boy bands Backstreet Boys and N'SYNC to Britney Spears and Christina Aguilera. The era's soft-focus lasciviousness — never quite breaking past a slow-dancing embrace when it came to embodying adolescent lust — took a backseat during the teen-pop resurgence of the late 2000s, replaced by the Catholic inspo-pop of Disney Channel Extended Universe stars like Miley Cyrus, Demi Lovato, Selena Gomez, and the Jonas Brothers as well as the boy-band revival acts One Direction and 5 Seconds of Summer.
As the 2010s come to a close, we're in the midst of a similar teen-pop frenzy. Earlier his month, R&B-pop megastar-in-the-making Khalid's Free Spirit was the No. 1 album in the US, itself a follow-up to the 21-year-old singer/songwriter's 2017 debut American Teen — and it dethrones 17-year-old goth-pop phenom Billie Eilish's debut When We All Fall Asleep, Where Do We Go?. Fresh off a jail stint, the genre-bending and barely-old-enough-to-drink Dominic Fike is doubtless poised to break through to mass consciousness this year after his 2017 release Don't Forget About Me, Demos netted the Florida artist a hefty deal from Columbia; in the world of indie rock — a genre that's increasingly rubbed elbows with mainstream pop throughout the decade — Snail Mail's Lindsey Jordan and Soccer Mommy's Sophie Allison cut impressive figures last year with their respective debuts Lush and Clean, showing songwriting wisdom well beyond what's typically expected from their age group.
Clearly, this wave of teen pop (specifically, music made by teenagers or artists who have only recently shed their teendom, more often than not carrying direct appeal towards teens themselves) is different from previous eras. Not better, necessarily — a distinction I feel compelled to make only because the wholly elitist practice of judging younger listeners for what they consume is best left in the past.
Fittingly, there's a post-taste openness to this crop of young musicians when it comes to influence, mirroring their similar refusal to work within the increasingly unnecessary confines of genre. You might hear Sonic Youth's jagged guitar shapes or Liz Phair's honesty-streaked jangle in Lush or Clean, but the influence of perpetual teen totem Avril Lavigne has been cited by both artists; Fike is one of a few teen-beloved artists who have cited perpetually uncool artists like Red Hot Chili Peppers, Jack Johnson, and John Mayer.
Eilish is but the latest pop star to evoke the still-living specter of Marilyn Manson, an artist who's remained in the public conscious simply by continuing to exist as the cultural hot stove youngsters are repeatedly told not to touch. Khalid's own cited reference points hew closest to what tastemakers would call "hip," ranging from Frank Ocean and Father John Misty to Grizzly Bear, Lorde, and James Blake — less a reflection of being in the know and more the natural result of streaming culture's ability to dissolve genre lines for musicians and listeners alike.
That the music on Free Spirit typically resembles a smooth, watered-down take on R&B's moodier corners seems both irrelevant and essential to his appeal; the latter adjective gesturing to his embodiment as the festival-headlining equivalent of a "chill beats to study to" Youtube playlist, the former gesturing to what's going on underneath his placid sounds. Free Spirit is lyrically loaded with doubt and uncertainty, addressing concerns about masculinity and breaking out of adolescence with the sweet scent of marijuana constantly perfuming its air. His tendency towards self-reflection and analysis is indicative of a generation that, both voluntarily and without choice, is constantly evaluating their place in the world around them as the world itself constantly breaks down into new, threatening shapes.
Eilish's whisper-laden horrorcore speaks to this generational tendency too, even if it's not quite obvious at first blush. She's one of the most eye-catching pop stars in recent memory, and the imagery Eilish tilts towards—tarantulas crawling out of her mouth, blood wiped across her face, vacant stares accompanying songs with titles like "bury a friend" and "my strange addiction"—are at once grotesque and humorous, like a kid running a homemade slime operation in the back row of history class, and the generational receptiveness to Eilish's icky approach could possibly be interpreted as a way of coping.
Mass shootings at schools are frequent enough that this generation and every one that will follow are subjected to active shooter drills, the mere act of attending school turned into a mandatory and regular invitation to the possibility that you, your friends, and the educators once thought to be protecting your present and future could be murdered in front of you at any moment. If you blessedly make it out of the various school systems unscathed, the threats of economic instability, structural violence and bigotry, and the increasingly inevitable calamity of climate change loom large — and thanks to the internet's ever-present swirl of fact and fiction, finding new reasons to dread the future are as easily accessible to this generation as throwing their fingerprint on the TikTok app.
As a 31-year-old constantly struggling with the desire to bring children into such an increasingly horrifying world, the giddily gruesome imagery that Eilish traffics in is oddly comforting, and I imagine that's part of the appeal to her teen fanbase as well. All the blood, dark liquid, and corpse-play potentially defangs the association that many connect this imagery to the very real threats of daily American life — if you can see it in this light, what is there to be afraid of? (There's a measure of irony, too, that Manson's influence carries this use, considering the mistaken blame placed on him following the Columbine shootings at the turn of the new century.) Through this lens, the kids are weirdly alright purely through the fact that they know they're not — and whether this new crop of artists offers to hold their hand or jokingly chop it off with a machete, they'll undoubtedly be guiding them into the new decade.