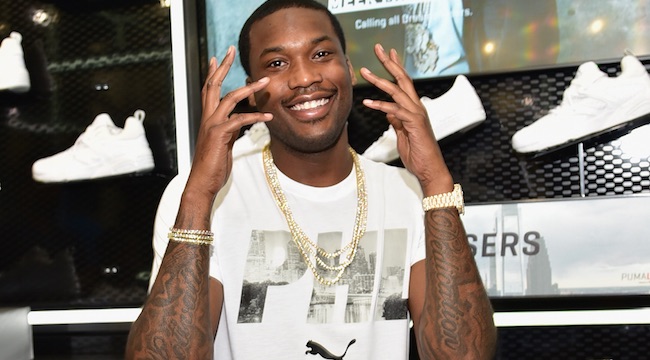 It finally happened. After enough trolls bombarded him endlessly and daily, Meek Mill deleted his Instagram account. Considering that he's only used his Twitter account five times this year — all in a promotional capacity — it was the final nail in the coffin and the final piece of validation for Drake's scathing diss track "Back to Back." Trigger fingers had turned to Twitter fingers and now been silenced. Meek had lost the first rap heavyweight social media war.
Related: How Drake Defeated Meek Mill In Rap's First Social Media War
What's odd about Meek's loss, is he took that L while standing up for some of the core tenets of what hip hop is supposed to honor. He outed Drake for having a ghostwriter — the cardinal sin! — and questioned his realness, another factor that historically held a lot of weight in the world of rap. But the fact that Meek was right wasn't what mattered. Drake was more popular, and he had more memes, so Meek became a punchline and Drizzy keeps smashing streaming records every other week. It's unfortunate that the guy who ousted the fake is now the euphemism for losing, and the fake is the biggest rapper in the world at the moment. We've reached the point where popularity matters more than anything, even facts.

Meek's demise is just the latest and greatest example of the danger of the social media echo chamber and groupthink. If enough people tweet something and meme it then it becomes true — because perception is reality, and the majority shape the perception. Especially online. In Meek's case, he was painted as a loser, as less of a man because his girlfriend is so commercially successful in her own right, and for no valid reason he was reduced to a punchline. Obviously, none of us are privy to the inner-workings of Meek and Nicki Minaj's relationship. Drake said "shoutout to all my boss bitches wifing n***as," and we all laughed so she must wear the pants. Even if that's true, this is 2016, what would be wrong with that? It's extremely sexist for Drake to mock Meek because his female partner is successful.
At what point does the mob mentality fade away? When do people step back and look at Meek for what he truly is: A successful and talented rapper, capable of crafting both street anthems and hit records, who also happens to be dating a beautiful, successful boss b*tch? Yes, Meek lost out to Drake due to some lackluster diss tracks, but that doesn't invalidate him as an artist, and it especially doesn't invalidate him as a man. He's been extremely vocal about social issues on multiple occasions, something Drake has notoriously shied away from. The entire world may enjoy "One Dance" and "Controlla" endlessly, but all things considered, Meek appears to be the more likable person here.
Meek will come back at some point. He's been teasing his new mixtape DC4 for quite some time, and it's rumored to be dropping before the end of the year. And think about it, as much as people like to pretend 50 Cent "ended" Ja Rule, he had two Top 40 hits in 2004, after 50's Get Rich Or Die Trying and the "Hail Mary" remix. As much as the Internet feigns hate towards acts like Wale, Big Sean and J. Cole they continue to be superstars with large followings and annual hits. Hell, even Charles Hamilton made a comeback last year.
So yeah, it's finally time to let Meek Mill live, because whether you, or Drake, or The Game, or Beanie Sigel like it or not, he's coming back. Soon. Plus, those DC4 snippets do sound like he's sitting on a bunch of certified fire emoji tracks just waiting to unleash them. Being in on the joke online is cool, and funny, but there's no bigger online faux pas than being late to the party. Even Meek Mill knows that.