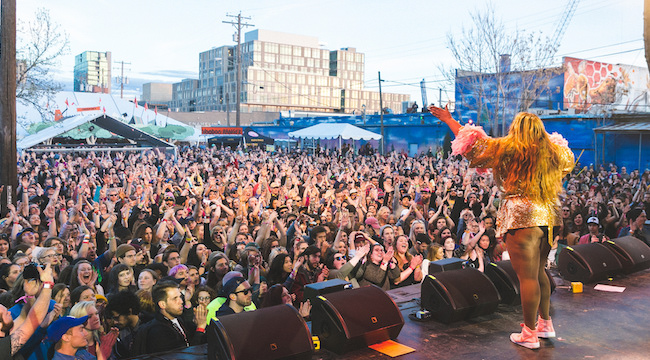 At its best, a music festival is more than just a stage from which music is performed, but a way for a city to showcase what they are about. This is especially true for more boutique fests that take over a city's venues, providing a week of curated shows that entertain the locals while drawing in tourists who might not visit otherwise. Austin's South By Southwest is the best-known example of this, but cities like San Francisco, Calgary, and Raleigh also have events that find a similar spirit. And one of the best of these that flies under the radar for many is located in Boise, Idaho: Treefort Music Festival.
Taking place from March 21st-25th, Treefort has already announced its first wave of acts, which includes the likes of George Clinton & Parliament Funkadelic, Andrew W.K, Kelly Lee Owens, Twin Peaks, Built To Spill, and Zola Jesus. Today, the second wave of artist announcements has been released, and it is powered by a trio of excellent artists: Rapsody, Jamila Woods, and Princess Nokia. In addition, the likes of The Regrettes, Christopher Willits, Typhoon, and Sonny Smith have been added to the fold. And the lineup promises still another wave of artists to be revealed next month.
Tickets for Treefort Music Festival are still available. Check out the current lineup poster below.