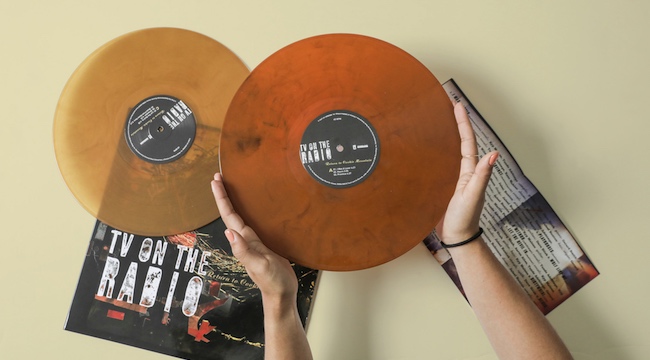 TV On The Radio were one of the defining indie bands of the 2000s, and that's thanks largely to their breakout second album, 2006's Return To Cookie Mountain. The sweetly-titled sophomore record was named one of the year's best albums by multiple reputable publications, and the band was so obviously talented, even before this album, that David Bowie took notice and contributed backing vocals on the track "Province."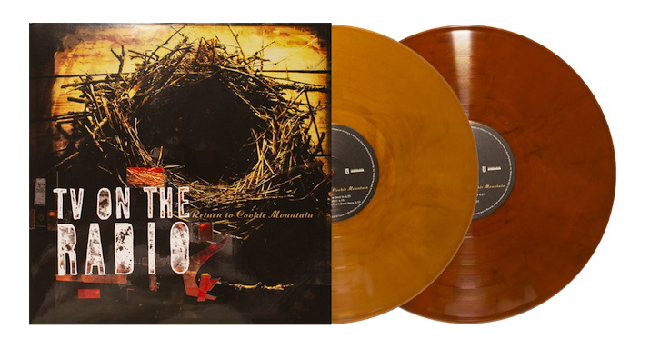 Now, twelve years later, the album is getting a slick re-issue courtesy of Vinyl Me, Please, who are releasing Return To Cookie Mountain as the June album of the month. The details of the release are tantalizing: The record is a double LP on translucent amber and grain vinyl, which nicely mirrors the dominant colors on the album art. The records will be accompanied by a heavyweight, gatefold tip-on jacket and a 24-page full-color lyric booklet, and the 45 RPM record received a half-speed remastering, for an increased attention to detail, via Alchemy UK.
TV On The Radio is also part of an impressive roster of openers on Father John Misty's upcoming tour (although they'll only be there for one show). Aside from them, Lucy Dacus, King Tuff, Jenny Lewis, Bully, Gillian Welch, Blitzen Trapper, and David Beeman will provide support during various stretches of his tour.
Learn more about the release here.