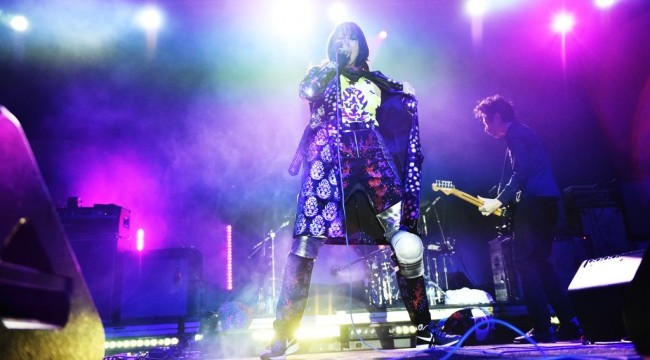 Gearing up for their string of festival appearances this summer and co-headlining appearances alongside fellow Meet Me In The Bathroom focal points LCD Soundsystem, Yeah Yeah Yeahs stopped by the Spotify studios to record their installment of Spotify Singles, which has seen a growing assortment of artists record live renditions of one original track, as well as one cover.
For their appearance, Yeah Yeah Yeahs performed a wonderful rendition of their breakout single "Maps" from their 2003 debut Fever To Tell, as well as an melancholy, acoustic-based cover of Big Star's "Thirteen," taken from the classic band's 1972 debut #1 Record. The cover is pretty faithful, Karen O's vocal work certainly doing the original track justice, though the Yeah Yeah Yeahs' cover does not rely as heavily on vocal harmonies. Check out both tracks below.
Just yesterday, Yeah Yeah Yeahs' guitarist Nick Zinner appeared on a new Boots track called "Delete Delete," alongside eclectic collaborators Run The Jewels and actress Cristin Milioti, which made for a seemingly strange arrangement of performers but managed to deliver an otherwise well-rounded track.
Check out all of the Yeah Yeah Yeahs' upcoming tour dates here, and prepare yourself for the new album they seemed to be teasing last summer.