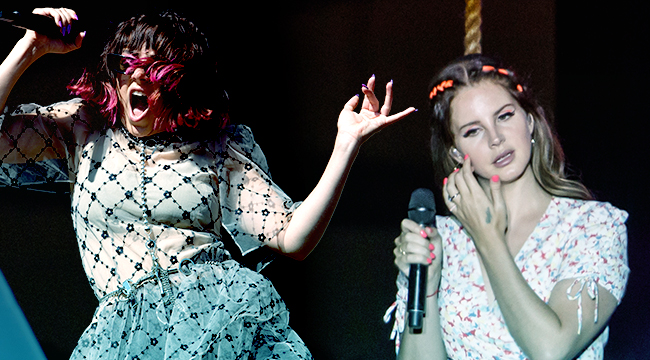 Pop music saw big releases and iconic collaborations this week. Lana Del Rey debuted her highly anticipated album, Norman F*cking Rockwell! Charli XCX continues to prove she's here to stay with "Warm," a collaboration with indie rock sisters HAIM. Post Malone surprised us with a departure from his signature sound with the thumping single, "Circles." And Bebe Rexha copes with the wisdom that comes with getting older on "Not 20 Anymore."
Every week, Uproxx will round out the best new pop releases of the last seven days. Listen up.
Tove Lo — "Jacques" Feat Jax Jones
Tove Lo has been gearing up for the release of her album, Sunshine Kitty, and "Jacques" is her latest flirty single. The versed Swedish pop star called upon UK producer/DJ Jax Jones to lend a pulsating club-like beat. If "Jacques" is any indication, Sunshine Kitty will be Tove Lo's most energetic project yet.
Lana Del Rey — "Next Best American Record"
Lana Del Rey's Norman F*cking Rockwell! is finally here, and the internet isn't over it. The album is filled with instant classics, but "Next Best American Record" stands out the most. The song slowly builds behind Lana's familiarly wistful voice. Snare drums softly crash in the background like waves until the full rhythm section arises in the chorus. After a soft bridge, the chorus feels colossal. "Next Best American Record" stays true to Lana Del Rey's trademark of sad love songs, and Lana Del Rey manages to paint a bittersweet landscape through her music in this song.
Charli XCX — "Warm" Feat Haim
Charli XCX continues collaborating on projects with major artists. Several months ago it was Lizzo and this week it's indie rockstars Haim. Unlike Lana's song, "Warm" jumps right into singing. It's an aptly titled song that offers a light-but-punchy beat over digitized vocals.
Bebe Rexha — "Not 20 Anymore"
Bebe Rexha isn't 20 anymore, literally — the singer turned 30 the day she dropped her latest single, "Not 20 Anymore." With a powerful voice, Bebe croons over slow-burning melodys. The song is a ballad to a form of self-discovery that can only come with age, with Bebe singing of empowering lessons learned during her last decade and how she wouldn't trade them for youth.
Post Malone — "Circles"
Post Malone trades in his genre-bending trap for a refreshing change of pace. An acoustic guitar strums along with a smooth, light electric guitar melody. But even with guitar, "Circles" delivers a pumping bass and autotune familiar to the rapper. Post Malone's album Hollywood's Bleeding is due September 6, so we'll see if "Circles" sets the tone for a different style of record, or if it's simply an outlier.
DUCKWRTH — "Crush"
A snappy Spanish guitar sets the melody for Duckwrth's funky tune right away. Bass and drums follow shortly afterwards as Duckwrth's smooth voice enters. The UK musician sings of the excited rush of crushing on someone new. Occasionaly, the music cuts out as Duckwrth whispers the word "crush," a reminder that it can be hard to get a love interest out of your mind.
Alessia Cara — "Okay Okay"
Alessia Cara's "Okay Okay" is an anthem for your best friend. The music claps alongside the young Canadian musician's mature vocals. The confident, feel-good lyrics mesh with an upbeat tempo to craft a song that's hard not to move along with.
G Flip — "Lover"
G Flip's opening track "Lover" is a slower song than the rest of her debut studio album About Us. Her deep, rattling voice and impressive vocal range croons over an unapologetic look at relationships. The 25-year-old queer Australian singer offers refreshingly honest lyrics on "Lover," introducing the exposition to the rest of the album's theme.
GASHI — "Safety" Feat DJ Snake
GASHI and DJ Snake reunite once again for "Safety," a song unmistakeably tailored for the dance floor. DJ Snake produces a steady beat which blissfully bounces behind GASHI's effortlessly smooth vocals. The track solidifies DJ Snake as a go-to for instant hits.
Snakehips — "Summer Fade" Feat Anna Of The North
Snakehips' "Summer Fade" is a feel-good groove to end the season. The shimmery chord progressions lead to a slow pounding beat that drops deeply at the chorus. Anna Of The North's drawn-out vocals melt over the song's instrumentals, crafting a feeling of lingering nostalgia.
Some of the musicians metioned are Warner Music artists. Uproxx is an independent subsidiary of Warner Music.