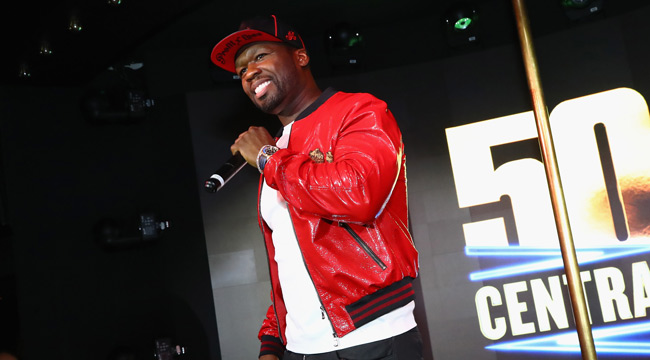 Is 50 Cent angling for an MMA fight with former UFC and PRIDE champion Quinton "Rampage" Jackson? We have our doubts about his sincerity, but yes … 50 Cent did indeed call out Jackson on social media, claiming the only thing keeping the two from fighting was the right financial offer.
50 Cent, real name Curtis Jackson, wrote "Don't get it f**ked up, I'm the baddest Jackson around this motherf**ker. Now if we can get the money right, Rampage got a problem on his hands. Where the bag at!"
It didn't take long for 'Rampage' to respond to the call out in pretty much the most perfect way ever…
"Is 50 serious?" he asked, along with the rest of us.
Not to dismiss 50 Cent's toughness or anything, but while he's got some amateur boxing experience, Rampage has been fighting professionally for just shy of two decades. Not only was Quinton a champion in multiple major organizations, he accomplished everything during the peak of the light heavyweight division against killers like Chuck Liddell and Wanderlei Silva. Quinton Jackson is legit one of the baddest men on the planet when it comes to fighting in a ring or cage.
There's more to this story than just a Facebook post from 50 Cent. He also had a meeting with Bellator promoter Scott Coker last week, saying "I'm busy working on something, that's gonna blow your mind."
Coker framed the meeting as a general discussion of how Bellator signs and develops new talent, which doesn't exactly throw cold water on the idea of 50 Cent fighting for the promotion.
"I explained to him a lot about our fighter-recruitment system and how we build athletes and sign free agents," Coker told MMAjunkie when asked what the hell was going on. "He was interested. He had a lot of questions. A lot of good questions."
Make no mistake, this is exactly the kind of thing Bellator would be into. The promotion has been struggling to make the jump from cable to pay-per-view where the real money in MMA is. An MMA fight with 50 Cent would be a huge money and attention maker for them. They're also not adverse to putting together questionable freakshow fights — Kimbo Slice vs. Dada 5000 is a prime example of that, and it didn't seem like there was much self-reflection going on after Dada 5000 nearly died following the bout.
But let's also be clear: 50 Cent comes from the Floyd Mayweather school of self-promotion, making it likely that all of this could be nothing more than a ploy to generate interest and headlines. While Floyd Mayweather was happy to soak up as much publicity as we'd give him over the possibility of fighting MMA, there was never any rubber meeting the road. As far as we know, Floyd hasn't spent one day in the gym defending takedowns or doing anything else that you'd need to be doing to actually compete in mixed martial arts.
50 Cent may be interested in getting into the MMA game again in some capacity (he's already tried his hand at boxing promotion), but a fight with Quinton "Rampage" Jackson? We'll believe it when the contract is signed, and even then, we'll doubt until both men step into the cage.