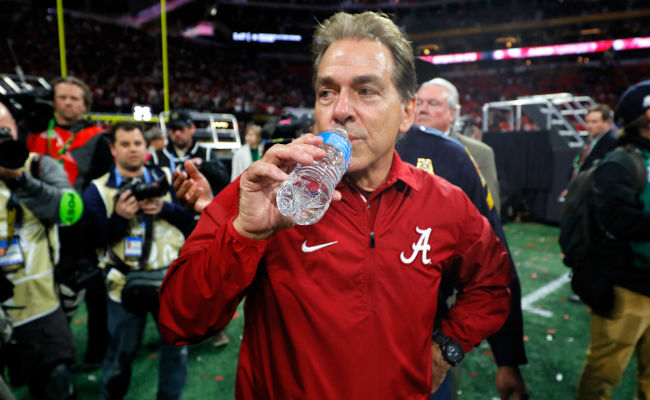 College football's "week zero" arrives later this week and, to celebrate the start of the 2018 season, The Associated Press released its first Top 25 offering of the campaign on Monday. In an unsurprising twist, Alabama and Clemson top the poll with the vast majority of first-place votes, with Nick Saban and the Crimson Tide narrowly snatching the top spot away from Dabo Swinney and the Tigers.
Alabama and Clemson are seen by many as the top two teams in the country and most preseason polls (and projection systems) fall in line with that thinking. Obviously, there is nothing different here but a stray AP voter did invest a first-place vote in Wisconsin, who actually sits atop the Big Ten with a No. 4 overall ranking, just one spot ahead of Big Ten East favorite Ohio State.
It would be interesting to peer into the minds of voters as to how the perception has shifted in Columbus, particularly given the ongoing investigation into Urban Meyer. Without that potential hiccup, Ohio State likely has the most talented roster in the Big Ten, even with the caveat that Wisconsin projects to be very impressive offensively, particularly along the offensive line and at the running back spot.
Elsewhere, some of the usual suspects land in the top ten, with reigning national runner-up Georgia at No. 3 overall, a Baker Mayfield-free Oklahoma team at No. 7 overall and the trio of Miami (No. 8), Auburn (No. 9) and Penn State (No. 10) heavily involved in the top 10. There are off-the-charts expectations for the Big Ten this season, with three teams in the top ten and both Michigan State (No. 11) and Michigan (No. 14) expected to be quite competitive.

If there is a legitimate surprise (at least when compared to preseason statistical projections) on the list, it might Stanford coming in at No. 13 overall. Most prominent models peg David Shaw's team for either seven or eight victories and, despite the "down" nature of the Pac-12, this might be a shade on the optimistic side while representing some overarching faith in that coaching staff.
Arguments have been ongoing since moments after Alabama topped Georgia in Atlanta to win the title last season and, with the AP Poll (finally) arriving, college football fans have another piece of information to use against one another in verbal spats.
On the bright side, football is almost here and the entire poll can be found below:
Alabama
Clemson
Georgia
Wisconsin
Ohio State
Washington
Oklahoma
Miami
Auburn
Penn State
Michigan State
Notre Dame
Stanford
Michigan
USC
TCU
West Virginia
Mississippi State
Florida State
Virginia Tech
UCF
Boise State
Texas
Oregon
LSU