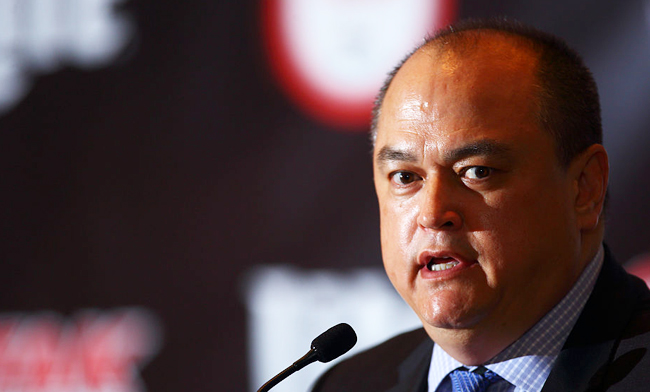 Bellator President Scott Coker is ramping up the promotion for Bellator 180, and even taking into account the usual PPV sales pitch hyperbole, the former head of Strikeforce claimed Bellator 180 was "the best MMA PPV that's been offered in 2017." Sadly, in this, the year of our cruel MMA Lord 2017, he's right. MMA has been so bad, specifically the five PPVs the UFC has offered up this year, that we're seeing a stacked-but-weird Bellator PPV come out of nowhere as the best MMA fans can buy.
Here's exactly what he said to ESPN:
"The PPV business is tough and there's a lot of competition in the marketplace. There's boxing fights around us, wrestling events, other MMA shows. But honestly, I think this is the best MMA PPV that's been offered in 2017. I'm a fight fan and always buy the big fights; I haven't bought one of them this year. But this PPV, the way we've stacked it from top to bottom, is the best offering this year."
Considering the UFC's July flagpole event is neck and neck with Bellator 180 (we'll see how it looks two weeks from the event), is it concerning for MMA fans, or is it great that this is the best PPV of 2017 so far? Bellator is once again going back to the beloved Old Guy well, and eventually, they're going to run out of the legends like Wanderlei Silva and Royce Gracie to roll out as main events.
But, in a vacuum, purely for entertainment's sake, yes, this is the best PPV of 2017 thus far because MMA has been so damn crappy. Here, I'll show you my MMA Math:

Chael Sonnen vs. Wanderlei Silva
It's a grudge match. Yes, they're past their prime. Yes, this fight doesn't matter. Oh well. It's a fist fight between two dudes who haven't liked each other for a long, long time. It's worth my time, and a bit of my money. Their feud is so embedded in MMA lore that it has to see a conclusion. Bellator almost seems like it's doing us a favor. Thanks, Rich Chou.
But is it a main event? Yeah, probably. The UFC was going to make it a PPV c0-main event to UFC 175, and it might've been the main event of UFC 173, so even if the hype has died down, it probably maintains that status. It's better than UFC 208's Silva vs. Brunson. Better than Holm/de Randamie …
Fedor Emelianenko vs. Matt Mitrione
Fedor is coming back after getting beat up by Fabio Maldonado. Mitrione, while up there in years, is very dangerous for 40-year-old Fedor. There's a chance we see some sad stuff here, but if Fedor pulls it off, then it might be worth the price of the PPV alone. (I'm a Fedor fanboy come at me.) This headlines any UFC FS1 card and is a legit co-main for the Fedor Factor™ alone.
Michael Chandler vs. Brent Primus (lightweight title fight)
Chandler isn't the most marketable personality, but almost all of his fights are worth watching. Brent Primus is a virtual (7-0) unknown, so this is either a Pride-style squash match or Bellator sees something in Primus, who won his last two by split-decision. Even with the belt, it's equivalent to the upcoming co-main event of Derek Brunson vs. Dan Kelly on the UFC: New Zealand card. Probably equal to UFC 212 co-main Cláudia Gadelha vs. Karolina Kowalkiewicz in terms of fans really caring about the fighters. It's better than UFC 211's similarly placed David Branch and Krzysztof Jotko.
Douglas Lima vs. Lorenz Larkin (welterweight title fight)
It may not shake out in the exact same way, but this could be the Rockhold/Jacare-type fight from the old Strikeforce days. They're both in their prime, it'll be an exciting fight, and both have a case for the UFC welterweight top 5-10 (Larkin was highly-ranked in the UFC already). Douglas Lima is as violent as anyone on the UFC roster. This would headline any FS1 card and would legit make 3-4th billing on any UFC PPV, so this works.
Never forget:
Aaron Pico vs. Zach Freeman
Pico is a super-hyped prospect out of the wrestling world, but if Marlon Moraes' UFC debut at UFC 212 didn't excite the casuals, neither will this. Pico is on hardcore radars only, and so that's a wash compared to say, the Erick Silva fight on UFC 212, or any fight that wasn't Gustafsson/Teixeira on the UFC: Sweden card, for example.
Phil Davis vs. Ryan Bader (Spike TV Prelim/light heavyweight title fight)
This easily headlines any UFC on FS1 shows and certainly a Fight Pass card. Throw in a belt, and the fact that these two have history, and we have a built-in storyline with some high stakes. If it's a good fight, something that's impossible to predict with a Bader/Davis combo, Bellator could get plenty of impulse PPV buys.

So yes, even with three and a half ancient fighters filling out the top of the card, Scott Coker is right — Bellator 180 is the best MMA PPV of 2017 thus far, which, coming from someone who loves MMA, is great, but also, like I said before, sad. Do I expect UFC 205 or even UFC 200 every time out? Of course not. Is this the best Bellator can do? It seems like it. I wish Daley/MacDonald could've been on this card to really put it over the top and then have the roster reset a bit, but I'm not going to blame Bellator for giving me a fight that I still want to see. I will blame them for letting Fedor fight Mitrione, but that's another post altogether.
The fact that I'm at all conflicted about seeing a pretty damn good card is the fact that I feel compelled to spend the $50 on it. Bellator is at least pulling out all the stops, you can feel it, while the UFC seems to be coasting on whatever they can to get by. It makes me hope Dana White actually does scrap the flyweight division so Bellator can absorb it and get treated like proper elite athletes.
But maybe my conflict also has to do with being a long-time MMA fan. I've loved and lost so many times (IFL never die) that I simply don't want to lose again, and getting excited about where Bellator is going will only lead to that nagging little voice in the back of my head that says: "what does it matter, it'll all be over soon anyway." But I can't be like that. What if Bellator starts the next great MMA organization war? The fans will win again and we'll see fighters walk down a cool ramp.
When it comes down to it, I'm a tired MMA fan, looking towards an event I simply want to be super-hyped about. Even UFC 213's Amanda Nunes main event does very little for me, and the big fight on that card (for most) is Cerrone/Lawler. So at this point, I'm so battle-weary from late card changes I'm just holding out hope that the card sticks together as is. This has been a tough year for MMA fans. We have the best PPV of the year on the horizon and it can't fall apart now.
(Via ESPN)