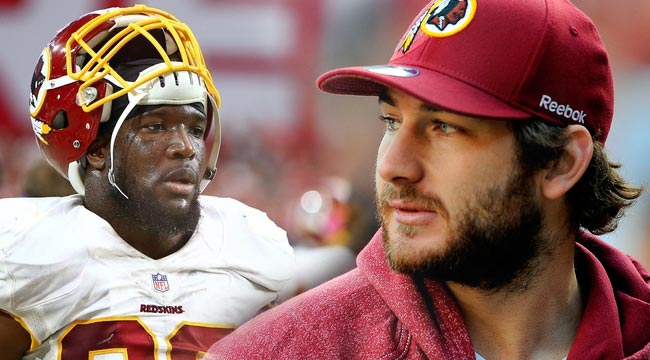 The corpse of Robert Griffin III's career in Washington wasn't even cold when former Redskin and current D.C. sports radio host Chris Cooley publicly lambasted RGIII on his show, accusing him of giving the cold shoulder to fellow QB Kirk Cousins and being disliked by his wide receivers and offensive line. For a former player to air such dirty laundry about a teammate is a rare case, and the response from other players who shared a locker room with Cooley and Griffin shows why.
Notice that neither Brian Orakpo nor Niles Paul said anything about Cooley being incorrect, simply that they were upset that he said such things publicly.
Cooley's a media member now, and it's his right to tell a story if he knows it to be true, but there's a difference between pointing out that the offensive line shouldered too much blame for protection breakdowns around RGIII and simply publicly outing locker room gossip. Telling the world that Griffin was disliked benefits no one but Cooley, but could possibly impact Griffin's chance at getting another job. Seen that way, it's easy to understand why some of their teammates were angry.
Not Terrance Knighton, though — he clearly enjoys the Twitter fireworks:
We're right there with you, Pot Roast.