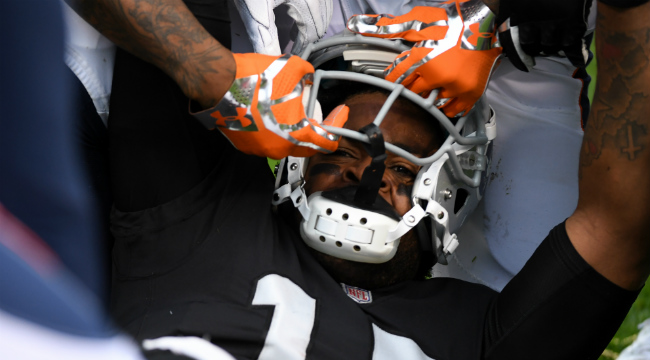 Denver Broncos cornerback Aqib Talib and Oakland Raiders wide receiver Michael Crabtree continued their long and storied feud on Sunday when Crabtree blocked Talib out of bounds before tossing him to the ground. It's easy to speculate that Crabtree's aggressive block on Talib stemmed from a fight the two had last season when Talib snatched Crabtree's gold chain from under his jersey during a play downfield, but after Raiders cornerback Chris Harris spoke to the media on Sunday, it appears as though there is more to this story than we originally thought.
During Crabtree vs. Talib: Round 2, Talib managed to snatch another one of Crabtree's gold chains as the two players wrestled to the ground before starting an all-out brawl between the Broncos and the Raiders. Both Crabtree and Talib were kicked out of the game, along with Raiders guard Gabe Jackson, who got the boot for pushing an official, but if Harris' story holds true, Crabtree should have been removed from the game before he traded blows with Talib.
Harris told reporters postgame that Crabtree sucker punched him in the stomach on the second play of the game for seemingly no reason. Harris doesn't believe Crabtree had any intentions of playing football on Sunday and was just looking for a fight. According to Harris, it was the sucker punch that led to both teams fighting, not the history between Crabtree and Talib.
Transcript via Silver and Black Pride:
"Yeah he just sucker punched me," Harris said of Crabtree. "I have never seen that in the NFL. Today, he just came out wanting to fight. He didn't want to play football. It was the second play of the game. It was a run play, I was playing man, and I wasn't even doing anything. He just came in there, was like BAM, hit me right in the middle of the stomach and I just lost my breath."
The footage below is somewhat inconclusive, but you can see Crabtree charge at Harris before Harris' body blocks the action. It looks like Crabtree may have popped him in the stomach, but it's hard to say with 100 percent certainty.
Broncos safety Justin Simmons added a few more details in his postgame presser.
"He [Harris] said that Crabtree had hit him, uppercut him on the stomach on his way out. So Aqib took that personal. So I don't know what happened on their side. Aqib said [Crabtree] tried to do the same thing to him. And obviously, Aqib is a little more… not as genuine as Chris when it comes to that type of stuff. So he took it into his own hands."
If nothing else, we've got the Broncos' side of the story now. We'll have to wait and see how that lines up with the story out of Oakland and what kind of discipline the NFL drops down on all the guilty parties.