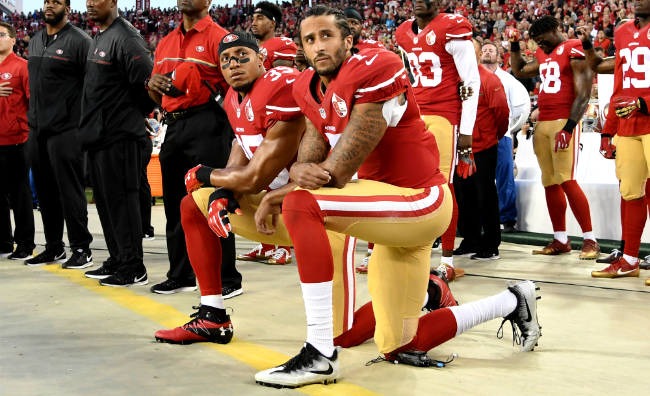 Colin Kaepernick played one game of football in 2017. It came on January 1 in a 25-23 loss to the Seahawks as he completed 17-of-25 passes for 215 yards and one touchdown. Kaepernick was not signed to an NFL roster this offseason, nor in the 12 weeks of the NFL season that has seen a number of injuries to starting quarterbacks and other free agents getting picked up.
And yet, Kaepernick remains one of the NFL's most talked about figures without having so much as sniffed a roster this season. That's due to the lasting impact of his protests of police brutality and racial injustice. Those protests, which were continued by some players this season, sparked a great deal of controversy and discussion — sadly, not enough about the causes and issues the protests were about — and have become one of the top stories in the NFL all year.
Kaepernick essentially lost his job due to those protests, with teams not signing him due to fear of the distraction or backlash from fans. He has continued pushing forward with his cause, donating nearly $1 million this year to various efforts to combat the issues of social justice and police brutality he protested to shed light on.

In honor of that work and the personal sacrifices he made, Sports Illustrated announced on Thursday he would be receiving the 2017 Muhammad Ali Legacy Award. The award is given to "an athlete or sports figure who embodies the ideals of sportsmanship, leadership and philanthropy and uses sports as a platform to change the world," and as Ali's widow Lonnie Ali noted in a statement, Kaepernick has embodied that.
"I am proud to be able to present this year's SI Muhammad Ali Legacy Award to Colin Kaepernick for his passionate defense of social justice and civil rights for all people," Lonnie Ali said. "Like Muhammad, Colin is a man who stands on his convictions with confidence and courage, undaunted by the personal sacrifices he has had to make to have his message heard. He has used his celebrity and philanthropy to benefit of some of our most vulnerable community members. I know the Ali family joins me in congratulating Colin as he receives the 2017 SI Muhammad Ali Legacy Award."
Kaepernick joins fellow Ali Legacy Award winners like Bill Russell, Jack Nicklaus, Magic Johnson, Jim Brown, and Kareem Abdul-Jabbar. There may be no athlete that is more closely relatable to Ali in dealing with backlash to speaking out on social issues than Kaepernick, having felt the ramifications in the form of losing his job for his protests, as Ali did in speaking out against the Vietnam War.
Kaepernick will receive the award at SI's Sportspersons of the Year Awards on Dec. 5 in Brooklyn at the Barclays Center, which will be broadcast on NBC Sports Network.