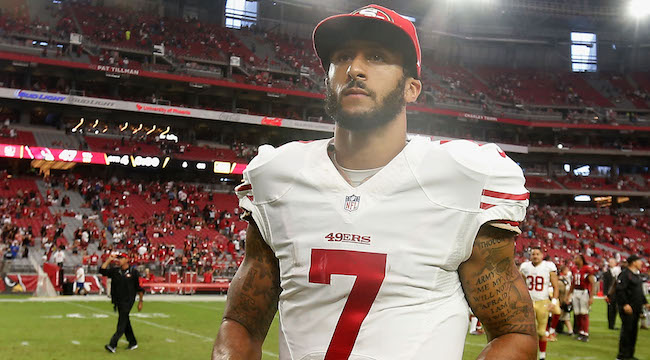 With Week 5 of the NFL season underway, Colin Kaepernick remains unemployed. The former 49ers starting quarterback has yet to be signed by a team and most point to him being the player that started the protests during the national anthem as the most significant reason why he hasn't been picked up.
There's been a seemingly endless debate about whether Kaepernick would be too much of a "distraction" for an NFL team considering the intense split among NFL fans regarding the protests. There are some that have insisted he's not talented enough to warrant a signing, but after what happened with Tennessee this past week, it's impossible to argue that Kaepernick not being considered for jobs has anything to do with his on-field performance.
The Titans reportedly looked into four quarterbacks (none of them being Kaepernick) before they signed Brandon Weeden to be their backup this weekend with Marcus Mariota injured and Matt Cassel thrust into the starter's role. On Sunday, CBS Sports' Jason LaCanfora reported he spoke with Kaepernick and the free agent quarterback had his

"The Tennessee Titans were very well aware of Colin Kaepernick's desire to workout for them anywhere, anyplace this week where they were auditioning veteran quarterbacks," LaCanfora said. "They didn't want to bring him in their building. They worked out four other guys and signed Brandon Weeden."
For the Titans to not even want to bring him in to take a look at him and move forward with Brandon Weeden instead, when Kaepernick was willing to workout, shows that the concern for Tennessee is clearly with the off-field situation rather than what he can do on it.
As for Kaepernick and the protests during the anthem, LaCanfora said in his report Kaepernick plans on donating all his jersey sales and standing for the anthem — he clarified later that it was not something Kap told him directly, but was something previously reported.

Kaepernick's girlfriend took to Twitter to deny the claim.
In any case, it's the first time this year we've heard from Kaepernick, albeit indirectly, about his desire to get back in the NFL. This also puts more pressure on some of these teams with quarterback problems that need to find a free agent quarterback, because you can no longer fall back on the possible argument that he's only looking for a starting job or has only certain jobs on his mind. LaCanfora said he'll go anywhere and workout for any teams to try and get back in the league. If more mediocre quarterbacks get signed this season, it will only make teams look worse if Kaepernick is still jobless.