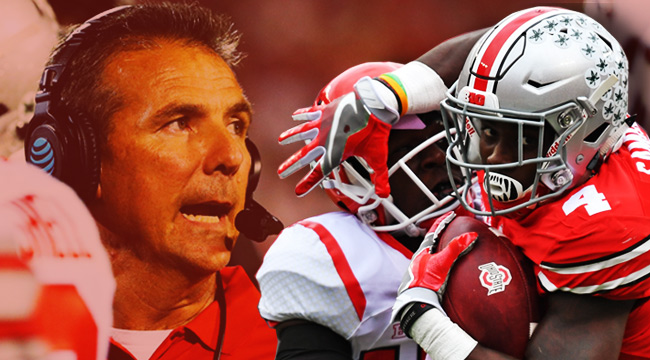 Many things in life can start to feel inevitable, like you never really had much say in how you wound up there. The career you find yourself in can feel like the inevitable result of whatever you got into in your 20s just to pay the bills, the cities and towns you live in can feel like the result of where you found those jobs, even the people you marry can, at some point, feel like it was always supposed to end up this way.
That's not the case, of course. There are a million small choices and bounces along the way that got you where you are. Things only feel inevitable. For college football this week, it can feel much the same. Alabama crushed Tennessee, Clemson and Ohio State switched spots but stayed unbeaten, and with Washington, Michigan and Texas A&M off, very little appears to have changed at the top of the Power Rankings.
But look a little closer and you'll realize what might have been.
Everyone who's watched their share of college football knows that there's always guaranteed to be a weekend that comes along and throws everything we think we know in the trash. This weekend was not it, but if there was someone under center for Wisconsin a bit more experienced than redshirt freshman Alex Hornibrook, someone who realizes a sack is just as bad as an interception on 4th down in overtime, maybe it is.
This week we've added Colorado, North Carolina, West Virginia, and Iowa into the Power Rankings, and all of them probably feel like they're in command of their own destiny after notching impressive conference wins. We say goodbye to Penn State, Western Michigan, Wake Forest, and Georgia, but know that in another universe, at another time, Wake climbs all the way to the top.
So take a look around at where you are. Did you consciously take every step that got you there? Or did somebody else nudge you in one direction or another? At the end of this season we may very well end up with a Playoff quartet that surprises nobody. But you can sure as hell bet that for all of those teams, they got a little help along the way.
Except Alabama, of course. Like the inevitable explosion of the sun, Alabama will come for us all.
(Opening Credits)
1. Alabama (7-0)
Last week: 1
Last game: Beat Tennessee, 49-10
Next up: Saturday vs. Texas A&M
Nick Saban has been at Alabama for just under a decade, and frankly, it's hard to find criticism of any coach who's managed to win four national titles in that time span. But the amazing thing is that he's done that without ever having a superstar quarterback. Look around the country: this year it's DeShaun Watson, Lamar Jackson, and JT Barrett (and before him Braxton Miller and Cardale Jones) leading their teams to a possible Playoff spot. In the years Saban hasn't won the title, champions have been helmed by quarterbacks like Marcus Mariota, Jameis Winston, and Cam Newton. In that same time, Saban's had the likes of John Parker Wilson, Gregg McElroy, AJ McCarron and Jacob Coker (who couldn't even win the starting spot at FSU) leading his teams.
All of which is to say it isn't total hyperbole to suggest this might be the best Alabama team Saban has ever had. They're steamrolling opponents in all the usual ways, sure, but he's also now got this in his arsenal:
The scary thing is that Jalen Hurts is only a freshman, too, so he's got plenty of room to grow. SEC defenses will be dealing with him for the next couple of years. Just don't get cocky, Alabama, the college football universe hates that.
2. Ohio State (6-0)
Last week: 3
Last game: Beat Wisconsin, 30-23 (OT)
Next up: Saturday at Penn State
We told you Wisconsin wouldn't go down easy! Sometimes I worry that Camp Randall is underrated as far as a hostile venue, especially by fans in the south. But people forget it's a former Confederate army stockade! There are few places in this country more haunted by terrible history than Civil War sites, and similarly few places I'd want my team to have to play at. If anyone in the SEC thinks otherwise, I implore you, head up north for a night game some cold, clear fall night. You'll find a venue just as hostile as LSU's Death Valley or The Swamp.
Which brings us to Ohio State! The good news for them is they've now got a gut-check win. It was close, sure, but they've now got the win that they can look back on should they find themselves falling behind against Michigan or a future Big Ten Championship opponent. They're battle tested, and that's bad news for the rest of the Big Ten. They might find they need that inspiration this weekend too, as a night game in Happy Valley will surely bring out another type of ghost.
3. Clemson (7-0)
Last week: 2
Last game: Beat NC State, 24-17
Next up: Oct. 29 at Florida State
On the other hand, we have Clemson. Listen: NC State, God bless 'em, isn't Wisconsin. And playing at home is, obviously, not like Camp Randall at night. Here we have two games in which top teams came this close to blowing their seasons wide open, and yet they couldn't be more different.
Ohio State earned the right to stay alive in the title race, but you got lucky Clemson. Make sure you know the difference. And take some time over the bye week to think about that.
4. Washington (6-0)
Last week: 4
Last game: Beat Oregon, 70-21
Next up: Saturday vs. Oregon State
In lieu of a game this week, here's a 20-minute video about Washington's destruction of Oregon being part of a national conspiracy:
I agree, it's a terrifying world we live in where the Washington Huskies are the pride of the Pac-12, but I like to believe my government has bigger fish to fry than ending twelve-year winning streaks.
5. Michigan (6-0)
Last week: 5
Last game: Beat Rutgers, 78-0
Next up: Saturday vs. Illinois
Harbaugh had the week off of coachin', but that doesn't mean he had the week off:
Even better, the man works cheap!
6. Texas A&M (6-0)
Last week: 6
Last game: Beat Tennessee, 45-38 (2OT)
Next up: Saturday at Alabama
Aw come on, you guys didn't play either? IN MY DAY THE ONLY BYE WEEK WE HAD WAS WHEN THE COACH CUT YOU FROM THE TEAM.
OK then, we'll have to look ahead. Texas A&M is the only thing left standing between Alabama and another SEC title, frankly. The unfortunate thing is everyone, including Alabama, knows it. That means you can be sure the Aggies have every bit of Alabama's attention this week. The good news is that they've had an extra week to prepare!
Alabama opened as a 17-point favorite which sounds pretty high for a game against a fellow SEC undefeated! But then, you know, there's this:
7. Louisville (5-1)
Last week: 7
Last game: Beat Duke, 24-14
Next up: Saturday vs. NC State
Another week where Louisville's playoff chances were toyed with like a marionette. After handling Duke on Friday, Louisville got to watch NC State take Clemson down to the wire and eventually into overtime, only to see the Tigers retain their spot on the top. Lamar Jackson had a paltry two touchdowns, one passing, one rushing. Guess we have to take away that Heisman invite now.
8. Nebraska (6-0)
Last week: 9
Last game: Beat Indiana, 27-22
Next up: Saturday vs. Purdue
Nebraska, Nebraska, Nebraska…you're undefeated, but it's really hard to believe you're on the level of Ohio State, Michigan, or even Wisconsin. It just feels like the Big Ten is really more like two leagues, with you at the top of the lower division. But your chance to prove us all wrong is around the bend. Take care of Purdue this weekend, and the Buckeyes and Badgers await.
In the meantime, thanks for the highlight of the week. This catch is … oh man, is it something:
9. Baylor (6-0)
Last week: 8
Last game: Beat Kansas, 49-7
Next up: Oct. 29 at Texas
Nobody deserves any praise for beating Kansas, least of all you, Baylor. Even your game against Texas in two weeks isn't as big a deal as it once was, but who knows. With Longhorns' coach Charlie Strong fighting for his job, maybe there's some magic ahead.
Instead, I recommend this piece from Texas Monthly on everyone's favorite new HGTV obsession, Fixer Upper. It's a great look at a town trying to reclaim its name from the trash heap of American history. (Unfortunately for Waco, Baylor hasn't exactly helped on that front recently.)
10. Houston (6-1)
Last week: 12
Last game: Beat Tulsa, 38-31
Next up: Saturday at SMU
More reading! (Sorry folks, I promise less homework next week.) But check out this New York times article on the method of motivation Tom Herman uses with his team. It's a big departure from the coaches of history, or even, really, some in the present. (It's hard to imagine Jim Harbaugh kissing his players on the cheek.) But for a young guy like Tom Herman who has to find the diamonds in the rough to compete in the state of Texas, it might just be the difference-maker.
As far as the football goes, Houston's playing for a shot in a New Year's Six bowl now. They'll get one more big game under the national eye when they face Louisville in November, and with the rumors of Herman's departure getting louder and louder, it might go a long way towards determining what kind of recruits the Cougars can get moving forward under their future coach.
11. Boise State (6-0)
Last week: 13
Last game: Beat Colorado State, 28-23
Next up: Thursday vs. BYU
Boise State had a 28-3 lead against Colorado State this weekend and nearly saw it all go down in flames thanks to two onside kick recoveries by the Rams after late scores.
12. Wisconsin (4-2)
Last week: 10
Last game: Lost to Ohio State, 30-23 (OT)
Next up: Saturday at Iowa
Wisconsin is easily the best two-loss team in the country. Remember this when bowl pick'em season comes around, lest you see them matched up against some other Power Five conference runner-up in a lesser bowl and think they might lose.
As for Hornibrook, man, I hope that was a lesson learned. On 4th down in overtime after Ohio State has scored a touchdown, you can't take a sack. Throw a pick six, throw it into the stands, throw it wherever you want, you just need to get it out of your hands and give your receivers a chance at going up for it. No one's upset you lost to the Buckeyes, let's make that clear. We just wish you'd realized what the situation was and made a better decision.
13. Florida (5-1)
Last week: 14
Last game: Beat Missouri, 40-14
Next up: Oct. 29 vs. Georgia in Jacksonville
Well look at that: just a few weeks removed from collapsing against Tennessee, Florida is back in the driver's seat for the SEC East. (It helps when you get to skip your game against LSU for now, of course.)
They'll get to the Tigers soon enough, but first is the World's Largest Outdoor Cocktail Party, a rivalry game that's lost some luster in recent years but is no less of a party for it.
14. West Virginia (5-0)
Last week: Unranked
Last game: Beat Texas Tech, 48-17
Next up: Saturday vs. TCU
Welcome to the Power Rankings, West Virginia! Truth be told, we hadn't really realized you were undefeated this late in the season, probably because you've somehow managed to already have two byes. But here you sit, 5-0 after a pasting of Texas Tech! We'll see how you play against TCU this weekend and decide then if we should give you a key or not.
15. Oklahoma (4-2)
Last week: 17
Last game: Beat Kansas State, 38-17
Next up: Saturday at Texas Tech
Next up on the list of best two-loss teams? Oklahoma, who's finally rounding into the team we all thought they were at the beginning of the year. Tough way to find out who you really are, but let's be honest: like everybody else, they probably aren't beating Alabama this year either.
16. Florida State (5-2)
Last week: 15
Last game: Beat Wake Forest, 17-6
Next up: Oct. 29 vs. Clemson
Yup, beating Wake Forest by only 11 at home means you drop a spot in the Power Rankings. Hope the Seminoles enjoy spending the bye week with only two losses, because there's a bright orange freight train heading to Tallahassee in two weeks looking to give FSU their first regular season with three losses since 2011, before Jameis Winston brought them to the top.
17. Utah (6-1)
Last week: 18
Last game: Beat Oregon State, 19-14
Next up: Saturday at UCLA
When I was a boy scout at Philmont, we had a ritual of ending each day trying to think of a "rose" and a "thorn." A rose was a particularly great moment of the day, a thorn was a challenge we'd faced and hopefully overcome. Some days roses were the easy part, other days the thorns made it hard to find something to be grateful for.
I guess what I'm trying to say is, we appreciate you trying to find the silver lining, Gary Andersen. But this Utah team is no joke, you won't be the last team to fall to them.
18. Arkansas (5-2)
Last week: Unranked
Last game: Beat Ole Miss, 34-30
Next up: Saturday at Auburn
And the Hogs are back in! Bret Bielema's squad is going to have Power Rankings whiplash at this rate. This game flew under the radar as one of the best of the weekend. From kickoff to the wild finish, this game had everything people love about SEC football.
But for the life of us, will you idiots stop ranking Ole Miss so high? Here's hoping three losses is enough to toss them from the Top 25 for the rest of the season. (Apparently it is not.)
19. North Carolina (5-2)
Last week: Unranked
Last game: Beat Miami, 20-13
Next up: Saturday at Virginia
Just like that, Miami goes from top of the ACC Coastal to the bottom! North Carolina showed up in South Beach ready to play and now they're sitting pretty at 3-1 in conference play. With conference games left against UVA, Georgia Tech, Duke, and NC State, they've got an easier path than most to the conference championship game.
20. TCU (4-2)
Last week: 20
Last game: Did not play
Next up: Saturday at West Virginia
Taking the over in this game sounds like the easy choice, but then you have to pause and consider that the Mountaineers held Texas Tech to only 17 points this past weekend. That's a Red Raiders team that was averaging 55 points per game. So the question becomes: do you think West Virginia has got a legitimate defense? Or was Saturday a flash in the pan?
21. Tennessee (5-2)
Last week: 11
Last game: Lost to Alabama, 49-10
Next up: Oct. 29 at South Carolina
After weeks of falling behind early and staging incredible comebacks, time ran out on Tennessee these past couple weeks. It didn't help that Alabama ran all over Tennessee too.
22. Oklahoma State (4-2)
Last week: 22
Last game: Did not play
Next up: Saturday at Kansas
The Cowboys didn't play this weekend either, but found out they've somehow been awarded a national championship for 1945?
Pretty great deal, if you ask me. Nobody hands me trophies when I take a day off of work.
23. Iowa (5-2)
Last week: Unranked
Last game: Beat Purdue, 49-35
Next up: Saturday vs. Wisconsin
Also new to the Power Rankings, Iowa! Welcome, Hawkeyes. You've got a big test coming up to see if you deserve to stick around and no, we're not talking about contract negotiations with Kirk Ferentz.
24. Colorado (5-2)
Last week: Unranked
Last game: Beat Arizona State, 40-16
Next up: Saturday at Stanford
Well look who's tied for the lead in the Pac-12 South with Utah! Colorado has momentum and a great opportunity at stealing a win against Stanford this weekend in what's quickly turned into a down year for the Cardinal.
25. South Florida (6-1)
Last week: Unranked
Last game: Beat Connecticut, 42-27
Next up: Friday at Temple
Finally, let's give a warm Power Rankings welcome to USF. The Bulls have only lost to Florida State and possess a schedule that sees their biggest challenge the rest of the year as Navy. Everyone knows they're not at Playoff caliber, sure, but in a talent-rich state like Florida a 12-1 record after a potential bowl win sure looks good heading into signing day.
Next Five: Navy, Ole Miss, Western Michigan, LSU and the first batch of chili you make this year.
Have a good week, everybody. But while you're out there taking on the world, stop and take a look around at how you got where you are and say some thanks to anyone that may have helped you get there.
(End Credits)