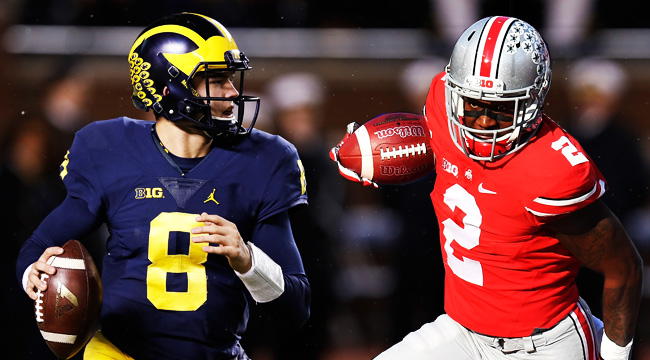 IT'S RIVALRRRRRY WEEEEEEK!!!!
[protected-iframe id="e7c0cb7478f5510826ffc51a6ec4f24c-60970621-76566046″ info="//giphy.com/embed/ONd0opiwi6FCU" width="480″ height="269″ frameborder="0″ class="giphy-embed" allowfullscreen=""]
In this week of thanks and blessings, we're here to remind you to let your hate out. Whether you're a Wolverine, a Buckeye, a Cougar or a Huskie, this is the week to jump back on the Facebook you've been avoiding since the election and reach out to your old high school friends who went to your rival school and tell them how much they suck.
For some of you, this game might actually mean something besides pride too! Michigan-Ohio State is as big as it's been in a decade, with a College Football Playoff spot largely on the line. Washington-WSU is for a spot in the Pac-12 Championship too, and for Washington, maybe a spot in the Playoff. Even games like South Carolina-Clemson offer up a very good chance to see a Playoff-caliber team stumble. And who could forget a little game down south called the Iron Bowl?
(Note: I will never, ever get tired of pasting this clip and you'd better never, ever get tired of seeing it. Life gives us so little sometimes, it's important to appreciate real magic when it happens.)
Joining us this week in the Power Rankings are UNC, Arkansas, and Stanford, while San Diego State, LSU, and West Virginia finally leave us for the last time. But those are all bottom-feeders, the biggest story heading into this weekend is the power of the Big Ten.
With Michigan, Ohio State, Penn State, and Wisconsin all in the top-10, it's looking like the Big Ten is the best conference in the country! And yet they're a couple odd results away from being shutout of the Playoff, as you'll see below.
Conference championship paths are laid out and all that's left to do is play the games. Sing it loud everybody, these are your POWER RANKINGS FOR RIVALRY WEEK!
(Opening Credits)
1. Alabama (11-0)
Last week: 1
Last game: Beat Chattanooga, 31-3
Next up: Saturday vs. Auburn in the Iron Bowl
I dropped the Kick Six up above as a reminder of what the universe can do sometimes, but let's not get our hopes up for this weekend. Let's see how Nick Saban reacted to only being up 14-3 on Chattanooga at the half:
Yikes. We're guessing he's going to have his team ready to play from the start against Auburn.
2. Michigan (10-1)
Last week: 3
Last game: Beat Indiana, 20-10
Next up: Saturday at Ohio State
SNOW FOOTBALL! WE HAVE SNOW FOOTBALL!!!
Once again, shocking apparently everyone, we're putting Big Blue up at the No. 2 spot. The biggest game of the season arrives this weekend, so get your chores done early. No word from Harbaugh on whether quarterback Wilton Speight will be able to play, and all expectations are that there will be nothing new said until kickoff. Harbaugh isn't going to want to give Urban Meyer any advantage, so the longer he can force the Buckeyes to prep for two quarterbacks, the better.
(This would be a much better plan if the second quarterback was actually good enough to inspire concern, but alas, John O'Korn was only able to muster 59 yards in the air on 7 of 16 throwing against Indiana.)
3. Ohio State (10-1)
Last week: 2
Last game: Beat Michigan State, 17-16
Next up: Saturday vs. Michigan
[Puts on old cranky sportswriter's hat]
Here's something worth a few words: Twitter, you gotta stop jumping the gun on these damn upset alerts:
Now, just because OSU-Sparty ended up being a narrow, one-point victory, doesn't mean you have good reason to sound the horn on the first scores of the game. Every squirrel goes blind for nuts, or whatever the saying is.
Point is, sports are one of the few places in life where one can suddenly find themselves completely, wholly, unexpectedly joyous. Let's save the alarms for when it really matters, like the end of the Michigan State-Ohio State game.
4. Clemson (10-1)
Last week: 4
Last game: Beat Wake Forest, 35-13
Next up: Saturday vs. South Carolina
Like Alabama, who's already in their conference championship game no matter what happens this weekend, Clemson are currently sitting pretty with a spot in the ACC Championship. Unlike Alabama, however, they already have a loss against them, so they still probably need to win out to ensure their place in the final four. Thanks to Wayne Gallman's 161 yards and two touchdowns, Wake Forest didn't pose a problem.
Say, but doesn't Clemson have another guy who's actually on the Heisman short list?
5. Penn State (9-2)
Last week: 6
Last game: Beat Rutgers, 39-0
Next up: Saturday vs. Michigan State
*DING DONG*
[opens door]
Oh my, look who's here! We didn't think you'd make it. But we're … so … happy? … you showed up!
[whispers in spouse's ear] "I told you Rutgers wouldn't keep them busy."
Yes, believe it or not folks, the Nittany Lions are on the edge of the Big Ten championship and, if they were to win it, possibly a spot in the College Football Playoff. They need to beat Michigan State at home this weekend and also have Ohio State beat Michigan at home. Which is entirely plausible!
Frankly, it's why it's so weird to say that the Big Ten is back. Sure, right now, they've got four of the top ten teams in whatever ranking you choose, and it's entirely possible you see a Penn State or Wisconsin conference champion invited to the Playoff along with Ohio State … but it's also entirely possible Wisconsin beats Michigan in the title game, giving the Wolverines their second loss on the last week of the season, and the committee leaves out the Big Ten entirely because its top teams all have two losses. Next thing you know it's Alabama, Washington, Oklahoma, and Clemson in the Playoff and the Big Ten is on the outside looking in despite being arguably the best conference, top to bottom, in the country.
6. Wisconsin (9-2)
Last week: 7
Last game: Beat Purdue, 49-20
Next up: Saturday vs. Minnesota
Speaking of Wisconsin! Pretty simple for them: win against the Gophers and they're in Indy. They can even clinch a spot in the Big Ten championship if Iowa can beat Nebraska on Friday, so eat lightly on Thursday, Huskers.
Go get that axe, Badgers!

7. Oklahoma (9-2)
Last week: 9
Last game: Beat West Virginia, 56-28
Next up: December 3rd vs. Oklahoma State
Second opportunity for West Virginia to prove they're a fully balanced team, and the second time they've choked. Oklahoma's peaking at the right moment, if they can just get one game to go their way (the aforementioned Big Ten madness, or maybe Washington or Clemson blowing another game) they'll be right where everyone thought they'd be at the beginning of the year.
Which, come to think of it, would really make the past three months entirely worthless, wouldn't it?
8. Washington (10-1)
Last week: 8
Last game: Beat Arizona State, 44-18
Next up: Saturday at Washington State in the Apple Cup
Hot damn, what an interception!
Washington State lost this past weekend (more on that below) but the Apple Cup's stakes are still high as ever, considering the winner heads to the Pac-12 Championship.
9. Colorado (9-2)
Last week: 10
Last game: Beat Washington State, 38-24
Next up: Saturday vs. Utah
Speaking of that Washington State loss, look at Colorado trying to get in on the Playoff!
[protected-iframe id="414aa745c7230a9f776b37e04fab5949-60970621-76566046″ info="//giphy.com/embed/p6WZpWFx9qmfC" width="480″ height="178″ frameborder="0″ class="giphy-embed" allowfullscreen=""]
The Buffs have a tough game against Utah this weekend but if they can keep the train going, they'll be in the Pac-12 Championship game with a chance to make the final four.
What a world.
10. Western Michigan (11-0)
Last week: 11
Last game: Beat Buffalo, 38-0
Next up: Saturday vs. Toledo
Congrats Western Michigan, you're going to end the year undefeated. Your prize is a spot in the top-10 of the Power Rankings, valid in 49 U.S. states. Alaska can shove off.
11. USC (8-3)
Last week: 13
Last game: Beat UCLA, 36-14
Next up: Saturday vs. Notre Dame
Hoping Colorado loses is USC, who needs a Utah win over the Buffs to save their season and finish in the conference championship. See how all these top teams are interconnected? It's like LOST but with a much better ending!
[protected-iframe id="7d1bdaa9e142756a772cbf399c6e61d4-60970621-76566046″ info="//giphy.com/embed/YlPeYXasYEPpC" width="480″ height="270″ frameborder="0″ class="giphy-embed" allowfullscreen=""]
12. Florida (8-2)
Last week: 14
Last game: Beat LSU, 16-10
Next up: Saturday at Florida State
This rescheduled game lived up to the wait, coming down to a goal-line stand for the Gators:
The Gators get to face Florida State in Tallahassee and then Alabama in the SEC Championship in Atlanta to finish out the season, soooo good luck with all that, Florida. It'll be a little easier if you can get all your receivers to play like this.
13. Nebraska (9-2)
Last week: 15
Last game: Beat Maryland, 28-7
Next up: Saturday at Iowa
Sure, this is Nebraska's spot, but Maryland hasn't had a highlight all season, guys. Let's give 'em this just once:
14. Houston (9-2)
Last week: 22
Last game: Beat Louisville, 36-10
Next up: Friday at Memphis
Where was this type of performance against Navy and SMU?! Oh man, what could have been Houston, what could have been.
15. Oklahoma State (9-2)
Last week: 16
Last game: Beat TCU, 31-6
Next up: Dec. 3 at Oklahoma
As mentioned above, Oklahoma State will head to Norman to face the Sooners in just under two weeks to decide the Big 12 champion in what is, actually, not the Big 12 championship. Somehow, Big 12 schedulers managed to delay what should be a clear rivalry week game to line up with championship weekend, and amazingly, it will end up deciding the Big 12 champion.
Well played, Big 12, well played.
16. Florida State (8-3)
Last week: 23
Last game: Beat Syracuse, 45-14
Next up: Saturday vs. Florida
Not much to say about the game itself, but Dalvin Cook broke Warrick Dunn's FSU career rushing record, so congrats to him!
Oh, and that was before this:
Cook ended the day with 225 yards and four TDs, giving his Heisman chances a last gasp.
17. Auburn (8-3)
Last week: 18
Last game: Beat Alabama A&M, 55-0
Next up: Saturday at Alabama
I mean, as far as motivational game plans go, you could do a lot worse than making your team think they've already beaten Alabama the week before they have to actually play 'Bama.
18. Louisville (9-2)
Last week: 5
Last game: Lost to Houston, 36-10
Next up: Saturday vs. Kentucky
"Hey Louisville, look over there! It's basketball season!"
[protected-iframe id="c808efa9292a8564454c79d123e182fd-60970621-76566046″ info="//giphy.com/embed/3orieLhMwknvXYPh2U" width="480″ height="362″ frameborder="0″ class="giphy-embed" allowfullscreen=""]
19. Virginia Tech (8-3)
Last week: 19
Last game: Beat Notre Dame, 34-31
Next up: Saturday vs. Virginia
Oof, sorry to hear that Virginia Tech, ah well, we can't all bea–wait, what's that?
Nice and simple, Hokies: beat Virginia and you're in the ACC title game against Clemson.
20. Boise State (10-1)
Last week: 21
Last game: Beat UNLV, 42-25
Next up: Friday at Air Force
Let's be honest, you're more excited about that dog than you would have been about Boise State-UNLV highlights. Nevertheless, keep your fingers crossed the Broncos can get in a New Year's Six bowl. They're a lot of fun to watch and can easily upset a major program who's disappointed they're not in the Playoff.
21. Stanford (8-3)
Last week: Unranked
Last game: Beat Cal, 45-31
Next up: Saturday vs. Rice
Ok, you caught us: Stanford isn't really that good and worth making the Power Rankings. But we wanted to make sure you didn't forget about Christian McCaffrey:
McCaffrey ended the day with 284 yards and three touchdowns on the ground, breaking his own previous Stanford record of 243 yards. He's a strong reminder of what Stanford might have been if not for some minor injuries slowing up the nation's leading all-purpose rusher.
22. Utah (8-3)
Last week: 12
Last game: Lost to Oregon, 30-28
Next up: Saturday at Colorado
Brutal loss to the Ducks at home on a last-second, circus-style touchdown catch. Watch first from the field, as the catch is obviously assumed to be incomplete and fans and Utah defenders cheer, ready for the next play:
Then, from the broadcast:
Even Mark Helfrich can't believe it:
That's an awful way to go, Utes.

23. Washington State (8-3)
Last week: 17
Last game: Lost to Colorado, 38-24
Next up: Friday vs. Washington in the Apple Cup
In honor of the Apple Cup deciding the Pac-12 North champion for the first time since 1936, here's a recipe for an absolutely delicious Apple Pie beverage to keep you all warm in Pullman or wherever you may find yourself tailgating for your rivalry game:
1/2 gallon of apple juice (for a less-sweet version, use cranberry juice instead!)
1/2 gallon of apple cider
1 cup white sugar
1 cup brown sugar
4 cinnamon sticks
1/2 liter of 190 Proof Grain Alcohol, Everclear or equivalent, assuming you can purchase this in your local area
Gather a large pot. Dump in the apple/cranberry juice, apple cider, the white and brown sugar, and the whole fresh cinnamon sticks. Bring these contents to a boil and stir until the sugar dissolves, then remove the pot from the stove and let it cool down to room temperature. Once at room temperature, gradually stir in the 190 proof grain alcohol. Pour into growler/jar/vessle of choice with a cinnamon stick in each. Best served by passing around the fire/grill/circle until it's gone.
This will make 4.5 quarts, so if you suspect you won't finish it all this weekend, store it in sterile Mason jars with one cinnamon stick in each jar, and then sit them in a cool dark dry place. If you've got the patience, it'll taste even better given some time.
24. Arkansas (7-4)
Last week: Unranked
Last game: Beat Mississippi State, 58-42
Next up: Friday at Missouri
Yup, so that's about how that went.
25. North Carolina (8-3)
Last week: Unranked
Last game: Beat The Citadel, 41-7
Next up: Friday vs. NC State
UNC beat a 10-0 team this weekend, but you don't hear anyone talking about the Tar Heels, probably because that team was FCS-level Citadel. Still, nice grab, T.J. Logan:
Next Five: Navy, Texas A&M, Tennessee, West Virginia and the pure, unquenchable fire of hatred you wish upon your biggest rival.
Happy Thanksgiving, all, and if you're still reading at this point in the season, a sincere thanks to you. Now enjoy a day of peace and harmony, in thanks of all that you may be lucky enough to have, before waking your rival neighbor up on Friday with a bullhorn. Happy Rivalry Week!
(End Credits)